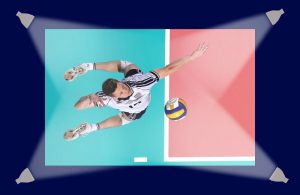 Keeping the 40 years of Photography 1980-2020, let's keep the CELEBRATION going into 4nd Quarter September edition with more career Images & Backstories from my Instructional BLOG – Workshop at the Ranch….(NOTE: Stay tuned for a December BONUS Quarter WATR) 

CHECK OUT my updated: 2020 Workshops Calendar to see when and where I will be teaching a workshop or seminar that you might be interested in Dave's 2020 Workshops Calendar: https://daveblackphotography.com/upcoming-workshops/  
          2020 Workshops Calendar (so far): 
August 15-17, 2020 … Summit LIGHTING workshop Online featuring Dave's High Speed Sync FLASH Action class and "Lightpainting and Experimenting with LIGHT" classes.  https://www.photographyatthesummit.com/
September 22 – October 3, 2020 … Summit ADVENTURE workshop Online featuring Dave's "Experimenting with LIGHT" classes and "LIGHTPAINTING" class with Models and Landscapes with the Milky Way Above. https://www.photographyatthesummit.com/
October 6 – 17, 2020 … Summit NATURE workshop featuring Dave's "LIGHTPAINTING" class from Macro to Models to Landscapes with the Milky Way Above. https://www.photographyatthesummit.com/
October 10th, 17th, and 24th 2020 … Mike's Camera Online: 3-part Masterclasses: Oct.10 GAME DAY SPORTS, Oct. 17 ACTION with High Speed Sync FLASH, Oct. 24 LIGHTPAINTING Essentials. https://mikescamera.com/school/daveblack
October 14, 21 and 28, 2020 … Roberts Camera Online: Join me online for 3 Wednesdays in a row featuring: SPORTS Oct. 14, HSS Action Oct. 21, and LIGHTPAINTING Oct 28. …website info: TBA
NOTE: Check-out Dave's Workshop Calendar page each month for updated calendar of additional workshops:  https://daveblackphotography.com/upcoming-workshops/  
The Celebration of 40 Years in Photography continues: 
My previous 1st quarter WATR in January told the Backstory of how I got started in photography back in 1980 and launched my career with the SPORT of Gymnastics when a job offer from US Gymnastics Federation (now known as USA Gymnastics) asked if I would leave coaching the sport and come work as their USA Team photographer.
April's 2nd Quarter April edition of WATR featured my returned home from Texas to Colorado Springs and my close involvement with the United States Olympic Committee (USOC) and Olympic coverage for Newsweek magazine. My coverage of 12 Olympic Games beginning with the Summer Olympic Games in Los Angeles 1984 and ending with the Winter Olympic Games held in Torino 2006.
This 3rd Quarter June edition of WATR features Professional SPORTS and the introduction of Lighting athlete portraiture for both editorial and commercial clients. 
This 4th Quarter September edition of WATR features Arena Strobe Lighting and how shooting "On Strobe" changed my career again.
While lighting athlete portraits worked in close harmony with my SPORTS and Olympic involvements, illuminating entire sports arenas using POWERFULL strobe lighting systems changed the direction of my career.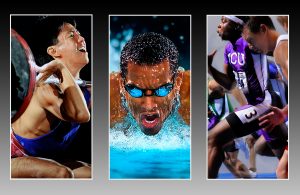 Image #1 … SPORT Strobe Arena Lighting Tryptic: 
Throughout the 1980s and 1990s achieving crisp, clean image quality was impossible to achieve on high ASA slide transparency films, but everyone used it and accepted the poor quality…except for SPORTS Illustrated, they used Strobe Lighting.
My business as a SPORTS photographer covering game and event Action was booming, and my business a Major Stock SPORTS Image Agency was successful and continually growing…and challenging the BIG BOYS like Duomo and All SPORT (now Getty) 
Shooting indoor SPORTS using FAST FLASH duration strobe lighting, or shooting "On Strobe" as it was called, allowed me to use low ASA settings of ASA 200 and 400, thus retaining beautiful image color and quality without the unwanted grain of High ASA transparency film. Shooting "ON Strobe" enabled me to make images just like SPORTS Illustrated for anyone who was hiring me … and clients did hire me … A LOT!

Images 2 and 3 … Shadow Sprinter and Strobe Lighting diagram: Using just 1 Elinchrom 1000R SPORT Strobe with a 30 degree Long Throw Reflector I could create a long shadow of the athlete during the 200m Indoor Track & Field conference finals with beautiful quality and color. 
My time spent in the arena catwalks where the strobes are mounted also blossomed my use of REMOTE cameras, especially the "Overhead REMOTE."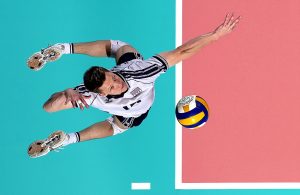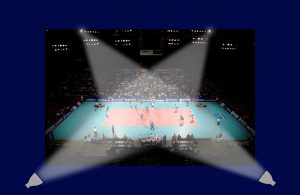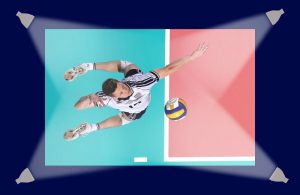 Images 4, 5 and 6 … Serves Up and Strobe Lighting diagrams for the arena and athlete. Purchasing more Strobes was an easy decision as I was charging more money because I would "LIGHT" the arena. At the World League Volleyball Championships I used 4 Elinchrom 1200 Ranger Strobes to illuminate the entire international court. I secured a REMOTE camera directly above the service area to capture this image of USA Team Captain Kevin Barnett making the winning serve of the World Championships for SPORTS Illustrated's Leading-Off spread.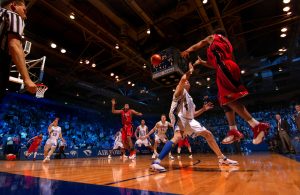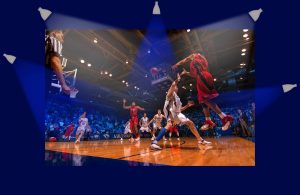 Images 7 and 8 … Open Man and Strobe Lighting diagram for the arena. Well, there was no stopping me to where at one-time I owned 16 SPORT Strobes. For this Basketball game that qualified the US Air Force Academy's Men's Basketball team for the NCAA National Tournament I used five 1000R SPORT Strobes. Three strobes have Blue Gels to illuminate the ASAFA audience in Blue, while two additional strobes illuminated the front half of the court in warm daylight.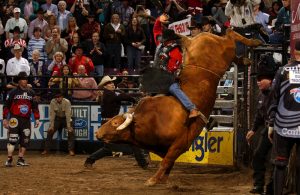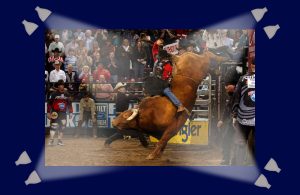 Images 9 and 10 … Million Dollar Ride and Lighting diagrams for the arena. The most complicated lighting job of my career was the Million Dollar Bull Ride featuring PBR Champion Chris Shivers atop "Little Yellow Jacket." 
Shot for SPORTS Illustrated I used eight Elinchrom 1000R SPORT Strobes…four with 45 degree SPORT reflectors and four with 30 degree Long Throw Reflectors. The four strobes with SPORT Reflectors illuminated the entire arena including the audience. This was the guarantee shot as Little Yellow Jacket did a handstand coming out of the shoot … (continued Images 11 and 12…)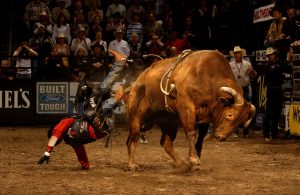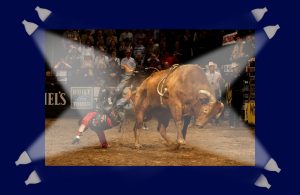 Images 11 and 12 … Million Dollar Ride and Lighting diagrams for the arena (continued…)  The second set of four strobes with narrow 30 degree Long Throw Reflectors "spot lighted" Shivers being tossed to the ground at 1.9 seconds on the ride-clock …far short of the required 8 seconds for the $1,000,000 prize money.
NOTE: The nearly split second firing of two separate strobe systems was achieved by using the PocketWizard Multi-MAX Transceivers, which have a "Speed-Cycle" mode that allows toggling back-and-forth between multiple strobe systems. Thus while the first set of strobes fired at 0.1 second on the ride-clock … then the Multi-MAX's instantly toggled to the second set of strobes capturing the Chris Shiver's untimely dismount at 1.9 seconds. 
SPORTS Illustrated ran the "Handstand" image as a two-page spread in the magazine's Leading-Off section and inserted the throw to the ground as a ¼ page size within the two page spread.

Thank you for joining me this Quarter, and I'll see you all in December for a BONUS Quarter edition of WATR to wrap-up 2020. Always appreciate all who come to read WATR over the years and also FOLLOW me on IG @daveblackphoto where the Celebration of 40 Years in Photography continues.
Adios. Dave