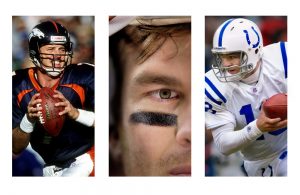 Welcome to the 3nd Quarter June edition of my Instructional BLOG – Workshop at the Ranch. Dave Black Photography is Celebrating 40 Years of Photography: 1980-2020 … So let's keep the CELEBRATION going with more career time-line Backstories! 
CHECK OUT my updated: 2020 Workshops Calendar to see when and where I will be teaching a workshop or seminar that you might be interested in Dave's 2020 Workshops Calendar: https://daveblackphotography.com/upcoming-workshops/
2020 Workshops Calendar (so far): 
July 8-13, 2020 … Summit SPORTS workshop featuring Dave's "Experimenting with LIGHT" classes.  Denver, CO. https://www.photographyatthesummit.com/
August 5-8, 2020 … Summit LIGHTING workshop featuring Dave's "Experimenting with LIGHT" classes.  Indianapolis, Indiana. https://www.photographyatthesummit.com/
September 12-17, 2020 … Summit ADVENTURE workshop featuring Dave's "HSS and LIGHTPAINTING" classes.  Jackson Hole, WY. https://www.photographyatthesummit.com/
September 27-October 2, 2020 … Summit NATURE workshop featuring Dave's "Experimenting with LIGHT" classes.  Jackson Hole, WY. https://www.photographyatthesummit.com/
NOTE: Please check Dave's Workshop Calendar page each month for updated calendar of additional workshops:  https://daveblackphotography.com/upcoming-workshops/  
The Celebration of 40 Years in Photography continues: 
Professional SPORTS and Portrait Lighting
My previous 1st quarter WATR in January told the Backstory of how I got started in photography back in 1980 and launched my career with the SPORT of Gymnastics when a job offer from US Gymnastics Federation (now known as USA Gymnastics) asked if I would leave coaching the sport and come work as their USA Team photographer.
April's 2nd Quarter April edition of WATR featured my returned home from Texas to Colorado Springs and my close involvement with the United States Olympic Committee (USOC) and Olympic coverage for Newsweek magazine. My coverage of 12 Olympic Games beginning with the Summer Olympic Games in Los Angeles 1984 and ending with the Winter Olympic Games held in Torino 2006.
This 3rd Quarter June edition of WATR features Professional SPORTS and the introduction of Lighting athlete portraiture for both editorial and commercial clients. 
While the Olympic Games, World Championships, World Cups and National Championships were the foundation of my business I began to see a bigger picture of myself/business beyond the Olympic movement.
SPORTS like Football, Horse Racing, Golf and Motorsports began generating income and a wider exposure in the marketplace for my images. The addition of Flash photography illuminating not only the athletes, but my imagination as well cultivated New and exciting pictures along with New clients and income.
As an "Independent Contractor" beginning in 1983 I always made sure that I owned all my images and copyrights. Thus, the income I generated from SPORTS coverage was twofold …compensation from shooting the event and also income from Stock Image sales following each event.
I was very happy being paid to cover SPORTS events and making Stock Image sales, but I must add that my growing desire to "create" Action images using LIGHT changed the way I looked at my business/career and how I approached photographing SPORTS and Athletes from 1989 moving forward.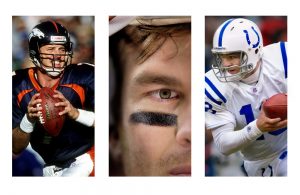 Image #1  Elway, Brady, Manning and the NFL … In 1983 my Gymnastics imagery business along with other Olympic SPORTS was solid income as the 1984 Summer Olympics approached. As mentioned earlier I was shooting events and also selling Stock Images. Life was great, but it was about to get even better.
It was Saturday evening when I received a call from Jeff Weig at Sports Illustrated, he was looking to hire a photographer to cover a Football game in Denver. He asked "I see your Olympic SPORTS pictures everywhere, but Who are you?" … "Just a SPORTS photographer" I said. "Have you ever shot Football?"… "No, but I'm originally from Green Bay."  Jeff said "That's Good enough for me!"
Jeff went on to explained that John Elway would be the "starter" against New England on Sunday and that all his Staff and Stringer photographers were already on assignment at other Sunday NFL games around the country. He continued, "They'll be a Sideline Photo Pass at Mile High Stadium's Will-Call for you …then airship the film out of Stapleton to LaGuardia … Good Luck." 
I was scared to death, but I did well, was published (big) and Jeff was impressed enough to contract me out for the next several weekends to cover College and NFL Football for Sports Illustrated. 
My Football images were published each week throughout the season and when I wasn't working a game for Sports Illustrated I would get picked up by a variety of SPORTS magazines, Trading Card companies and Football Annuals.
Thirty-Three (33) seasons later I shot my last NFL game in the 2016-2017 season as Peyton Manning of the Denver Broncos walked off the field at Mile High (Invesco) on-route to Victory in Super Bowl 50.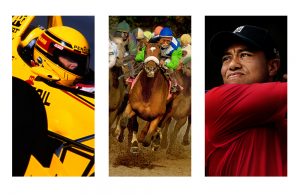 Image #2  Rick Mears, Kentucky Derby, Tiger Woods … Photographing Summer and Winter Olympic SPORTS events and the 1984, 1988, and 1992  "Games" along with College and NFL Football was thrilling and my avenue of imagery widened rapidly. 
Motorsports, Kentucky Derby, MLB, NBA, and GOLF's majors all filled my calendar year-round. When I wasn't on the road photographing I was in my home office selling Stock Images to magazines and book publishers.
I got into photography because a college instructor took me under his wing. Thus, teaching photography to others has always been in the mix for me. I was often asked to make presentations to other photography groups and Universities. 
Then in 1985 Rich Clarkson invited me to join his faculty at his SPORTS Photography Workshop @summitworkshops. Teaching others about photography was and still is a very passionate involvement for me with those who are simply wanting to learn and also those who are pursuing a career in this industry.
From Gymnastics to the NFL to the Kentucky Derby and teaching others how to do the same kept me busy … but something was still missing in my sole. More and more I wanted to create my own stylized imagery rather than record SPORTS history from the sidelines.
The answer was Lighting … and Lighting in several forms and techniques. In 1989 I invested in the purchase of a Sunpack 622 FLASH unit, a lightstand and an umbrella. I was about to embark on a New and exciting adventure in photography.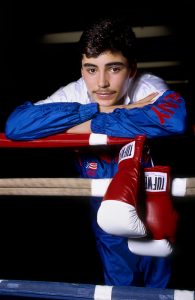 Image #3  Oscar De La Hoya … My Lighting adventure began in 1989 with one "lit" portrait of a 15 year old boxer named Oscar De La Hoya. Nicknamed "The Golden Boy" Oscar De La Hoya was on the fast track and predicted to win the Olympic GOLD medal at the 1992 Summer Olympics in Barcelona, Spain.
My association with the USOC (US Olympic Committee) and USOTC (US Olympic Training Center) in Colorado Springs involved photographing for their in-house publication "Olympian" magazine. Oscar was scheduled to be the Cover and feature story about the up and coming USA athletes contending for GOLD in 1992.
I was nervous to use FLASH and make a Cover portrait image for the USOC. I introduced myself to Oscar and explained this would be a "lit" portrait for the cover …and then everything went wrong. 
The lightstand was too short so I placed it on a table to get it slightly higher than the ropes of the USOTC boxing ring. The curly sync cord was too short and would have pulled over the FLASH and lightstand if I hadn't have caught it. I did have a light-meter but had never used it, so I guessed the exposure. Oscar just smiled and said nothing as I fumbled around making FLASH pictures and complimentary small talk with him and his manager. 
I dropped the film off at the Lab on my way home, beating myself up for all my mistakes I made. I didn't sleep that night and prayed to God that there would be one usable picture.
I couldn't believe my eyes when I saw the roll of color slide transparency film. The exposure looked good and the umbrella softened the transition edge, but it was the Off-Camera light from the Sunpack 622 FLASH that made it look …well …Professional (enough) and publishable …and it was. Not only did the USOC publish it but so did numerous other magazines. Not because it was so great but simply because it was "lit" …and the LIGHT turned-On in my mind as to where Lighting would take me.
Oscar would go on to win the Olympic GOLD medal as a Lightweight in the 1992 Summer Olympics. He then went on as a celebrated professional Boxing Title holder and one of the all-time highest "pay-per-view" athletes from 1995-2008.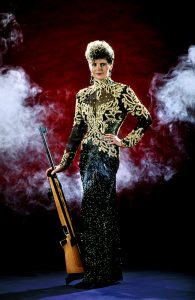 Image #4 Launi Meili …  With the success of Oscar's picture in December of 1989, many of the press-relations departments in several National Governing Bodies (NGB) wanted their Olympic hopefuls photographed with LIGHT …including USA Shooting and my next Lighting job was with the USA Women's 50 meter Air Rifle champion, Launi Meili.

It was January 1990 and like Oscar, Launi Meili was on track to win Olympic GOLD in at the 1992 Summer Olympics in Barcelona, SPAIN. USA Shooting wanted some publicity pictures of her in her USA uniform … and I said "no thanks."
I then said, pay someone else to do that kind of picture, but I'll do it at No Charge if you let me create a more unique image. USA Shooting asked what I had in mind. This image of Launi dressed in a Glamorous evening gown, make-up & hair, fiery red background and atmospheric smoke was my minds-eye of how Launi could "stunningly" represent her SPORT …and USA Shooting agreed.
Only the second "lit" photography job of my career, I wanted to work out all the bugs that could go wrong and spent time experimenting with the light and stylized concept the week before the photo shoot with Launi. When the day came and Launi walked in looking fabulous, all went well and she was a delight to work with and USA Shooting was thrilled.
This image became the cover of several magazines including the 1992 Olympic Press Guide for USA Shooting, and was voted as the BEST Cover of all the USA NGB SPORTS at those 1992 Summer Games.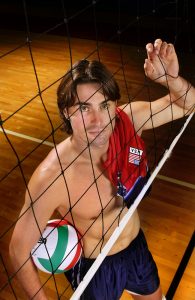 Image #5   Brook Billings, USA Volleyball Team … My "lit" portraiture continued to improve with repetition and experimentation. Shooting athletes on location in gyms and SPORTS arenas around the world gave me an added business edge over many other SPORTS photographers. 
This portrait of Brook Billings, a rising star in World Volleyball for the USA back in January 2000 stands as an example of my style of portrait lighting. I used grids to illuminate the court background and the athlete's hair-light, along with using different angles (high and low) with different lenses (wide and telephoto) lighting portraits was all new to me …and very challenging to learn/self-teach. 
Over the next 10 years I would continue to "LIGHT" everything from small set-ups for athlete portraits to large SPORTS arenas using Strobe systems (September WATR) …and by doing so my business expanded as did my imagination on what might be possible beyond editorial SPORTS coverage. 
Thank you for joining me this Quarter, and I'll see you all in September for the 4th Quarter edition of WATR and a YEAR in REVIEW edition in December. Always appreciate all who all who come read WATR over the years and also FOLLOW me on IG @daveblackphoto where the Celebration of 40 Years in Photography continues here on Workshop at the Ranch.
Adios. Dave