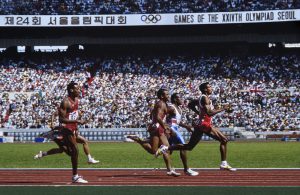 Welcome to the 2nd quarter April edition of my Instructional BLOG – Workshop at the Ranch. Dave Black Photography is Celebrating 40 Years of Photography: 1980-2020 … So let's keep the CELEBRATION going with more career time-line Backstories!

CHECK OUT my updated: 2020 Workshops Calendar to see when and where I will be teaching a workshop or seminar that you might be interested in Dave's 2020 Workshops Calendar: https://daveblackphotography.com/upcoming-workshops/  
2020 Workshops Calendar (so far): 
May 11-14, 2020 … Summit LIGHTING workshop featuring Dave's "Experimenting with LIGHT" classes.  Indianapolis, Indiana. https://www.photographyatthesummit.com/
July 8-13, 2020 … Summit SPORTS workshop featuring Dave's "Experimenting with LIGHT" classes.  Denver, CO. https://www.photographyatthesummit.com/
September 12-17, 2020 … Summit ADVENTURE workshop featuring Dave's "HSS and LIGHTPAINTING" classes.  Jackson Hole, WY. https://www.photographyatthesummit.com/
September 27-October 2, 2020 … Summit NATURE workshop featuring Dave's "Experimenting with LIGHT" classes.  Jackson Hole, WY. https://www.photographyatthesummit.com/
NOTE: Please check Dave's Workshop Calendar page each month for updated calendar of additional workshops:  https://daveblackphotography.com/upcoming-workshops/  

The Celebration of 40 Years in Photography continues: 
The OLYMPICS … my home away from home. 
My previous 1st quarter WATR in January told the Backstory of how I got started in photography back in 1980 and launched my career with the SPORT of Gymnastics when a job offer from US Gymnastics Federation (now known as USA Gymnastics) asked if I would leave coaching the sport and come work as their USA Team photographer.
After a year working in Texas it became apparent to me that my job at the USA Gymnastics office in Fort Worth did not require me to live there as I was continually on the road photographing National and International Gymnastics events. Thus, at my request to Director Roger Counsil, I returned to Colorado Springs in 1982 with a retainer contract and began my career and life as an Independent Contractor (Freelance) photographer.
Well, at the same time I returned home from Texas the United States Olympic Committee (USOC) moved their headquarters to "The Springs." Soon thereafter I received a call from Mike Moran, the New Director of Media and Public Relations for the USOC. He needed a photograph of himself for the local Newspaper announcing the opening of the USOC offices and asked if I could do the job.
My association with Mike Moran and Bob Condron at the USOC/USOTC became strong working relationships and also treasured friendships to which I owe both of them much more than I could ever repay. 
My work with the USOC/USOTC helped prepare me for my first Summer Olympic Games in Los Angeles 1984 and beyond. At the Summer Olympics in 1984 Mary Lou Retton was the most celebrated athlete as she became the first American to win the first Olympic GOLD medal in the Women's Gymnastics All-Around. 
My images of Mary Lou and coverage of other athletes at the 1984 Summer Olympics catapulted me and my freelance SPORTS photography business into the International Olympic photography industry in both Summer and Winter Olympic SPORTS. 
In all, I have covered 12 Olympic Games …6 Summer and 6 Winter Olympics starting with Los Angeles 1984 to Torino 2004. While the first 2 Olympics were credentialed for the USOC my last 10 Olympics were photographed under contract with Newsweek magazine. In between each Olympics I was on the road covering on assignment a variety of National and International competitions, Olympic Trials and Pre-Olympic competitions around the globe.  
With this 2nd Backstory I hope that you enjoy the following 12 images & history vignettes representing only a fraction of the imagery from my Olympic SPORTS Archives:
Los Angeles 1984, Calgary 1988, Seoul 1988, Albertville 1992, Barcelona 1992, Lillehammer 1994, Atlanta 1996, Nagano 1998, Sydney 2000, Salt Lake City 2002, Athens2004 and Torino 2006.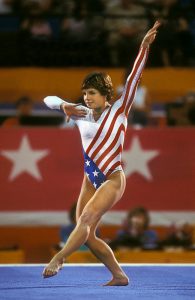 Image #1  Summer Olympics Los Angeles 1984 …  My first of 12 Olympic Games featured Mary Lou Retton as America's "Golden Girl" when she became the first USA woman to win the GOLD medal in the Gymnastics All-Around.

I was working for USA Gymnastics and also the US Olympic Committee in "L.A. 84" … and I was overwhelmed and intimidated as I worked daily alongside the world's media and the greatest SPORTS photographers of that time. 
My images of Mary Lou Retton were held in high regard, published world-wide and moved my career forward in the industry faster than I could keep up with. It was my success in this first Olympics that helped me set my sights firmly on the path to a career photographing Olympians and World Champions from 1984-present day. 
I have photographed more Olympians than I can count, but Mary Lou was the first and a testimony to the Title IX Act of 1972 which in general opened the door for women's athletics in the US stating that scholarship money must be commensurate so that if 40 percent of a school's athletic scholarships were awarded to men, 40 percent of the scholarship budget was also earmarked for women.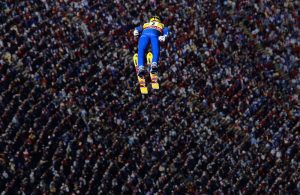 Image #2  Winter Olympics Calgary 1988 … My 2nd Olympic Games was an adventure in pushing my own boundaries as this was my first Winter Olympic Games. I had been working consistently for the US Ski Team (now USA Skiing) covering National and International Alpine, Freestyle and Ski Jumping competitions since 1985.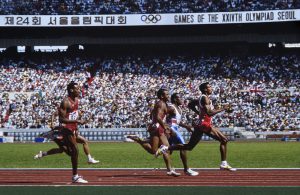 Image #3  Summer Olympics Seoul 1988 … My 3rd Olympic Games had all eyes on American super star Carl Lewis in Track & Field. Lewis was part of five US Olympic Teams, winning 10 medals, nine of them GOLD and would go on to be heralded as the "Sportsman of the Century."
This image shows him cruising to an easy win during the semi-final of the Men's 100m. Lewis was narrowly defeated by Ben Johnson of Canada in the 100m final race but was awarded the GOLD when Johnson failed to pass the IOC Olympic drug test.  
It was at these Summer Olympics that I met my favorite Photo Editor, Dave Wyland of Newsweek magazine and began a casual freelance relationship that would eventually lead to being contracted to cover Olympic SPORTS with Newsweek in the years leading up to the 1992 Winter Games.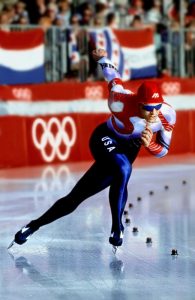 Image #4  Winter Olympics Albertville 1992 … This would be my 4th Olympics and I was now working under contract with Newsweek for the Winter Games. A big story was American Speed Skater Dan Jansen. Janson was a World Champion and current World Record holder when he arrived in Albertville, France for the Winter Games. 
His crushing losses in the 1988 Calgary Olympics came as a result after receiving news of the death of his sister occurring on the same day of his competition. Although he came up short of an Olympic medal in 1992, this picture of him in perfect speed skating stride was published in several international editions of Newsweek and is a personal favorite of mine.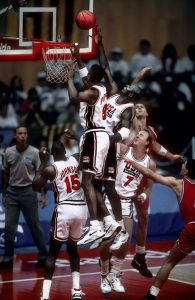 Image #5  Summer Olympics Barcelona 1992 …  They (Jordan, Johnson, Byrd, Pippin, Barkley etc. were nicknamed the "Dream Team" by the American media and they crushed all opponents in Men's Basketball at my 5th Olympic Games in Spain.  
I was changing out my gear in the Newsweek Olympic office when famed journalist Frank Deford said "good luck at the Dream Team final tonight." I answered that I was assigned to cover the Women's Synchronized Swimming finals to which Deford stood up and questioned this decision to the Olympic Photo Editor. He then turned to me and said "Pack your gear for Basketball and bring back a great shot." I owe this Dream Team image to Frank.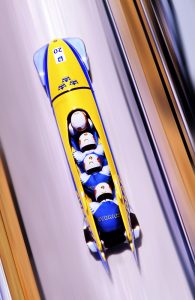 Image #6  Winter Olympics Lillehammer 1994 …  The Olympics in Norway were my 6th and my favorite Winter Games. The people were so friendly, the country and venues were spectacular and Newsweek was looking for not only the key "moments" in Olympic History but also artistic imagery of all the Olympic Sports. 
This combination of news and artistic coverage opened up wonderful possibilities for pictures, to which I showcased some of my finest Winter Sports action pictures of my career including this slow shutter speed Pan-Action image of Men's Bobsled.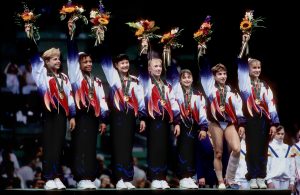 Image #7  Summer Olympics Atlanta 1996 …  The sport of Gymnastics was in the media's crosshairs at my 7th Olympic Games. Nicknamed the "Magnificent Seven" the USA Women's Gymnastics Olympic Team bested Romania and Russia to win the first ever GOLD medal in the Team competition. 
I had known each of the ladies from the time they were just young 12 year old US Juniors and to see them all standing on the podium with their GOLD medals was a very emotional moment for me. The next day the bomb exploded in the Olympic Park and changed everything regarding protocol for future Olympic Games forever.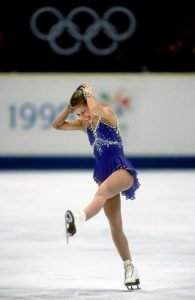 Image #8  Winter Olympics Nagano 1998 …  Nagano, Japan and my 8th Olympic Games was the most difficult and challenging Winter Olympic Games of my career. A few days after I arrived in Japan I came down with severe Phenomena and Bronchitis, thus missing the Opening Ceremonies and the first four days of Olympic competitions. 
Once released from the hospital and equipped with 8 Japanese prescriptions I rejoined the 700+ Olympic media photographers and kept everyone at arms-length. I managed to Ace all my events including this image of Tara Lipinski winning GOLD in Women's Figure Skating and was extensively published in international editions of Newsweek world-wide.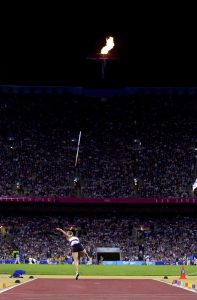 Image #9  Summer Olympics Sydney 2000 … Sydney 2000 and my 9th Olympic Games ushered in a New era …Digital photography. I landed in Australia as the only Newsweek photographer shooting all Digital using Nikon's flagship D1 digital DSLR camera. Part of my job was to educate the 3 Photo Editors regarding digital "workflow" "post processing" and "Photoshop."  I was published daily throughout the Sydney Games on Newsweek's website and Olympic BLOG as I helped move Newsweek forward into the digital age. 
This single frame of Women's Javelin Finals was made while I was moving photo positions from Long Jump to the starting blocks of the Men's 200m semi-final. Half way around the track I paused/raised my camera as the athlete began her approach, and made this picture just after she released the Javelin …then continued my walk to the 200m starting blocks. The picture was published online and in Newsweek's international editions.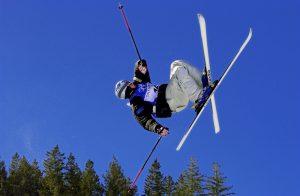 Image #10  Winter Olympics Salt Lake City 2002 … A home Winter Olympics and my 10th "Games" were held in SLC, Utah. As usual I would cover a mix of Alpine events and Skating events with a long list of GOLD medal contenders that Newsweek would do feature stories on. 
"BIG AIR" Jonny Mosely returned to defend his GOLD medal title in Moguls by stretching the rule book with his own unique aerial skill called the "Dinner Roll." I gained access to a TV platform with a perfect angle to capture Jonny nearly inverted but within the rules of competition finished fourth.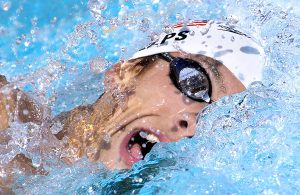 Image #11  Summer Olympics Athens 2004 … My 11th Olympic Games and the dawn of the Greatest Olympian ever …Michael Phelps. I used a Nikon D2x DSLR and NIKKOR 600mm + 1.4x Teleconverter making 840mm to capture his first GOLD medal race in Athens, the 100m Freestyle. 
Shooting from a vacant Photo Position above the Olympic Pool deck this Full Frame image of his single breath during the final 50m was published world-wide in Newsweek. Phelps' GOLD medal count has now reached 23 GOLDS and Olympic immortality. 

Image #12  Winter Olympics Torino 2006 …  My 12th and final Olympic Games was bitter-sweet with many of my images being published throughout the international world editions of Newsweek and the closing curtain on my Olympic Games coverage. I had my sights set on making new pictures and working with new clients, but to accomplish those dreams I felt that same strong urging from within my heart and Spirit …the same Spirit that urged me to say "Yes" when I received a call from USA Gymnastics in 1980 asking me to leave coaching behind and become their Official photographer. 
So it was, that as Apollo Ohno crossed the finish line to win his last GOLD medal in Olympic Short Track Speed Skating, I also finished my Olympic career with confidence that my future held great promise and the most creative pictures of my life.  

Thank you for joining me this month, and I'll see you all in June where the Celebration of 40 Years in Photography continues here on Workshop at the Ranch.
Adios. Dave