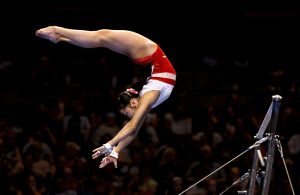 Welcome to a very SPECIAL January edition of my Instructional BLOG – Workshop at the Ranch. It is 2020 and Dave Black Photography is Celebrating 40 Years of Photography 1980-2020 … So let the CELEBRATION begin!!! 
CHECK OUT my NEW: 2020 Workshops Calendar to see when and where I will be teaching a workshop or seminar that you might be interested in Dave's 2020 Workshops Calendar: https://daveblackphotography.com/upcoming-workshops/ 
2020 Workshops Calendar (so far): 
January 7-10, 2020 … CES Show: Dave's topic: "Building Your Career in SPORTS Photography" at the NIKON booth and NIKON LIVE streaming from Las Vegas, NV.  NIKON LIVE link TBA on January 7, 2020
January 30-February 1, 2020 … SEPJC (Southeast Photojournalism Conference)  Nashville, TN. http://sepjc.com/
May 11-14, 2020 … Summit LIGHTING workshop featuring Dave's "Experimenting with LIGHT" classes.  Denver, CO. https://www.photographyatthesummit.com/
July 8-13, 2020 … Summit SPORTS workshop featuring Dave's "Experimenting with LIGHT" classes.  Denver, CO. https://www.photographyatthesummit.com/
September 12-17, 2020 … Summit ADVENTURE workshop featuring Dave's "HSS and LIGHTPAINTING" classes.  Jackson Hole, WY. https://www.photographyatthesummit.com/
September 27-October 2, 2020 … Summit NATURE workshop featuring Dave's "Experimenting with LIGHT" classes.  Jackson Hole, WY. https://www.photographyatthesummit.com/
Fall Dates and Location TBA 2020 … Summit SPORTS California workshop: https://www.photographyatthesummit.com/
NOTE: Please check Dave's Workshop Calendar page each month for updated calendar of additional workshops:  https://daveblackphotography.com/upcoming-workshops/  
GYMNASTICS … My First SPORT: 
I grew up in the SPORT of Gymnastics and competed in youth, High School and University NCAA competitions (see Image #1 …my first SPORTS Action image 1974) …and I also coached the SPORT of Gymnastics during and following my college years. 
I suppose you could say that my photography of the SPORT of Gymnastics began waaaaaay back in 1974 when I was taking a required Black & White photography class to fulfill my Graphics Design degree in college. My actual career as a professional (hired on salary) began in 1980. I was coaching an age group Gymnastics Club in Colorado Springs, Colorado with friends Paul Angelico and Mark Cummings. 
While teaching class one day I received a phone call from the USA Gymnastics Team office in Fort Worth, Texas.  I was asked if I would consider stepping away from coaching and accept a job to be the Official Team Photographer for the USA Men's, Women's and Rythmic Gymnastics Teams.
I loved coaching kids and enjoyed every aspect of teaching/coaching the sport recreationally and competitively to girls and young ladies ages 8-18, but I had a very deep feeling in my inner-spirit saying that "this opportunity was designed especially for me." 
I can only explain this as a "God thing" that lead me to answer, "Yes" … and the next thing I knew I was packing my El Camino with my few possessions, then rolled my motorcycle into the truck's payload section and left for Texas and a NEW career … and a change of life.
My job for USA Gymnastics (then called the: US Gymnastics Federation) was to photograph every aspect of the SPORT of Gymnastics including training sessions, athletes and their coaches and of course all the competitions in the US and also those International competitions abroad including World Championships and the Summer Olympics scheduled for 1984 in Los Angeles, CA.
My work and relationship with USA Gymnastics spanned 18 fantastic years but made a turn in 1998 when longtime friend Paul Ziert who taught me gymnastics during my High School years at Palaestrum Summer Gymnastics Camp asked if I would photograph for his publication International Gymnastics magazine. 
Working with Paul at IG magazine was an amazing time that continued through the 2004 Summer Olympic Games in Athens, Greece, but my photography including my involvement with the SPORT of Gymnastics took another major shift from Editorial magazine work to Commercial and Lighting imagery. 
This ushered in new and exciting clients including friends Bruno and Brent Klaus and their International Gymnastics Camp. My Gymnastics career seemed to have come around full circle as I returned to my roots in the SPORT for two weeks each summer to photograph and create NEW images of kids to Olympians who loved the SPORT just as I have, but now I was creating pictures that I had dreamed of using High Speed Sync Lighting.
Images 2-12 represent only a fraction of the SPORT I documented from 1980-2020: High Profile Athletes, Bench-Mark Competitions and my most recent work with Lighting. Please enjoy this small collection of my Gymnastics images as I Celebrate 40 years my first SPORT.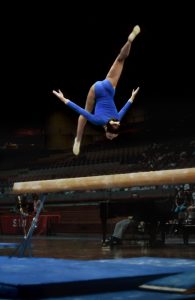 Image #1   Diane Grayson SIU-Southern Illinois University: 1972 Olympic Trials Finalist, Women's NCAA Gymnastics National Champion 1974. This was my first Action image using gear from the University's Photography department: Nikon "F2" camera with NIKKOR 50mm f4 lens.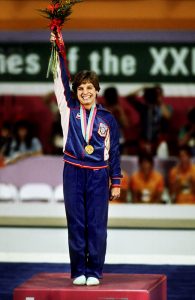 Image #2   Mary Lou Retton USA: GOLD medal Women's Gymnastics All-Around, Summer Olympic Games Los Angeles 1984.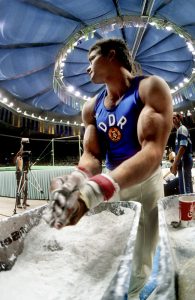 Image #3   Steroid Suspicion: East German Gymnastics, Summer Olympic Games Seoul South Korea 1988.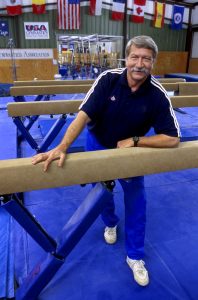 Image #4   Bela Karolyi USA (Romania): Coached 9 Olympic Champions including: Nadia Comaneci – Five Olympic GOLD medals 1976, 1980, Mary Lou Retton – Olympic GOLD medal 1984, Dominique Moceanu and Keri Strug 1996.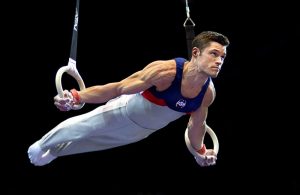 Image #5   Blaine Wilson USA: SILVER medal Summer Olympics Athens Greece 2004 and 3 Time USA Olympian 1996, 2000, 2004.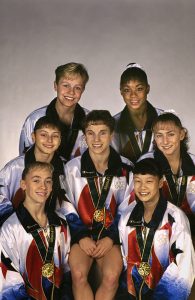 Image #6   GOLD medal USA Women's Gymnastics Team, Summer Olympic Games Atlanta 1996 … nickname, "The Magnificent Seven" Keri Strug (center) and (Clockwise) Dominique Dawes, Shannon Miller, Amy Chow, Jaycie Phelps, Dominique Moceanu, Amanda Borden.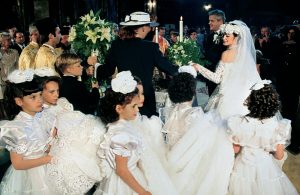 Image #7   Nadia Comaneci Romania: Five GOLD medals Summer Olympic Games 1976, 1980 and first gymnast to earn a perfect score of 10. Wedding ceremony Bucharest, Romania 1996 marries Bart Conner USA: Two-Time GOLD medalist Men's Gymnastics 1984 Summer Olympic Games Los Angeles.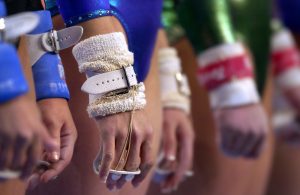 Image #8   Junior Women's World Gymnastics Championships 1999, Paris France.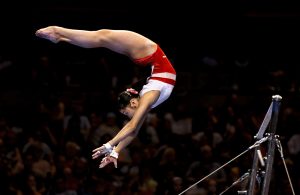 Image #9   Fan Yi CHINA: GOLD medal Women's Uneven Parallel Bars World Gymnastics Championships Anaheim 2003.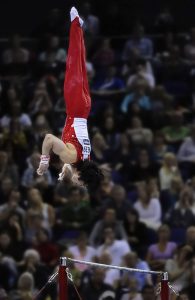 Image #10   Kohei Uchimura JAPAN: GOLD medal Men's All-Around Summer Olympic Games 2012, 2016 … and 10 GOLD medals in World Gymnastics Championships competitions.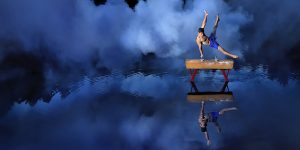 Image #11   Alex Naddour USA: BRONZE medal Summer Olympic Games Rio de Janeiro Brazil 2016 … Commercial Photo Session International Gymnastics Camp 2014
Image #12   Tamara Yerofeyeva UKRAINE: Four Time World Rythmic Gymnastics Champion and Olympian … Studio Session in Las Vegas 2019. 
Thank you for joining me this month Celebrating 40 Years of Photography… I'll see you next time where the CELEBRATION continues here on Workshop at the Ranch.
Adios. Dave