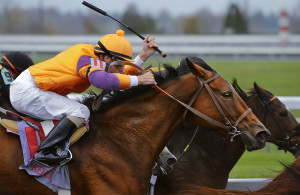 Hi and welcome to this edition of Workshop at the Ranch. I believe it was English novelist and sports writer Robert Smith Surtees who in the mid 1800s crowned Horse Racing the "Sport of Kings."  There is something royal, magical, and intoxicating about this sport. I have been photographing Horse Racing for well over a decade now and have enjoyed every minute of my time spent on some of America's best racecourses. And so when the American PHOTO Mentor Series asked me to teach a photo trek in Lexington, Kentucky I immediately answered YES!
Our three-day photo trek of learning would center on the Lexington, Kentucky horse racing community, and one of the loveliest racecourses in America, Keeneland.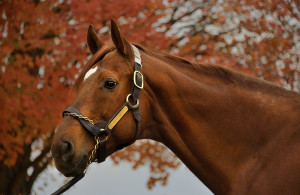 Image #1   Point Given …
Three Chimneys is one of the worlds top Thoroughbred horse farms and is located in the rolling hills about 45 minutes from Keeneland Race Course. Point Given raced for and now resides at Three Chimneys. Our group was privileged to have the opportunity to make many beautiful portraits of this famous champion of the Preakness and Belmont Stakes. My thanks goes out to horseracing photographers and friends Linda Doane and Weasie Gaines for connecting me and the Mentor Series with Three Chimneys where our trekkers spent a very special morning photographing.
Nikon D800, ISO1000, 1/400 at f5.6, Nikon 28-300mm lens, WB 6700K, SanDisk Extreme Pro 32G Flash Card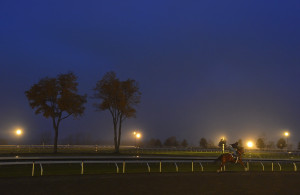 Image #2   Keeneland Dawn … The day begins very early at Keeneland and for our photography class. Racehorses will begin their morning exercise time well before the sun rises. The heavy cloud cover began to thin into a deep blue combination of mist and fog about 15 minutes before daybreak. I enjoy this time at the track very much,…perhaps even more than the racing action. It's quiet and still…just me and my camera (and several trekkers). Horses seem to come out of the fog and darkness announced only by the soft pounding of their hooves on Keeneland's track. Nikon D4, ISO5000, 1/30 at f5, Nikon 24-70mm lens, WB 4000K, SanDisk Extreme Pro 32G Flash Card.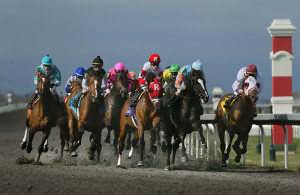 Image #3   Third Turn Challenge … The backstretch or backside as it is called today boarders the Kentucky countryside. There are no spectators or seating areas, …just the track and the horses. Entering turn three is a favorite location of mine to where I can capture a strong image of the "posse" racing in close quarters. Gnostic (red with white R) and Julien Leparoux aboard begins challenging Arch of Titus with Shaun Bridgemohan (#5 teal with orange selves)) just past the ½ mile pole during Friday's 4th race. Photographing sports action from a low angle helps lower the background behind the jockey's bodies and give a more powerful feel to the athletes and overall scene. However, this low-lying position placed our class behind a chain-link fence under the outside rail. I knew the fence would become invisible in the image thanks to a 400mm lens length and a shallow depth of field created with an f5 aperture setting. It was a very good lesson for my group of trekkers. Nikon D4, ISO400, 1/2500 at f5, Nikon 200-400 G VR Zoom lens, WB 6700K, SanDisk Extreme Pro 32G Flash Card.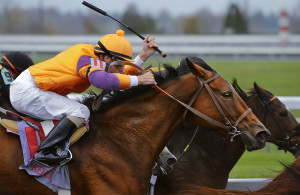 Image #4   Heavy Traffic … I have always liked to shoot sports action tight by using a long lens. I think this "Go BIG or Go Home" style of filling the frame with the athlete is the most effective way to draw the viewer into the scene. I want people to see all the muscularity of the horse and feel the wind in their face as they look at the image. Many photographers back off to a 200mm lens or less but I encouraged our class to keep their 300mm lens length and capture something special. Nikon D4, ISO1000, 1/2000 at f6.3, Nikon 200-400mm G VR Zoom lens, WB 7640K, SanDisk Extreme Pro 32G Flash Card.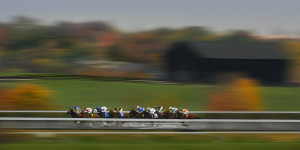 Image #5   Country Race … This is the final race of the season at Keeneland on Saturday afternoon, October 27th, 2012. It had been a cold damp day in Lexington thanks to Hurricane Sandy charging up the Atlantic coast. Several Trekkers and I had positioned our selves on the second level of the Keeneland Grandstands across from the finish pole. The start gate was tucked back in the "shoot" extending away from turn two and forming what is called the Beard Course, a race of 7 furlongs 184 feet. During the three days of racing I had noticed this large old barn well beyond the backside (backstretch). As my primary purpose at any trek is to be an instructor, I did not bring my Nikon 600mm f4 lens to the workshop, but chose to simply carry my Nikon 200-400mm G VR Zoom lens. The 400mm lens length seemed too short to capture a good image as the horses came out of the shoot, but it was the last race of the season so why not try something different. I chose to make a slow pan at 1/10th of a second shutter speed. I would rely heavily on the Nikon VR image stabilization system to aid in making a smooth pan. I composed the scene to include the barn, the fall colors and the racehorses,…held my breath and as they emerged from the shoot and entered the backstretch I panned with the lateral race action and made 3 panned pictures. This one was the best effort with sharpest horses/jockeys and composition of barn with fall colored trees. It goes very near the top of the list as one of my all time favorite horseracing panned images. Nikon D800, ISO800, 1/10 at f25, Nikon 200-400mm G VR Zoom lens, WB 7640K, SanDisk Extreme Pro 32G Flash Card.
If you have enjoyed this look into horseracing you might want to check out my pictorial coffee table book and identical ebook edition called Thoroughbreds … the Horse Racing Experience. You can find it under the Book Category on my website. See you next time here on Workshop at the Ranch.
Adios. Dave