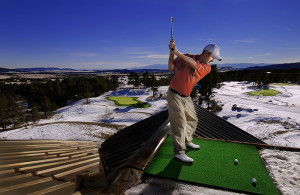 Hi and welcome to this edition of Workshop at the Ranch (WATR.) Your Q's just keep rolling in via email. So, let's continue with
Your Questions and My Answers.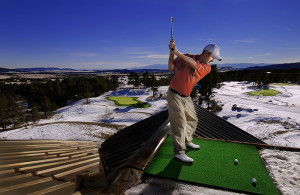 Image #1   Winter Tee … Nikon D2x, ISO500, 1/1000 at f8, Nikon 14-24mm lens, WB 6250K, 2 Nikon SB900 Speedlights and SU-800 Commander, Manfrotto Lightstand, SanDisk 16G Flash Card.
Q… How are you? As always, I continue to enjoy your WATR articles on your website. I realize you are very busy but I am hoping to get your feedback on something. A regional company was looking too higher me to photograph their golf tournament in a few weeks. I provided them with a day rate and then they also asked what it would cost for prints to be. I have FotoQuote and used that to give me an idea. I gave them an estimate of $35/print.
The client said the print price was too much and said I could just send them a CD and they could do the prints. This type of negotiating is new for me. Does my price sound crazy? Am I wrong for expecting a fee for prints?
I appreciate your time and help. I hope you are enjoying your summer.
Thanks,
Kevin
A… Hi Kevin. Glad you are enjoying the WATR articles. I have done a few Olympic "celebrity" golf tournaments over the years, but did not need to make prints. This image was made during a local golf group's tournament a few years ago…some crazy par 3's to be sure.
FotoQuote (a photography price guideline program www.fotoquote.com  is a fine indicator of pricing. The $35 per print might be slightly high and is likely a single print price and not a volume price. I must admit that I do not provide prints to any clients, thus I may not be a good source for a "print quote"
Most people can make their own prints these days, thus clients sometimes think prints should be a free item when doing business and that there should be no additional charge for you to make prints.
In the future, rather than "itemizing" your day rate, print cost, print envelopes, etc, you might offer clients an all encompassing fee that would include the making of the prints rather than a "by the print" price quote. Keep in mind they are buying in volume, so they probably expected a low volume price well under $35.
That being said, there comes a time in some business negotiations when the photographer must decide whether to drop price, or stand firm…thus risking loosing the client. If this group is a potential "long term" client that you feel might garnish future work for years to come, then I would suggest lowering the print price…or giving them a CD and they can make their own images.
This way you might accommodate the clients budget and keep them happy and hiring you each year.
When negotiating, I usually ask the client what their budget is before I give a quote. Often times they will offer more than I would have originally asked. This strategy might be helpful to you with future negotiations.
Hope this info helps you. Dave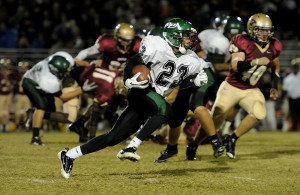 Image #2   Heisman Style … Nikon D3s, ISO8000, 1/800 at f4, Nikon 70-200mm VRII lens with Nikon TC-14E 1.4x Teleconverter, WB 7140K, SanDisk 32G Flash Card.
Q… Hi Mr. Black your sports photography is amazing. Im just beginning to shoot my son's hi school football but for some reason my night time photos are blur my date time photos are great. Can you tell me what Im doing wrong. I have a canon 40D. 70-200 len. Im shooting Manual at 1/1000 F-2.8 and iso 800 as my typical ISO.
Im confused. Please help. Thank you.
A… Hi Evonne. Thanks for asking a great question. Your daytime action looks very good indeed,…correctly exposed, solid stopped action, and beautiful color, but I see what you are saying regarding your night game images….very dark and a bit soft looking.
You say that you are using Manual exposures, 1/1000 at f2.8, but you are using ISO 800 during the night games? ISO 800 is fine for a daytime game, but ISO 800 is just too low for a night game under the stadium lights. I'm not sure what the clean (noiseless) ISO capability is with the Canon D40 but I suspect that you will need an ISO of at least 2500 and probably higher in order to capture the action when shooting under the weak lighting at your High School football stadium.
Bump up your ISO to 2500 , 3000, or even 5000 (if your camera is capable without too much noise) and see if the exposure and action results improve. You may see a dramatic increase in noise throughout the image, but you would rather contend with noise than an image that is 2 or 3 stops underexposed.
The increased ISO will also allow you to maintain the 1/1000 shutter speed that is necessary to freeze the action.
You might want to check out my online Shooting Football Action class on KelbyOne. If you're not a KelbyOne member ($200 yearly fee) my classes are also available to rent for 72 hours for only $9.99. I teach about covering night football games under poor lighting. www.kelbyone.com
Hope this answer helps…Football season is just around the corner.
Adios. Dave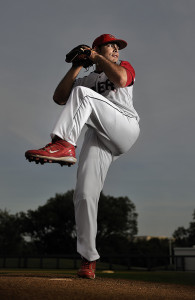 Images #3   Pitcher Light … Nikon D3s, 1/1600 at f3.2, Nikon 24-70mm lens, WB 6250K, 4 Nikon SB-900 Speedlights mounted into a FourSquare with Softbox, RadioPopper PX Transmitter/Receiver system, Manfortto Tripod (as a lightstand), SanDisk 32G Flash Card.
Q… I just wanted to let you know that thanks to the knowledge you have shared over at KelbyOne and your website Workshop at the Ranch BLOG, you have helped me get my Sports Photography to the next level.
As of Monday I will be shooting the B-Level Baseball European Championships here in Zürich as the Official Tournament Photographer and have shot all the Portraits of the Swiss National Team for all the Marketing publications. This is a big advancement in my photo business and I will be using Speedlights to stylize the shots.
You have been a big influence on my work!
Thank you.  Mark
A… Hi Mark. Just got back to my office and checked out the image you sent. Great Speedlighting…looks terrific! Glad to hear that my online classes with KelbyOne have been a help to you. Keep up the great work.
Adios. Dave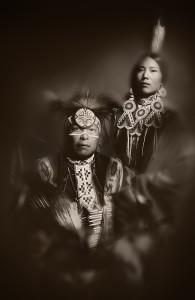 Image #4    Lakota Couple … Nikon D800, ISO1600, 30 seconds at f4.8, Nikon 24-70mm lens, WB 10,000K, Lightpainting (soft focus technique) with a Stylus Penlight by Streamlight, Manfroto Tripod with Manfrotto 410 Geared Head, SanDisk 32G Flash Card.
(NOTE: I have always enjoyed the work of photographer Edward S. Curtis who photographed the Native American Nations in the late 1880's…thus the "toned" presentation of this image. I had the wonderful opportunity to Lightpaint this Lakota couple while teaching a Mentor Series TREK in South Dakota last month.)
Q… Good Evening
I've gone through each of your kelby online courses for the first time, you made mention of the D800 as one your workhorse camera bodies, I'm looking at the D800 as my first nikon body and I was talking to a friend who mentioned there are two, the 800 and the 800E.
Would you be able to tell me what the differences would be?
Thank You
Steven from Arizona
A… Hi Steven. I wrote a couple of Workshop at the Ranch (WATR) articles on the D800 vs the D800E …WATR May 2012 and June 2012 contain that info in detail. Type in D800E into the search box (or any other word search you want to know about) and you should see those WATR articles with links.
The WATR articles are very in-depth and a more complete answer to your question is written in those articles, but here is a general idea. The D800 includes an active Anti-Aliasing Filter that automatically addresses any mori`e issues. The D800E does not have this filtration and thus leaves the photographer to manually address the Mori`e issues in the editing/post-processing phase.
The D800 gives me the finest detail quality right out of the camera.
Great question. Thanks for bringing it up.
Adios. Dave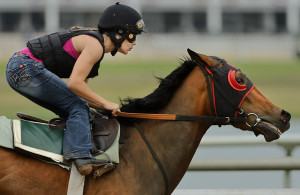 Image #5   Morning Exercise … Nikon D4, ISO2000, 1/2000 at f5.6, Nikon 200-400mm G VR zoom lens, WB 7140K, Gitzo Carbon Fiber Monopod, SanDisk 32G Flash Card.  
Q… Dave I went through your Live Action Horse Racing class at KelbyOne yesterday. Wonderfully done! It seemed I was the only one you were teaching. As the course progressed you used features of the D4 that has helped me set my goal to it before I consider the D3S I have now been to your website finding a wonderful variety of beautiful images and a wealth of learning available. I read your WATR for June 2012 (not sure why I went there first}. I'm looking buy a Nikon and appreciated your comparison of the D800 and D800E. I will be visiting your WATR series for a lot more learning. Thanks Again Steven Gardner
A… Hi Steven. Thanks so much for your email today. I'm so glad you enjoyed the NEW Action Horse Racing class online at KelbyOne www.kelbyone.com.
This was a very special online instructional class in that I taught so many sports  action techniques. I covered low light-high ISO work in the pre-dawn barn area, to early morning exercise, to Remote Camera operation and gear assembly, to long lens action with the 400mm and 600mm lenses, to slow shutter speed Pan Action images. All of which I point out how these same techniques and gear choices relate to a great number of other sports.
Glad you learned a lot.
Keep on Shooting…….Adios. Dave
Well, that wraps up more of your Q's and my A's …many thanks to all of you who emailed me a question.
See you next month here on Workshop at the Ranch.
Adios. Dave