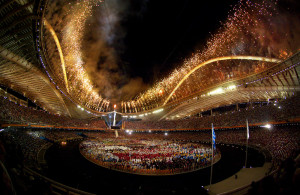 Hi, and welcome to this edition of WATR. This month's article is geared toward helping today's sports photographer increase their chances of turning their passion for making sports action images into a business. It is the sequel to last month's WATR article
"Sports Action Photography Tips and Strategies."
Both articles will serve as text supporting my two sports presentations at Photoshop World 2013.
---
WARNING!… Grab a Ballpark Frank and a Red Bull (maybe 2) and shut the door. "Making It" as a sports photographer might be tougher than you think.
Right off the bat, let's define the term "Making It."  This could mean many things ranging from photographing on the sidelines of your local High School Football game, to Working on assignment for Sports Illustrated. So, let's get to it and examine some of the concepts that I have used over the past 33 years, and also what today's sports photographer should consider incorporating into their business model in order to increase their chances of "Making It" in this highly competitive industry.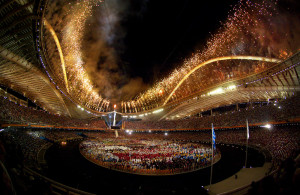 Image #1   Opening Ceremonies  2004 Summer Olympic Games …  Know Your Subject, Get There Early, Stay Late, Think Coffee Table Book, Go BIG or Go Home, Have an Edge, Take a Chance, and Capture the Moment.
Last month's article covered these 8 concepts to help sports photographers improve their action image making. By applying these 8 principles each time I would shoot a sports event, my action image making improved rapidly. As a result, my work became recognized and my images began to sell independently out of my own image archives as "Stock Image Sales." This editorial exposure in a variety of "specialty publications" (magazines that cater to single sports genre's) further opened many doors for me, and eventually lead to being placed on assignment by magazines like Sports Illustrated, Time, and Newsweek along with work for the United States Olympic Committee.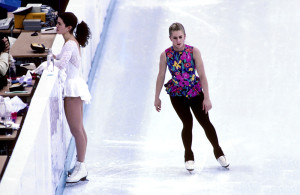 Image #2   "Jack of All Trades, Master of One" … 1994 Winter Olympics: Nancy Kerrigan v.s. Tonya Harding.
This quote by Ben Franklin is often misquoted as stating: "Jack of All Trades, Master of None." Franklin seemed to think that for someone to be successful in business and life they should Master one thing and then branch out and become proficient at a host of other things.
Photographing sports that are in the same season of the year makes acquiring enough "income producing events" difficult. I explained last month how I began my career in sports photography by specializing in a single sport that I was very familiar with, gymnastics. I realized that for my sports photography business to "Make It" I would need to follow Ben's advice.
By 1987 I felt I had established myself as the leader when it came to covering a primary Summer Olympic sport, Gymnastics. I had also branched out to many other Summer Olympic sports like Swimming, Track & Field, Boxing, Cycling and others.
With Gymnastics as my main sport of income and a variety of sports well underway, I realized that in order to grow I needed a 2nd season winter Olympic sport …Figure Skating. Having two primary income producing Olympic sports in two different seasons would greatly help spread out my income producing events throughout the entire year.
Figure Skating had huge media appeal from about 1988-2006. It was similar athletically to my primary sport of gymnastics and so I adapted very quickly to making images worthy of publishing. Much like gymnastics I came to know all the "Players" in the sport from athletes, to coaches, to agents. And when Tonya Harding hired a hit man in 1994 to inflict injury on the Olympic Gold medal favorite Nancy Kerrigan the sport exploded onto the media scene. Well, some would say "the rest is history," but I would say "my preparation created opportunity."
So, do as Ben Franklin would do… try to "Master" one sport, and then another and another. For me, Gymnastics lead to Figure Skating … Summer Olympics lead to the Winter Olympics … specialty magazines lead to Sports Illustrated and Newsweek … NFL to NBA to MLB, to NCAA, PGA, NASCAR, Kentucky Derby, etc, etc. Yes, it CAN happen.
My Nikon FM2 camera lead to the Nikon F3 … a 200mm f2.0 lead to a 300mm f2.0 and then a 400mmm f2.8, and then a 600mm f4. It was like an arms race of camera gear.
All during those early years there were many freelancers all wanting to do the same thing as me, …so how does one keep moving forward towards the prize?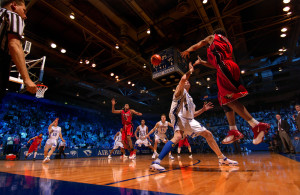 Image #3. Raise the Bar …NCAA Basketball and Sport Strobes. Every time an athlete steps onto the field of play they are committed to "Raising the Bar" of their performance. I see this concept as being the same goal for the sports photographer. There are many ways to "Raise the Bar" … better cameras, longer lenses, remote cameras, and I did all these things, but one addition to my "photographic skills" catapulted my work far beyond even the typical next level…Light.

There was a time (1970's-2004) when nearly every major indoor sports event photographed by Sports Illustrated was photographed using sport strobe lighting systems.

I learned very early on in my career that if I was to really "Make It" I needed to Raise the Bar beyond where my colleagues were willing to go. Lighting sports arenas using powerful sport strobes like the Elinchrom Strobe System (used to "light" this basketball game) was a huge undertaking regarding knowledge, effort, and expense. But "lighting" indoor sports events instantly separated me from other free lance photographers and captured the attention of Sports Illustrated and Newsweek.

Current cameras with near noiseless high ISO capabilities help today's sports photographer cover an indoor event using only the available arena lights, but keep in mind that these better cameras make it easier for everyone to make the same available light picture. But if "lit action" indoors is no longer a required technique, what can today's sports photographer do to Raise the Bar?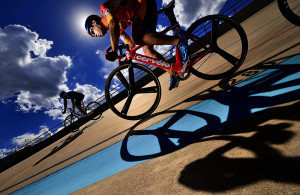 Image #4   Take It Outside … Off The Wall.
This image of Velodrome Cycling is "lit" using Nikon Speedlights and High Speed Sync mode. To once again Raise the Bar in today's market I simply put into effect the same concept of stylized lighting, accept now I applied it on location outside of the sports arena. Just as it was years earlier few of my colleagues were willing to do this kind of "stylized" image making. And with this unique "lit action" on location came a new client base for me. Commercial clients are now my focus and a significantly increased source of income.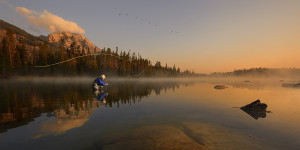 Image #5   Branding …Fly By Fisherman.
Taking the time and spending the money to "light" athletes and sports events have been my business corner stone for many years. I offer my clients' precise action moments with dynamic off-camera lighting. This concept of "lit action on location" remains my current business "Branding."


Once a Branding style of imagery is achieved clients tend to find the photographer based on reputation of producing this unique stylized imagery. The commercial job allows me to recreate an action sporting event scenario and stylize it using High Speed Sync lighting technology.

Today I use and recommend the Nikon Speedlights fired with the RadioPopper PX system for sports action lighting outdoors that is short range. And for longer distance lighting sports action outdoors I use the Elinchrom Quadra or Elinchrom Ranger 1100 w/s AS Speed pack, both these strobe systems are fired with the Pocket Wizard FLEX TT5 HyperSync system.
WARNING!

… Fewer pictures for you to look at, but if "Making It" means you want to shoot Football on the weekends, grab another Red Bull and keep reading.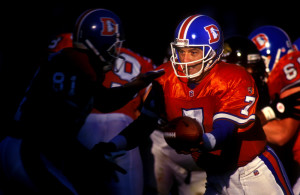 Image #6   Acquiring a Sideline PHOTO Credential … John Elway.  Perhaps your definition of "Making It" isn't as in-depth as I have just described. Perhaps you want to shoot your local football team and other sports. OK…you will need to have a "reason" for being on the sideline at Michigan, USC, Stanford, Alabama, and even Smallville Jr. College. Sideline PHOTO Credentials are issued to the working press. Sure, there are plenty of onlookers and friends of players on the sidelines, but you are there to work so you need a credential.

My first football game was not High School, or College. My first "live" football game was an assignment for Sports Illustrated in 1983. A Denver Bronco rookie QB named John Elway was going to "start" against Tony Eason and the New England Patriots. On the back of my sideline credential, at the end of a long, long paragraph of rules for the working press, were the words "Sideline access is for the working media, not fans." This is something to remember.

Can I apply for my own Sideline PHOTO Credential? No, …not unless you are the editor of a magazine of wire service agency. Few university Sports Information Departments (SID) will give you a sideline PHOTO credential in order for you to fill up your portfolio. Some SID's will help you if you help them by giving them all your pictures…for keeps. This "you help me and I'll give you a credential" policy is OK for a while, but once you work for free it is hard to get paid in future seasons.  A newspaper or magazine publication must apply for the credential for you…. or, you can work for a Wire Service agency.

Working For the Wire.  Yesterday's "Free Lance" sports photographer of the 1980's and 1990's has all but been replaced by today's "Wire Service" sports photographer. And it is a good gig.

The sidelines of sports events are filled with the Wire Service photographer, a freelance photographer hired for the game by agencies like Getty, Associated Press (AP), USA Today Sports Images, etc. Most agencies do not let you own your images, USA Today Sports Images does. However it is increasingly difficult to make freelance "Stock Image Sales" of your pictures as I once did during the 1980's and 90's.

Why is it so difficult to independently sell my pictures to magazines?  Because those who need pictures (newspapers, magazines, trading card companies, sports annual publications etc, etc) are subscribers to these wire service agencies and make yearly picture purchases in large volume. Thus the agency/wire service "Volume Price" is very low for their subscribers…probably lower than you can go and still make a living.

Whoa! …this isn't sounding very encouraging. Maybe so for the fan who wants to "be there" so he can have cool dinner conversation with his pals, but for those photographers who want to "Make It" in the industry working for the wire is the way to go. Perhaps not your only gig as income for working with an agency can vary (and there aren't enough football games year round). So don't quit your day job just yet.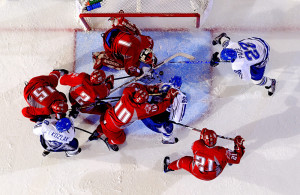 Image #7   Wire Service Editorial Day Rates … In the Crease.
At the time of this writing USA Today Sports Imaging is paying a $125 day rate for covering a game (one day of work) and the photographer's expenses (travel, hotel)…and the photographer retains their image ownership/rights. Associated Press (AP) pays $250 day rate and expenses but No ownership or Rights…AP requires a "Buy Out" scenario. Sports Illustrated pays $500 as a day rate and also the photographer's expenses. SI's day rate of $500 is paid against the "Space Rate." In other words, you get a guarantee day rate ($500) for covering the game, but you also get more money (space rate) when your images are published in the magazine.
"Space Rates" are the price per picture published. Space rates vary widely from publication to publication and usually depend on circulation size. But keep in mind that making individual "Stock Image" picture sales are difficult for the freelancer because of league restrictions and low Volume Pricing by wire services.
FotoQuote is a download program that will help you determine common space rates and usage fees for published photography. www.fotoquote.com    …is the link last time I looked.
WARNING! …You Must Be FAST!
The editorial magazine and wire photographer must be able to: capture the key moment of the game, download, pull selected images, caption and keyword, tone and crop images (no time for Photoshop extravagance), and send them to the magazine editor or wire service. And then run back out to the next quarter of the game and capture more key moments, do it all again, game in and game out, week in and week out, day in and day out.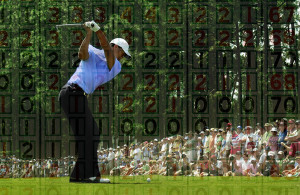 Image #8   Make a Unique Picture … Tiger Woods, Numbers Game. Hooking up with a Wire Service is perhaps the best way onto the sideline and into the sports photography industry. Hurray!…I'm on my way to SI. …not yet. If you produce average pictures like many of the sports photographer's out there, you will produce some income, but probably not enough to quit your day job.

But when you make a unique sports picture, I mean something really eye catching, post it on your website. And make it "easy" for editors to find. Too many websites are packed with "average" images. Just put the really great images up on your site. Great pictures get noticed…average pictures make you, …well, …avervage.

And "BLOG" about it. Not braggadocio, but speak about your experience as a professional working towards servicing the sports industry and sports publications.

Social Media like Facebook, Twitter, Instagram, and Google Plus are ways that today's "Gen-X" photographers promote themselves and thus sell their images and photographic abilities. Blog, Twitter and Tweeting great pictures and great stories will attract publications and possible sponsors to you. Sponsors can supply you with gear, product, and even money…woo-hoo!, and help build your reputation and branding.
WARNING! …But you must make great pictures.

If you still want to "Make It" as a sports photographer here are some tips from the editors at Sports Illustrated, AP, and USA Today Sports Imaging …
*Don't "chimp" so much. Keep your head in the game.
*Don't "camp out" in the end zone…follow the action.
*Don't "Spray and Pray" make relevant pictures.
*Never give an excuse about why you missed "the shot."
*Never miss "the moment."
WARNING!

… There's still More to "Making It" than ALL I have said.
You've got to want it. You must push yourself to improve every time you go out to shoot….and never give up. You must be able to produce great pictures, not average, …and do so each and every time you cover a game. It is up to you to "Make It" and no one else.  
My definition of "Making It" might sound extreme to many of you, but it is my livelihood, my craft, my passion. "With Passion comes Sacrifice." You can quote me. I believe that "Making It" as a sports photographer is worth all that I have tried to communicate in these two articles and throughout many of the WATR articles on my website.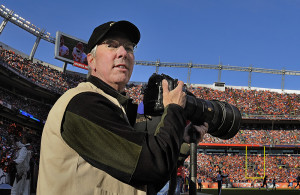 Image #9   Being a sports photographer is the BEST job on the planet!
For those who will be attending Photoshop World in Orlando, April 15-19, 2013 my "Sports Action Photography Tips and Strategies" class will be Thursday, April 18th from 9:30am–10:30am.  The follow up class titled "How To Make It as a Sports Photographer" is scheduled for Friday, April 19th from 1:00pm-2:00pm.
Join me in Orlando at Photoshop World 2013 www.photoshopworld.com/psw-experience/
And I'll see you next month here on Workshop at the Ranch.
Adios. Dave