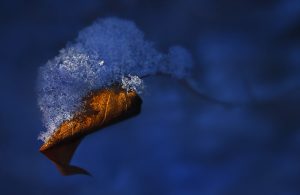 Hi and welcome to the October 2019 edition of my Instructional BLOG – Workshop at the Ranch. People are asking to learn more from the "Images and Backstories" series … so here we go again!
Don't Forget:  My NEW: 2020 Workshops Calendar will be posted on December 1. To see when and where I will be teaching a workshop or seminar that you might be interested in come visit: Dave's 2020 Workshops Calendar on December 1…  https://daveblackphotography.com/upcoming-workshops/  

 2019 Workshops Calendar: 
My final workshop of 2019 is:
November 7-10, 2019 … Summit SPORTS California Workshop in Los  Angeles / Thousand Oaks. CA. www.photographyatthesummit.com 
Images and Backstories: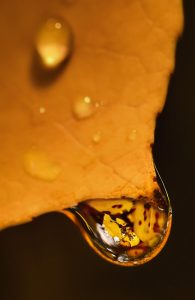 Image #1 …  "Aspens Reflected" … #NikonZ7, ISO1000, 1/800 at f11, NIKKOR 200mm f4.0 Macro Lens with FTZ Adapter and Lens Extension Tub, WB 8000K … Day Time Lightpainting with 3 ProTac 2AA LED flashlights made by Streamlight.
With fall colors upon us I was just enjoying the outdoors taken a walk around the block on my lunch break and I saw a nice group of Aspen Trees.
HOW THIS IMAGE WAS MADE:
I used one flashlight to add some illumination to the large rain droplet at the end of rain soaked Aspen leaf … and … the other two flashlights were taped together to add twice the illumination to the leaves behind and above the rain droplet so they would be seen in the rain droplet. 
I used the #NikonZ7 with Self-Timer at 10 seconds to give me enough time carefully slip my hands with flashlights into position and aim my flashlights without wiggling the leaves before the shutter released.
I tend to make the most out of my lunch break.
@nikonusa @nikonambassadors #nikonnofilter
#nikonambassador #lightpainting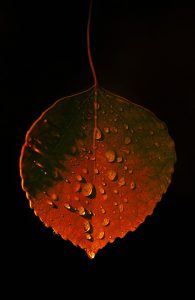 Image #2 … "Red Aspen Scape" … #NikonZ7, ISO2500, 1/500 at f4, NIKKOR Z 24-70mm f4 S lens, WB 10,000K … Lightpainting. 
If you're a "regular" FOLLOWER to my Instagram and website articles on Workshop at the Ranch, it's no secret that I love to Lightpaint.
Lightpainting usually means long exposures like: 2 seconds, 30 seconds, 1 minute, 5 minutes or even longer. But an overcast day can also present the opportunity to take my LED flashlight out of the backpack and add a little "Lightpainting" to my small subject … even if the shutter speed is 1/500.
This Lightpainting of a single Aspen leaf was made in my own back yard. It was overcast, foggy and slightly drizzling, but I wanted to make a picture … after all, that's what I LOVE to do.
HOW THIS IMAGE WAS MADE:
With my #NikonZ7 mirrorless camera mounted to a tripod I could view the subject in the EVF (Electronic View Finder) and see the picture brighten and darken as I Manually dialed in the exposure until I had a -2 stop underexposed little subject at: ISO2500, 1/500 at f4.0.
The High ISO2500 was necessary for the 6:30AM and dark weather conditions, which allowed the thick background grove of trees to go completely Black just like a studio… Perfect for adding some Lightpainting!
I used my new NIKKOR Z 24-70mm f4.0 S lens, which allowed me to focus on my small world subject only 10 inches away and kept me easily within reach of applying the light while looking through the EVF at the same time.
Using a Single AF Point and Continues AF mode the Auto Focusing system of the Z7 kept locked-on even though the leaf was moving somewhat erratically in the breeze. 
The breeze however made controlling the application of light from my LED flashlight difficult, but I kept looking through the EVF, extended my left arm out and I held my flashlight near the upper left corner of the leaf about 5 inches away and aimed it at an angle from about 10 o'clock (see the shadows.)
I made several nice pictures using my ProTac 2AA LED flashlight (as is all my gear listed in my Dave's Gear page on my website: https://daveblackphotography.com/daves-gear/ … but then I experimented by placing a Red Gel over the front and something wonderful happened … the yellow leaf turned a beautiful shade of Red!
Here is the final Lightpainting … and I love it!
@nikonusa @nikonambassadors #nikonnofilter
#nikonambassadors #NikonZ7
#mirrorlessreinvented #lightpainting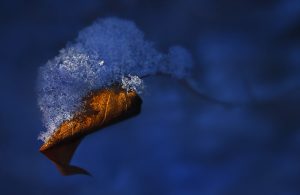 Image #3   "Last Lilac" … #NikonZ7, ISO2000, 1/500 at f5, NIKKOR Z 24-70mm S lens, WB 4000K, Pinpoint AF, … Lightpainting.
It won't be long before the first snow fall arrives. With that in mind you might want to lay out your boots, hat, coat and warm cloves next to your camera and flashlight.

I woke-up at 5:30AM, way early before the sunrise of which there wouldn't be one … it was snowing.
The world always feels so "still" when I go out looking for a picture as a fluffy Colorado snow continues to fall and softly accumulate light cotton candy.
No tripod this time, just me walking around searching for a "turn-of-the-season" subject. Seemed simple enough, but the storm that moved through during the night removed all the leaves with a gust … accept a Lilac bush where there was one lone leaf hanging on.
HOW THIS IMAGE WAS MADE:
I set my #NikonZ7 mirrorless camera to a cool Blue WB 4000K so as to make the frigid morning feel even colder for the lonely little leaf.
I then set the Z7 Auto Focus on something new … "Pinpoint AF"
Pinpoint AF is perfect for Macro work and for imagery where the subject has a small select detail point of interest within the frame, especially when a shallow depth-of-field is being used. 
The single "Pinpoint" AF point is much smaller the a Single AF point and makes focusing much easier on a single snow flake that has caught a glimmer of light from my small LED penlight (with half CTO warming gel) while Lightpainting.
As the snow continued to gently settle onto the final leaf of Autumn there was a slight whisper of a breeze causing the leaf to move, but the Pinpoint AF did a great job of staying focused, especially in the low light predawn overcast.
I "worked" the subject/scene for nearly 45 minutes. Picture after picture, adding Light "here" for one image and "there" for another as the subject defied winter's arrival by bobbing around in the breeze.
Difficult work to be sure, but I was content within my quiet mental mindset.
Could there be a better morning, I thought … maybe tomorrow, but that's the beauty of being a photographer. As for this morning I am satisfied and savored the short time we had together … just me and the "Last Lilac"
@nikonusa @nikonambassadors #nikonnofilter
#nikonambassador #nikonz7

Come visit my Instagram @daveblackphoto each week where I post Images and Backstories so that everyone can learn something new about photography.  
I'll see you next time here on Workshop at the Ranch.
Adios. Dave