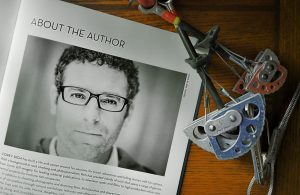 Hi and welcome to the November 2019 edition of my Instructional BLOG – Workshop at the Ranch. My good friend Corey Rich has just released his NEW book: "Stories Behind the Images … Lessons from a Life in Adventure Photography" So grab your Climbing Gear and Kayak as we embark on my review of the BEST Adventure Photography book EVER!

Don't Forget:  My NEW: 2020 Workshops Calendar will be posted on December 1. To see when and where I will be teaching a workshop or seminar that you might be interested in come visit: Dave's 2020 Workshops Calendar on December 1…  https://daveblackphotography.com/upcoming-workshops/  
          2019 Workshops Calendar: 
           My final workshop of 2019 is:
           November 7-10, 2019 … Summit SPORTS California Workshop in Los     
           Angeles / Thousand Oaks. CA. www.photographyatthesummit.com  


"Stories Behind the Images" 
Over the years, I have collected over 100 photography books. While mostly for the study of the pictures, I have read various chapters but most of them haven't inspired me … until Corey Rich released his NEW book "STORIES BEHIND the IMAGES … lessons from a life in Adventure photography"  This book is INSPIRING!
storiesbehindtheimages.com
Also available at REI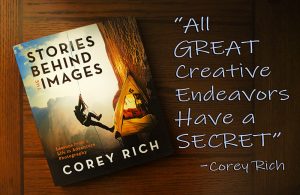 Cover and Chapter 55 … Tommy Caldwell and Kevin Jorgeson: If you're not familiar with Corey's work, then you ought to be. His images are nothing short of EXTRODINARY. From the cover of Tommy Caldwell & Kevin Jorgeson first free ascent of the Dawn Wall" on El Capitan, to Rebecca Rusch the Queen of Pain, to Brad Jackson drawing back his compound bow, to a stunning nude image of Kasha Rigby the pioneer of extreme Telemark Skiing, this book above all others gets to the heart and mind-set of Corey's LIFE as a photographer in the Adventure genre.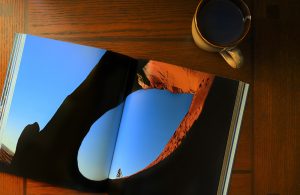 Chapter 32 … Queen of Pain: Rebecca Rusch: The amazing story of Rebecca Rusch spans the globe during the Adventure-Racing series called the Eco-Challenge. "You don't get a Nickname like "The Queen of Pain" for nothing" – Corey Rich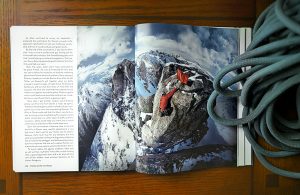 Chapter 48 … Authenticity in Argentina: This chapter recounts one of the most incredible photographic and video productions in the industry. You've got to see it and read the Story Behind it to believe it as Corey and his crew capture images of the Benegas brothers as they climb the highest tower along the ridgeline of the Bariloche mountains in Patagonia for an advertising campaign for Polar Tech.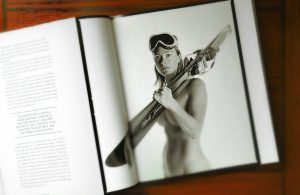 Chapter 6 … Bare Imagination: Kasha Rigby: "STANDING in Front of ME was a very beautiful, very naked woman. She had undressed quite suddenly, and I was dumbfounded. I was twenty-one years old." 
– Corey Rich opening remarks for the Story Behind the Image of extreme Telemark skier Kasha Rigby.

Chapter 42 … The Hunter and the Hunted: Brad Jackson: Corey will do anything to get the SHOT! … Even stand in front of his good friend and Cross-Fit athlete Brad Jackson as he aims the arrow directly at Corey's 70-200mm NIKKOR lens.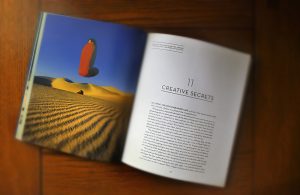 Chapter 11 … Creative Secrets: "And while all Creative endeavors may begin with a jump in the wrong direction, the point is to not get discouraged, stay vigilant, and keep working on it" …Corey Rich's thoughts on photographing Ashley Laux in Death Valley.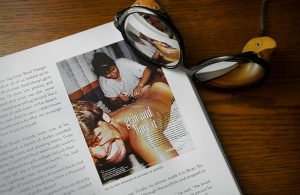 Chapter 5 … The Image that Launched My Career: Corey is a visionary, and is perhaps the influencer who changed the face of print advertising as we know it today: from a 1960's white-shirt & skinny tie LOGO in your face layout … to our current millennial Story Telling/documentary style of layout with a subtle logo that Patagonia featured with Corey's imagery in 1996 … to which this concept still dominates the advertising industry today.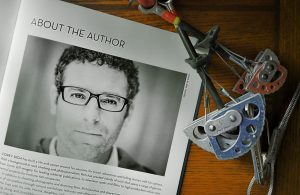 About the Author … Corey Rich … He is a family man and a fellow Nikon Ambassador whom I look up to and admire. I'm proud to call Corey a friend … a great friend. We have worked together on some of Nikon's biggest and most complex advertising campaigns, and we have taught together a numerous workshops.
He is a champion of the attitude to bring the very BEST out of everyone he meets and works with. This is what a GREAT photographer and human being looks like. 
There are 56 compelling Stories/lessons & stunning Images … each could be a book of its own. Well written backstories alongside breathtaking Adventure images with quality of the highest level along with adjacent exposure data for photographers who want to glean technical information … but all this is no surprise …it's the Life of Corey Rich. 

Come checkout my Instagram @daveblackphoto each week where the learning continues.
I'll see you next time here on Workshop at the Ranch.
Adios. Dave