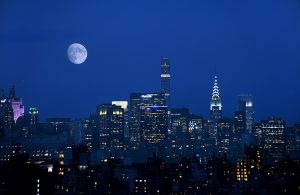 Hi, welcome to this September edition of my Instructional BLOG: Workshop at the Ranch. In this month's article I will take a short break from learning how to Lightpaint and take a close look at Nikon's NEW Z7 Mirrorless Camera.
I had the great honor as a Nikon Ambassador US to participate in the New Z7 Mirrorless camera debut in New York City. Although not part of the team that made Z7 images for the camera's brochure and marketing campaign, I did have the opportunity to make pictures with Nikon's latest achievement at the Z7 launch into the professional grade Mirrorless technology era. 
[ NOTE: This week's Z7 images were made on a "Pre-Production" camera. ]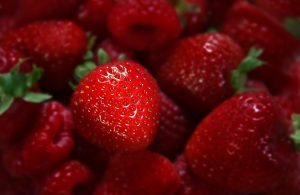 Image #1   "Strawberry Delight" … NEW Nikon Z7 Mirrorless camera, ISO4500, 1/400 at f5.6, … with slight touch of Lightpainting. 
Quick Nikon Z7 stats:
With 45.7MP, 9 fps, 90×90 degrees AF point coverage, 64-25,600 ISO, "Pinpoint" AF mode, the long standing "Ergonomic" feel of a Nikon, familiar Menu formats as with previous Nikon's, and an a clear/easy to view EVF (Electronic Viewfinder) which is perfect for reviewing Images, adjusting exposure and determining WB all of which can be viewed LIVE through the Viewfinder … "I like it" … and I don't have to relearn anything … I can just start shooting. 
I'm BIG on files looking "publishable" straight out of the camera and the Z7 delivers that beautiful of a file … Lovely Skin Tones and a broad spectrum of Dynamic Range with "spot-on" Color (like these Strawberries) all look gorgeous.
So far everything I hoped for and expected, but what surprised me was how "clean" the files are, even at high ISO settings like: 2000, 4000 and even 6000. This image was shot at ISO4500 and it is Clean and virtually Noiseless … even in the shadows. I can't wait to begin making my Lightpaintings of Landscapes with Star fields and the Milky Way above.
Another surprise was the incredible Sharpness and Clarity of Edge Detail … and this Sharpness held true from low ISO64 – High ISO 6000 (NOTE: I did not have time to make additional tests higher than ISO6000) 
OK, perhaps you are thinking … Dave is a Nikon Ambassador and he's required to say nice things … but if anyone knows me, you know I speak my mind. My side-by-side comparison of the Z7 to the D850 brings me to say, "Regarding Sharpness and Edge Detail and Clean/Noiseless High ISO … I place the Z7 on a higher shelf than the Nikon D850"… there, I said it.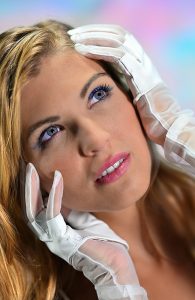 Image #2A and #2B   "Eye Contact" … NEW #NikonZ7 Mirrorless camera, ISO1000, 1/500 at f2.5, NIKKOR 105 f1.8, 2 hot lights with soft boxes. 
Let's take a close look at how the file looks regarding Skin Tone … as fellow Nikon Ambassador and Celebrity/Corporate Portrait photographer @joeyterrill described it after his Z7 shoot: "Skin looks "Creamy and Natural" … and I certainly agree with that. 
While in NYC for the Nikon Z7 launch I had the opportunity to make some lit portraits. My goal was to once again compare the NEW Z7 with my D850.
As with each scenario I photographed I'm just blown away by the gorgeous results: superb Sharpness and Edge Detail along with lovely natural Skin tone … but I was truly psyched about the New 90% horizontal and vertical frame AF point coverage, and the New extremely accurate "Pinpoint" Auto-Focus mode.
First … the New AF Advancement: The NEW 90 x 90 % frame coverage Hybrid AF system offers 493 points that makes AF point placement to the periphery of the field of view a reality. I love this flexibility of AF point placement and the creativity it opens up regarding composition.
Second … New AF Advancement: The "Pinpoint" AF mode allows you to use a focus area Half the size of a Single-Point. For this portrait I was able to place the "Pinpoint" on the subjects Iris (see Image 2B for detail) rather than the larger area of the eye and lashes that the current single-point AF.
These two New advancements bring the photographer greater Auto-Focusing precision, especially with fast NIKKOR 2.0, 1.8, 1.4 aperture lenses and the NEW NIKKOR Z 58mm f/0.95 S "Noct" lens and also a new creative license to compose the scene the way you envision.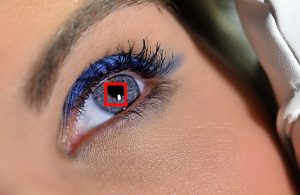 I see my Macro Lightpainting imagery and many other aspects of my photography benefitting significantly from these advancements when using the Z7 Mirrorless camera.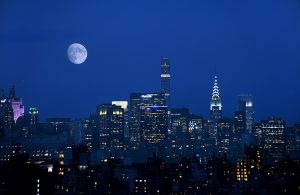 Image #3   "Twilight City" … NEW Nikon Z7 mirrorless camera, in-camera Multiple Exposure.
With the EPIC unveiling of the NEW #NikonZ7 mirrorless camera I had an opportunity to get creative with the in-camera Multiple Exposure feature using a pre-production model.
For this Nikon Z7 Double Exposure test shoot I wanted something beyond just the city and a moon above. I wanted to create Depth with Atmosphere and Mood. 
FIRST EXPOSURE: At 8:15PM the Moon was rising above a wide horizontal line of old/classic New York brick Tenant Houses. The Moon exposure was ISO1250, 1/400 at f5.6 creating a detailed exposure of the Moon placed in the left 1/3 of the frame against a deep Blue sky (WB 3330K) above the dark silhouetted Tenant Houses.
I used my own NIKKOR 28-300mm f3.5-5.6 lens (at 260mm) with the NEW Nikon FTZ adaptor mounted to the Z7 body. Nikon boasts that there is No Loss of image quality "edge to edge" and I agree … No Degradation at all … (the secret is the 16mm "Flange' distance design … but don't tell anyone)
I purposely left plenty of open sky between the top of the brick Tennent Houses and the Moon in the First Exposure … this "open sky" is where the Manhattan skyline will be composed.
SECOND EXPOSURE:  I waited until 9:00PM to capture the Second Exposure (the Manhattan skyline) slightly past twilight so the city lights would easily be visible. I composed the Second Exposure (Manhattan skyline) in the "open sky" between the tops of the Tenant Houses and the Moon. Second exposure: ISO2000, 1/4 at f10, same lens but at 150mm.
Finished DOUBLE EXPOSURE:  The Manhattan skyline with glowing lights now seems to rise above the First Exposure dark silhouette of Tenant Houses with a thin layer of atmospheric Blue over the NYC skyline thanks to the First Exposure Moon/Tenant Houses made in twilight Blue sky. 
Hope this quick review of the NEW Nikon Z7 has been helpful. As I have only used a Pre-Production model Z7 so far I will wait for the consumer model to be available before I post my final thoughts about the performance of the AF regarding SPORTS action.
So far, in my opinion, the New Nikon Z7 Mirrorless camera is what Nikon says it is: #mirrorlessreinvented … ABSOLUTELY ! 
Thanks for joining me this month. Until next time, I'll see you on Instagram: @daveblackphoto   … Adios. Dave