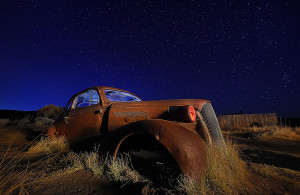 Hi and welcome to the May 2016 edition of my Instructional BLOG (WATR) featuring more of Your Questions and My Answers. Some great questions came in through my Contact Dave page this past month … let's have a look.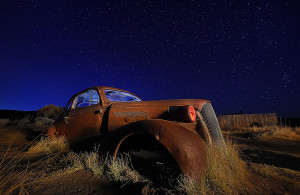 Image #1   Bodie Buick … Nikon D750, ISO4000, 20 seconds exposure time at f10, Nikon 14-24mm lens, WB 3030K, Lightpainted with a Brinkmann Max Million (2 million candle spotlight), Manfrotto Tripod and 410 Gear Head, SanDisk 32G Extreme Pro Flash Card.
Q…Dear Dave. I'm a big fan of your light paintings and have watched your NEW light painting video Under the Milky Way on KelbyOne:  and love it! I can't find the Max Million spotlight you used anywhere, can you help me out with a link?
Keep on Keeping on. Nathan, UK
A…Hi Nathan. Thanks for your email and a great question.
Glad to hear that you are enjoying my latest KelbyOne video class on www.kelbyone.com that features Lightpainting Under the Milky Way at Bodie Ghost Town and Mono Lake Tufas. This image was part of a 32 image step-by-step time-lapse progression of this old Buick being Lightpainted.
The Brinkmann Company is going out of business and the Max Million II and III spotlight series is no longer available. I simply GOOGLED "2 million candle spotlight" and found several suitable products of which I have settled on the Gander Mountain Camo spotlight …it is a great choice for my outdoor landscape Lightpaintings:
http://www.gandermountain.com/modperl/product/details.cgi?pdesc=Gander-Mountain-Camo-Rechargeable-Spotlight-2M-Candlepower&i=760272&r=view&cvsfa=2586&cvsfe=2&cvsfhu=373630323732&gclid=CL3ZpJS8yMsCFZA2aQodK2EMQA
The Gander Mountain Camo is a 2 million candle powered rechargeable spotlight that is slightly smaller and weighs less than my old heavy Max Million II and III spotlights by Brinkmann. It is easily affordable at $40 and does the job very well and is now in my Lightpainting bag of flashlights (or "torches" as you might say in the UK).
For anyone interested in learning how to Lightpaint, here's my Spring, Summer, and Fall Lightpainting workshops and registration info:
https://daveblackphotography.com/lightpainting-workshop-with-dave-black/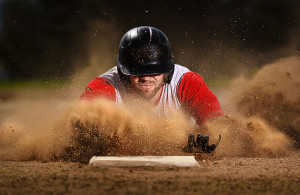 Image #2   The Slide …Nikon D750, ISO250, 1/4000 at f6.3, Nikon 70-400mm G VR zoom lens (at 230mm), WB 6250K, 2 Profoto B1 strobes each with clear glass protection plate and Tele-Zoom Reflector, 2 Manfrotto Tripods to support the B1 strobes, SanDisk 32G Flash Card.
Q… hi dave. Im thinking about coming to the sports workshop in july that you have listed in your workshops calendar page https://daveblackphotography.com/upcoming-workshops/
Will you be teaching hss lighting or just action.
thanks. rob.
A…Hi Rob.  The SPORTS Summit workshop is in Denver this July 27 – Aug. 1, 2016 … and I'm excited about working closely with students and photographing sports action in the Mile High city. Here is the link: http://www.photographyatthesummit.com/sports/
I will be teaching Location Lighting Action with High Speed Sync (HSS) flash and I also have some Lightpainting classes scheduled where students will be making their own Lightpaintings of classic Sports memorabilia gear.
But I'm not alone at this workshop … some of the SPORTS Summit staff includes: Mark Terrill AP, John McDonough -Sports Illustrated, Deanne Fitzmaurice -Pulitzer Prize/San Francisco Chronicle, Brad Smith -SI and NY Times, Andrew Hancock -SI, Joey Terrill and Lucas Gilman both Nikon Ambassadors.
In general students daily images will be critiqued each morning, location shooting and breakout sessions is during the afternoon, and then nightly presentations by staff members is in the evening … then wen all hang out and talk about SPORTS and photography.
Hope you can make it Rob … if so, I'll see you in Denver this July. Dave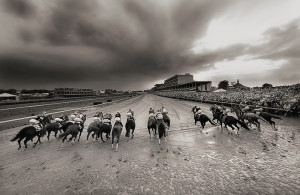 Image #3     Water Gate … Nikon D2h, ISO1000, 1/1250 at f5.6, Nikon 10mm Fisheye lens, PocketWizard Multi MAX Transceivers to trigger the camera remotely, mounted to the start gate with Manfroto Magic Arm and Super Clamp and a safety cable, SanDisk 32G Extreme Pro Flash Card. 
Q…Hey again Dave, it's Kirsten. Thanks for answering my email question asking about your D5 settings, but I have another question. I love your portfolios especially the horseracing pictures. Will you be at the Kentucky Derby this year and what was your most favorite picture from past Derby's?
Your friend Kristen, Bama!
A…Hi Kirsten … always a pleasure to hear from you and happy to answer your questions. Unfortunately I will not be at this year's Kentucky Derby as horse racing has not been on my radar lately … although I believe 2017 might see my return to the sport to join Skip Dickstein at Saratoga….you never know ☺
Gee, I have soooo many Derby favorites/memories … This image ran as a 2 page spread Kentucky Derby opener in the Blood Horse magazine back in 2004 and was appropriately titled "Water Gate."  I had never seen so much rain at the Kentucky Derby … it was crazy flooded.
Efforts to keep remote cameras dry and functional during the EPIC downpours where continual, but with Smarty Jones as the Derby favorite hopes were high for a possible start to a potential Triple Crown winner.
As I recall the track from start gate through turn #1 was flooded up to about 30 minutes before post time. Then the rains held up and a "quiet calm" fell over the racetrack as the horses entered the start gate.
I was sitting on the track in the slop-mud under the outside rail about 40 yards down the stretch from the start and triggered the Nikon 10.5mm Fisheye lens "Gate Remote" using the PocketWizard Multi MAX Transceivers. I followed up with a short burst of 5 frames on Smarty Jones as the field raced by me with a handheld camera and 400mm f2.8 lens … Smarty Jones went on to win.
Originally shot in color I turned this image into a soft Sepia tone to include in my book "Thoroughbreds … the horse racing experience" which is available via my Dave's Book Store website page. The Hardback edition is "Print on Demand" 1 book printed at a time, thus very expensive, but the computer edition is only $29 (it is for computer only, not tablet) https://daveblackphotography.com/daves-book-store/
Hope you like this picture and backstory Kirsten … great "Q's". Dave

GREAT QUESTIONS !… Please keep sending them in via the Contact Dave page on the website and we'll do it again next month. https://daveblackphotography.com/contact-dave/
"There's always more to learn" … see you next month here on WATR.
Adios.  Dave