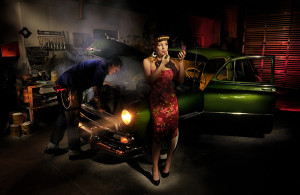 Hi and welcome to this edition of Workshop at the Ranch. We are heading into my favorite time of year, Fall. This is also my favorite time of year to teach, and I will be teaching at several workshops in September and October. You can always find out where I will be teaching by simply "clicking" the Upcoming Workshops category at the top of the main page of my website.
So,….Where Am I Teaching this fall?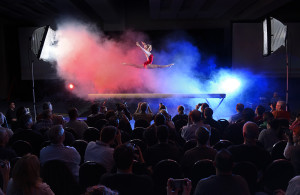 Image #1        Photoshop World: September 4-7, 2012 … www.photoshopworld.com
PSW returns to fabulous Las Vegas at Mandalay Bay, and do I ever have a full dance card.
Tues. Sept. 4: Noon-5:00pm.  I begin my PSW week with my Pre-Con class called Lightpainting 101 from Noon-5:00pm. Attendees will learn all the basics of Lightpainting and make their own Lightpaintings during this Hands-On instructional class. Helping me teach this year will be Ron Taniwaki from Nikon USA, and my daughter Haley will also join the staff.  Haley is a wedding and portrait photographer (who also Lightpaints…go figure) and will assist attendees during class time. You must be registered to attend and participate in this special offered Pre-Con class.
Wed. Sept 5: 1:30-2:30pm. Come to the KelbyOne EXPO Theatre on the Trade Show floor of PSW where I will be teaching how I use Speedlights, the FourSquare system, High Speed Sync and wireless triggering. If you're into lighting subjects on location and you want to use Speedlights then this step-by-step instructional presentation is for you. I will cover Speedlighting techniques from Portraits on Location, to Sports Action using High Speed Sync, and more.
Thurs. Sept. 6:  9:30-10:30am.  This is my Presentation on Sports Action Photography Tips and Strategies. This class will combine images from my Sports Portfolio along with in-depth commentary and interaction with the audience. I want very much for attendees to understand how to make better sports action imagery and get paid for doing it. This will be a great class where I reveal what it takes to work in the sports photography industry and make a living.
3:15-3:45pm. I will be at the Manfrotto Booth on the Trade Show floor. This will be a smaller personal look at my Sports and Creative Lighting Imagery. I will have folks from the audience select the image, and then I will explain exactly how the image was made. This is not a sit down presentation but a Manfrotto Booth special trade show floor presentation and conversation…you and me…one on one.  So come say "hi" at the Manfrotto booth and let's talk about photography.
6:00-7:00pm. This will be a 2nd go-round of my Speedlighting class from Wed. Many folks like to see the images and hear the technical information and teaching twice, so here we go again. Speedlights, FourSquare, wireless triggering, High Speed Sync…the whole 9 yards. Come see it again or for the very first time, you'll learn a lot.
7:00-9:00pm.  The Art of Digital panel presentations. I will again be part of a distinguished group of colleagues during this wonderful evening of presentations. Many of PSW and KelbyOne's most popular instructors will be featuring their career images and recent projects along with commentary. Get there before 7:00pm as seats tend to fill up quickly.
Friday, Sept 7:  8:15-9:15am.  Get up early and come to my Sports Action LIVE Photo Shoot at 8:15am. This is a Big Time LIVE action photo shoot with two time World Gymnastics Champion, Hollie Vise. We will discuss all the gear, camera data, and feature the NEW Pocket Wizard FLEX TT5 HyperSync triggering system and more. I will be explaining how to do an action photo shoot using large Sport Strobe Lighting systems, a Fog Machine, and a World Champion athlete leaping high above the balance beam. Hollie and I (mostly Hollie) wowed the crowd at PSW in Washington, DC and now we will do it again for PSW Las Vegas. Be there even if you don't shoot sports…Hollie is just awesome to watch fly above the balance beam!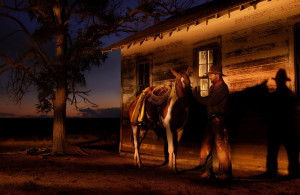 Image #2      American PHOTO Mentor Series Trek to Montana: September 18-23, 2012 … www.mentorseries.com
Whoa pardner! …This trek promises to be a great one. I love the Mentor Series Treks as they globe trot across our planet. Yellowstone National Park will be a primary location for our group, but wait! …There's more. Yellowstone with all its beauty, wildlife and Geysers is just the beginning. We will also photograph the Nevada City Ghost Town, along with Lightpainting at Elk Horn Ranch. This Trek offers so much and the itinerary is so packed that it is hard to nail down what I like best. Guess we will all just have to bring as many cards as our saddlebags will hold. If we see a Grizzly rest assured that I will be right behind fellow mentors Bob Smith and David Tejada to run….I mean capture the moment. Come join us in a western photographic adventure that tops them all.  See you in Montana.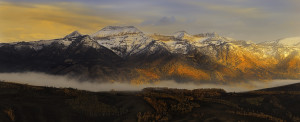 The Digital Photo Workshops are run by Jeff Leimbach of Scott Kelby/NAPP fame, and Randy Van Duinen a Nationally known HDR instructor and current Guru on Lightroom 4. The daily schedule for The Digital Photo Workshops features breathtaking sunrise landscapes in Grand Teton National Park followed by big time HDR and Lightroom 4 instructional workflow during the mid day hours. I will teach a Lightpainting class in the mid-afternoon so attendees can learn the basics of Lightpainting. Then we all head out to the Tetons for some beautiful sunset imagery followed by my personal favorite, an evening of Lightpainting. WOW!  Joining us for this workshop will be Matt Kloskowski from Kelby Media …does a workshop get any better than this. Whether you are interested in capturing great landscapes, learning HDR/Lightroom 4, or Lightpainting landscapes under the Milky Way, I hope many of you will come join Jeff, Randy and me at The Digital Photo Workshops in Jackson Hole, Wyoming, September 27-30…Cowboy Up!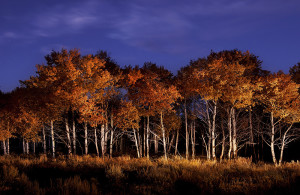 Image #4   Coming Soon!  KelbyOne Video: Lightpainting Grand Landscapes…  www.kelbyone.com or just "click" the KelbyOne icon on my website to learn how to become a member of Kelby Online Training.
This will not be an actual workshop that anyone attends personally, but I thought it I'd let all of you know that I will be filming my 3rd Lightpainting video for KelbyOne in the fall. The first two online videos have been received with high praise as a detailed, step-by-step teaching series on Lightpainting. I have selected 3 of my favorite locations for large landscapes, barns, and fall colors to Lightpainting under the starry skies of the American West. This instructional online video should debut online at KelbyOne in early 2013……. I'll keep you posted as to the release date.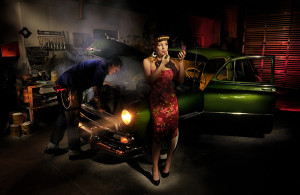 Image #5      Lozeau of Montreal Presentation and Lightpainting Workshops: October 13-15, 2012 … www.lozeau.com
I have been invited by my good friend Francois at Lozeau in Montreal, Canada for 3 separate event days. You can attend Day 1, Day 2, Day 3, or all 3 Days. So come join me in Montreal and learn to Lightpaint!  (Keep in mind that Lozeau's is in French speaking Montreal, Canada so look for the English tab on their website page.)
First Day, there will be an evening presentation Saturday, October 13th that will showcase my career work with teaching and commentary. Attendees will learn and be entertained as I feature my Sports portfolio, Speedlight Portfolio and Lightpainting Portfolio along with Q and A opportunities. This is not just a slide show but a teaching presentation that will provide many answers regarding Sports Action photography, Location Lighting with Speedlights, and Lightpainting techniques. Come learn and enjoy a great evening with me at Lozeau.
Second Day, the following day, Sunday, October 14th  will be an all day Hands-On instructional workshop on Lightpainting where attendees will make their own Lightpaintings of  Table-Top subjects and the Live Model in the studio. Whether you have never Lightpainted, or if you Lightpaint all the time, this is a great all encompassing class. Any photographer in any genre' will benefit from learning this creative lighting technique.
Third Day, will be on Monday, October 15th  and will be another Hands-On instructional workshop on Lightpainting. This time attendees will be Lightpainting Live Models throughout the day: first in the studio and then on location. This Lightpainting workshop is geared towards fashion with an artistic flair. Francois at Lozeau tells me that we will have some fabulous models to Lightpaint. WOW! …Sounds like a portfolio opportunity to me. So practice up on your French and bring your flashlight.
I'm very excited about the workshop days in Montreal and hope that many of you will come join me to learn about photography and experience making your own Lightpaintings.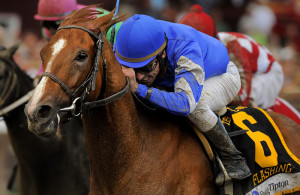 Image #6      American PHOTO Mentor Series Trek to Kentucky: October 26-28, 2012. www.mentorseries.com
I've taught this trek before and it is high on my Mentor Series list. Our trekkers will be treated to photographing fast action Horse Racing during the afternoons at world renown Keeneland Race Course in Lexington, Kentucky. But if that wasn't enough our itinerary will also include photographing at a beautiful horse farm, Historic Shaker Town, and a Kentucky distillery, and more. So if rolling Kentucky hills with white fences and gazing horses, …a historic pioneer village, …old wooden barrels of Whiskey, and breathtaking Thoroughbred Horse Racing action are on your photographic wish list, then come join me, and let's make some great pictures!  Oh, …and if you like horses, you might check out my latest ebook edition of Thoroughbreds…the Horse Racing Experience.  Just "click" the Book Store category on my website.
Well, it's going to be a busy Fall season of teaching for me. I hope to see many of you at one of these workshops. But if you can't make it to Vegas, Montana, Wyoming, Montreal or Kentucky, then for sure I'll see you next time here on Workshop at the Ranch.  Safe Travels. Adios. Dave