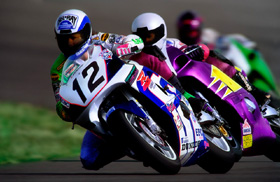 Hi and welcome to this edition of Workshop at the Ranch. I receive anywhere from 50-130 emails per week with questions about photography from well over 13,000 photographers that come to On the Road and Workshop at the Ranch on a regular basis. One of the most common questions I hear has to do with careers and how one might "make it" as a sports photographer. There are many things that go into the making of a successful career. I'm going to address one of the most commonly talked about topics, the importance that equipment and the ability to use it plays in being successful in today's photographic industry………………
Hi and welcome to this edition of Workshop at the Ranch. I receive anywhere from 50-130 emails per week with questions about photography from well over 13,000 photographers that come to On the Road and Workshop at the Ranch on a regular basis. One of the most common questions I hear has to do with careers and how one might "make it" as a sports photographer. There are many things that go into the making of a successful career. I'm going to address one of the most commonly talked about topics, the importance that equipment and the ability to use it plays in being successful in today's photographic industry………………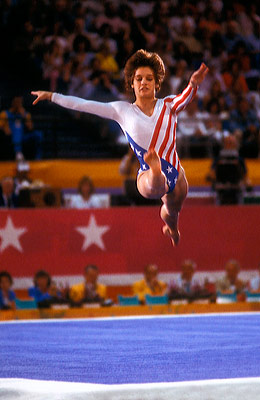 Image #1      Equipment and more importantly, one's ability to use it to their advantage, is as important today as it was when I began my career. This image of Mary Lou Retton, the USA's Gold Medal winner in Women's Gymnastics at the 1984 Summer Olympic Games in Los Angeles, was taken with a Nikon f3 film camera and a Nikon 300mm f2 Lens. The f2 aperture set me apart from nearly every other photographer at the Olympics. At the time the lens retailed for close to $8,000 ….an unheard of amount of money at the time. I had only been in business for a few years and did not have that much money in the bank……but I did have a motorcycle. I traded my cafe' style Suzuki with racing faring, drag bars, custom frame, Kerker Pipes, custom paint and more for the lens at the local photography store…Garts Sporting Goods! Yes, in 1983 my local Garts had a well supplied photography store and a manager that wanted my bike……..with matching custom painted helmet, of course. In its day (NOTE: this lens is no longer available today) the Nikon 300mm f2 lens was a manual focus lens with a very short depth of field when used wide open at the f2 aperture, but, it made a tremendous difference in my ability to cope with low light situations and produce better quality images of Mary Lou and helped establish me as a serious photographer in the sports industry. I recognized that a piece of equipment could make a difference and I found a way to acquire what I needed to do the job. I have never missed the motorcycle.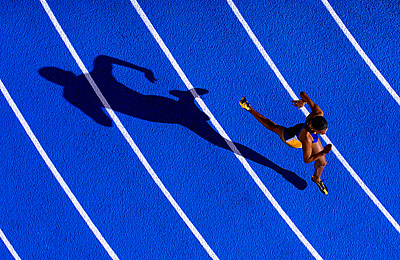 Image #2      Sport Strobe Lighting was thought of as something reserved for only the elite photographers in the mid 1980s. Those who shot indoor sports like basketball, hockey, swimming or boxing for Sports Illustrated would use Sport Strobe Lighting to produced pictures that were unmatched in quality. I recognized the fact that when sport strobes where used at indoor events that a lower ISO could be used, thus no high speed film grain, and the action could be frozen perfectly. Speedotron was the equipment of choice for SI, but after some research I decided they were too heavy and too expensive for my purposes and budget. I settled on a new product in 1990, Elinchrom Sport Strobes and in particular the 1000R unit. Lightweight, inexpensive and powerful with a short flash duration of up to 1/4000 of a second. I was determined to be competitive with SI and began using one, then two, then four….until I eventually owned TWELVE 1000R Sport Strobes. I also began using the Pocket Wizard Wireless system to trigger the strobes. This was ground breaking equipment back then and is still my choice today. This indoor track image was shot using one Elinchrom 600RX Sport Strobe and the Pocket Wizard Multi Max Transceivers. With each event I learned how to best use my Sports Strobes to improve my images both in quality and in artistic creativity. My clients were thrilled and good paying assignments became a sure thing just by mentioning to the client…"would you like me to strobe the event?"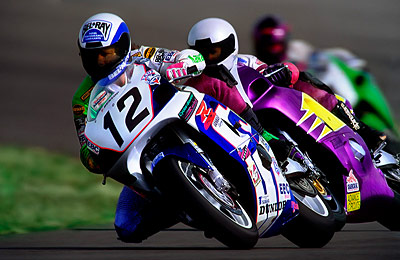 Image #3      Auto Focus became a part of my business in 1995 with the Nikon N90S Auto Focus camera and became a significant equipment regular for me with the introduction of Nikon's F5 Auto Focus Camera and Lens system in 1996.
Years of manually focusing with the Nikon 300mm f2, 400mm f2.8 and 600mm f4 lenses helped keep me at the top of my game when it came to following the action. Accurate auto focus equipment began the great leveling of the playing field for photographers. If manual follow focus was the obstacle holding a photographer back from effectively covering sports, auto focus was their ticket to achievement. Overnight, the sidelines became more congested with photographers and their auto focus cameras and lenses. However, just because a photographer owned an auto focus camera and lens did not mean they could keep the single area focus point on the subject. Skills I developed while mastering manual focus were invaluable in the transition to auto focus and allowed me to have even higher percentages of well composed images than many photographers new to the profession.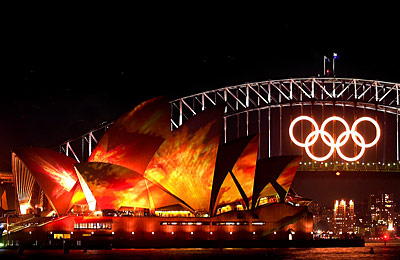 Image #4      Making the bold decision to leave film behind and switch to digital in 1999 was the smartest equipment change I ever made. Editors and Photographers said that digital was not high enough quality for magazines to use. I recognized digital as the future and set off to find a way to make it work. I pushed myself to learn computers, downloading and post processing and was ready to showcase my new equipment, technology and knowledge for clients during the pre-Olympic events leading up to Sydney 2000. No more high speed ISO film grain, and the "multiplication factor" with each lens was a tremendous advantage over my colleagues. (example: my 400mm f2.8 lens mounted on my Nikon D1 digital camera captured an image that appeared to be taken with a lens length of 600mm with the same aperture of f2.8). Color correction also became easier by using the White Balance instead of dense color correcting filters on each lens and of course, the flash card held more images than a roll of film. I was asked by Newsweek to cover the entire 2000 Summer Olympic Games in Sydney with digital. When the games ended I realized I had a giant head start with a new and exciting technology.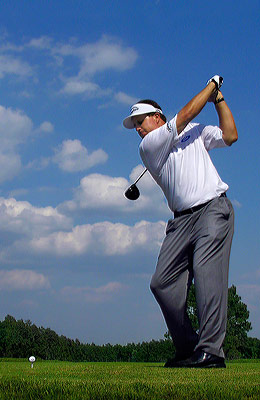 Image #5      Today's photographer must investigate all the possibilities of equipment in an effort to best service their client and stay steady in the ever changing photography industry.
The Nikon Coolpix 8700 and now the Coolpix 8800 were not cameras that I would have thought of as "standard equipment" for the professional. That is until the opportunity to cover the 2004 Masters was offered to me. Normally I am a student of the sports I cover and a close study of the athletes that are my subjects…..but not golf. I knew very little about the sport, the events or the athletes themselves. My research revealed that silence while photographing golfers was key but impossible to achieve. The Nikon Coolpix 8700 with its silent shutter and 8 mega pixel RAW/NEF file would be my equipment "ace in the hole" for golf coverage beginning with the 2004 Masters at Augusta. The silent shutter allowed me to shoot while a golfer was at the top of their back swing. I recognized the potential of providing my client, Golf Digest and Golf World magazines with new and unique pictures simply by using a specialized piece of equipment. This image of Phil Mickelson at the 2005 US Open was made possible by using and learning how to best use the Coolpix 8800, a consumer camera.
The evolution of equipment over the years has certainly played a big role in the longevity and steadiness of my career. As new innovations come along I try to recognize the potential benefit that a piece of equipment could have on my business and then make the commitment to move forward. It is important to choose the right piece of equipment for the jobs you do, the clients you work for and the pictures you want to capture. Many photographers get caught up with acquiring the "latest and greatest" and find themselves wasting money and struggling to make a living with their photography. My advice is to examine the needs of your clients and determine who your future clients could be. Then you will be able to make a purchase with some criteria to help guide you. Once the purchase is made…..learn how best to use the equipment by practicing. Whether it is a camera, a lens, a strobe, a computer, or a piece of software…..purchase it with a purpose in mind and learn how to use it to your advantage ….. then you will be able to capture pictures that will help you achieve your goals.
Thanks for joining me here at Workshop at the Ranch………………….Adios, Dave