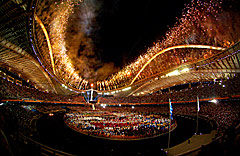 Hi, and welcome to this issue of Workshop at the Ranch. The 2004 Summer Olympics in Athens, Greece became my 11th Olympics to cover on assignment. Newsweek Magazine is….well…..into the news, but their editors are always appreciative of interesting and unique images that will set their coverage apart from all the other publications. There is plenty of opportunity to capture pictures of this enormous event that are artistic and graphic as well as reportive and action packed. Total coverage is one of my objectives each time I shoot an event. I push myself to deliver images beyond the "trading card" action. So let's take a look at some images from Athens…
Hi, and welcome to this issue of Workshop at the Ranch. The 2004 Summer Olympics in Athens, Greece became my 11th Olympics to cover on assignment. Newsweek Magazine is….well…..into the news, but their editors are always appreciative of interesting and unique images that will set their coverage apart from all the other publications. There is plenty of opportunity to capture pictures of this enormous event that are artistic and graphic as well as reportive and action packed. Total coverage is one of my objectives each time I shoot an event. I push myself to deliver images beyond the "trading card" action. So let's take a look at some images from Athens…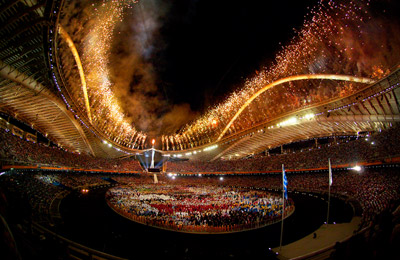 I have always enjoyed the Opening Ceremonies both from a photographic point of view and as one who enjoys the pageantry and entertainment that other countries and cultures display. This image of fire works at the conclusion of the Athens 2004 Opening Ceremonies was chosen as the 2 page spread opener for Newsweek's Olympic coverage. Nikon D2H, ISO500, 1/40th sec, WB Cloudy, Nikon 10.5mm Fish Eye lens set at f4, Aperture Priority EV +0.7, Bogen Super Clamp and Bogen Magic Arm, Lexar 1G Flash Card. Camera position was within my reach and was fired manually.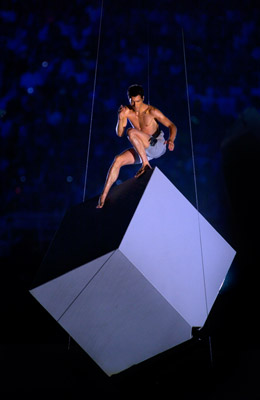 A big spectacle such as this requires a wide range of lenses to capture both the entire scene and the cast of players. "Luke Cube Walker" as I call him is suspended high above the ground while walking around the edges of the cube. Only the Greeks know why……. Nikon D2H, ISO500, 1/100th sec, Nikon 600mm f4 lens with Nikon TC 14E 1.4 teleconverter, WB Flash, Lexar 1G Flash Card, Hand Held…….No room for a monopod or tripod from this location.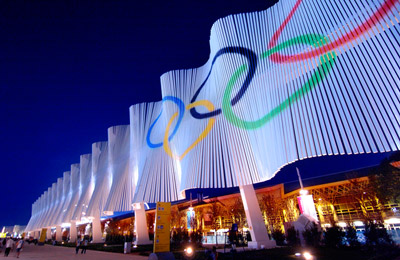 The media and patrons are separated at an Olympics both for travel ease and security. Many photographers never saw the OAKA Olympic area outside the venues where fans could walk between the events. This mechanized mobile is about 200 yards long and well over 100 feet high. Each white louver pivots separate from the others creating a undulating wave effect. At night this massive piece of art became an undulating projection screen. The Olympic Rings are not painted but projected onto the waving surface. The projected scene changes every 10 seconds or so to showcase past Olympic moments that can be viewed by fans walking through the OAKA Olympic area. The Gymnastics Indoor Hall is directly behind this portion of the mobile and the glow of the Olympic Stadium aides in illuminating the night sky at the far end. Nikon D2H, ISO500, 1/8th sec, Nikon 12mm-24mm f4 lens, Aperture Priority EV+0.3, WB5900K, Lexar !G Flash Card, Hand Held…..There is only so much a guy can carry and I was leaving from the gymnastic venue one night around Midnight and saw this giant structure and the projection show….A tripod would have been helpful but to cumbersome to carry. I loved this structure and photographed it for about an hour.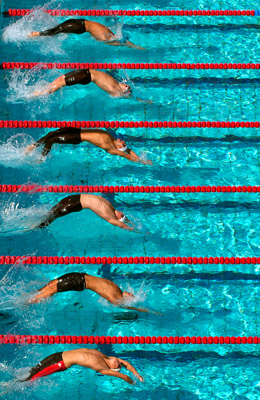 Action…but not typical. I just wanted something graphic and interesting besides Michael Phelps. Nikon D2H, ISO250, 1/1000th sec, Nikon 80mm- 200mm VR lens at f7.1, WB Cloudy, Lexar 1G Flash Card. So often photographers get wrapped up in tight isolated athlete action. This is all well and good but sometimes editors need something different. I enjoy taking a different look at the athletes and so do my editors.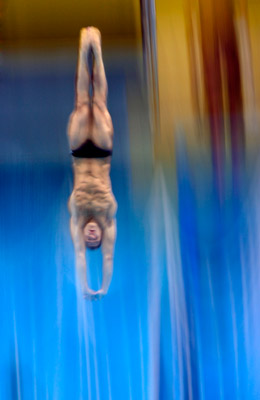 Slow shutter speeds are lots of fun and make great pictures when panned perfectly with the athlete. The platform divers perform several dives during the course of competition. I chose to capture the first round of dives with an artistic approach and slowed the shutter down to 1/15th sec. Nikon D2H, ISO250, 1/15th sec, Nikon 200mm-400mm G VR lens with TC 14E 1.4 teleconverter f8, WB 5300K, Lexar 1G Flash Card.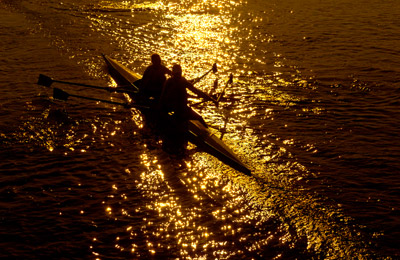 The Olympics provides a vast plethora of sports and venues. The Rowing venue was fantastic and I spent the sunrise hour at the bridge as the athletes made their way to the course prior to competition. Great images don't always need to come from the competition. Often times the training and quite moments are wonderful additions to the story. Nikon D2H, ISO200, 1/5000th sec, Nikon 28mm-70mm at f9, WB10,000K , Lexar 1G Flash Card.
Well…I hope you have enjoyed this months edition of Workshop at the Ranch. I hope these images encourage you to break away from the pack of photographers by capturing pictures with a variety of lenses, using slower shutter speeds and panning to create motion, get positioned for images that translate a sense of design, and get to the venue early in an attempt to make good use of early morning light during training. This Olympics was the most demanding three weeks of my career, but, was also the most rewarding. See you next time at Workshop at the Ranch.
Adios, Dave