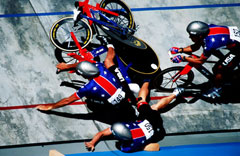 Welcome to this months edition of Workshop at the Ranch. October's issue will be the start of addressing many questions and concerns many of you have presented to me over the last 9 months. " HOW DO I MAKE A LIVING AT PHOTOGRAPHY? " This question is brought up time and time again. A large topic and one not easily explained in one lesson. So let us begin with the most BASIC of all basics when it comes to business…………………
Welcome to this months edition of Workshop at the Ranch. October's issue will be the start of addressing many questions and concerns many of you have presented to me over the last 9 months. " HOW DO I MAKE A LIVING AT PHOTOGRAPHY? " This question is brought up time and time again. A large topic and one not easily explained in one lesson. So let us begin with the most BASIC of all basics when it comes to business…………………
S U P P L Y A N D D E M A N D
SUPPLY and DEMAND……………….If the masses DEMAND SOMETHING and you can SUPPLY that SOMETING at a cost that is AFFORDABLE then you have a business. The problem is that a marketplace can become saturated with many photographers Many moons ago there was a vast waistland in the NFL known as the sidelines. This was a lonely uninhabited area for only a few…….the photographer and 2 guys from NFL Films. Hard to believe! but it is true. My first football game LIVE was John Elways rookie debut. I will bet you there were no more than 10 photographers on the sidelines at Mile High. Now look at the average game….30…..40…….50 and all the people with point and shoots……..60 and there are 100's, YES, HUNDREDS just waiting in the wings to take your spot if you say " can I get paid more this game? " Todays situation when it comes to the day rate and the photographer who will shoot for free ( after all, IT'S DIGITAL, FREE FILM and PROCESSING……….. RIGHT! ) reminds me of the story of OLIVER TWIST. Remember what happens to Oliver when he asks for " more porridge please "………..OFF WITH HIS HEAD! Well, we all know this senerio…..so let us learn how to get more porridge.
SEPARATE YOURSELF FROM YOUR COMPETITORS
There are many ways to separate yourself from your competitors. First and foremost you must be able to take a good image. A good image is just that, a good image. It must be sharp, exposed correctly, framed well, clean background, nice light and the subject must be of importance to the client ( supply and demand ) A good image of a 2nd string player might make you a STOCK IMAGE SALE but probably won't impress your editor. This " good image " of a player of importance might work for a stock agency or a trading card company or the football annuals and this is fine and can be a good living but perhaps you want more out of life and your work. Now we are talking the MOMENT. The MOMENT is the point in time that defines something about why we are photographing the game in the first place. It is the MOMENT that separates First from Second. A fingertip catch, the breaking of the tape, the fallen athlete v.s the athlete still standing. A candid face shot on the bench or a face captured at the MOMENT of victory as a teammate scores the go-ahead touchdown. Which do you think an editor at SI,ESPN, NEWSWEEK, TIME, USA TODAY etc, etc, etc………wants to see? It is the MOMENT in combination with the good image that makes a great image. There are great moments in every game of every day of competition. But do not think that all great moments are loud, victorious, players going insane over a catch There are many moments of interest to the reader and the editors we work with.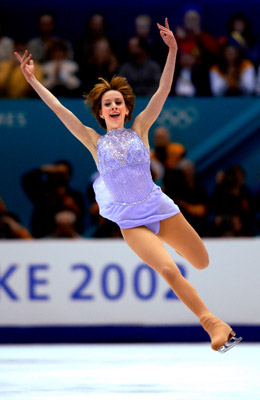 Sarah Hughes knows she has perfomed her best at this MOMENT during final program at the Winter Olympics in Salt Lake City. NIKON D1X, 300mmf2.8AFS lens, Lexar flash card. ISO800 640/sec f2.8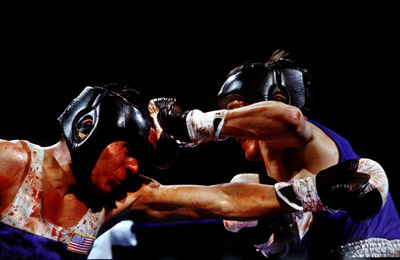 This MOMENT stopped this fighter. Film, NIKONF5, 135mmf2 lens and 6 Elinchrome 1000R strobes.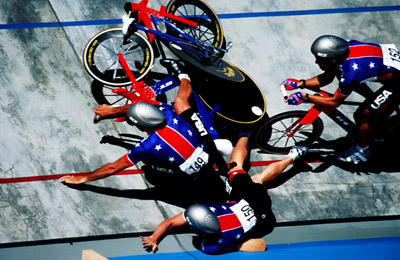 A scary MOMENT
when all has gone wrong for the USA Pursuit Team at the Velodrome in Mar Del Plata, Argentina.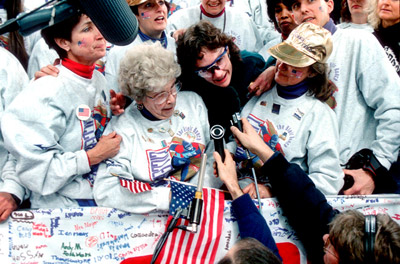 A MOMENT of joy and of NEWS. Bonnie Blair was expected to win Gold at the Winter Olympics in Lilihammer, Norway. Her unexpected departure from the ice oval and into the stands to celebrate with her family was a great final MOMENT to her speedskating career.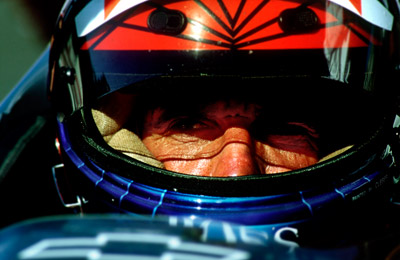 Often times a QUIET MOMENT is very effective for the story.
The face and especially the eyes tell the story of a Formula One legend Emmerson Fittipaldi at the twilight of his career.
MOMENTS
A good image can become great when it is a MOMENT in time stopped by you, the photographer. Having the MOMENT is a key way to separate yourself from your competitors. Remember, all of us are looking for the moment and many of us will have it……..So, how do I separate myself from my competitors if each of us have the moment?……………………………..That will be our next Workshop at the Ranch.
See you next time….. Adios, Dave