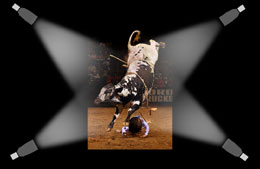 Hi and welcome to this edition of Workshop at the Ranch. Last month we discussed arena sport strobe lighting where I showed a step by step set up of sport strobes and gave examples from a recent boxing tournament. This month I would like to continue that thought process with some additional images from past assignments that required sport strobe lighting. (I recommend that you read the 2005 April WATR "Arena Sport Strobe Lighting 101" to help you better understand this continuation article.) We are going to START SMALL and work our way up to something BIG, but keep in mind that all I am doing is arranging my lights in a similar set up to those used for studio portraits. The difference being a larger "studio"…. a gym or arena. Also,"Sport Strobes" have a very fast/short flash duration instead of studio strobes that have a slower and longer flash duration (see 2005 April Workshop at the Ranch.) So, let's get to it……………
Hi and welcome to this edition of Workshop at the Ranch. Last month we discussed arena sport strobe lighting where I showed a step by step set up of sport strobes and gave examples from a recent boxing tournament. This month I would like to continue that thought process with some additional images from past assignments that required sport strobe lighting. (I recommend that you read the 2005 April WATR "Arena Sport Strobe Lighting 101" to help you better understand this continuation article.) We are going to START SMALL and work our way up to something BIG, but keep in mind that all I am doing is arranging my lights in a similar set up to those used for studio portraits. The difference being a larger "studio"…. a gym or arena. Also,"Sport Strobes" have a very fast/short flash duration instead of studio strobes that have a slower and longer flash duration (see 2005 April Workshop at the Ranch.) So, let's get to it……………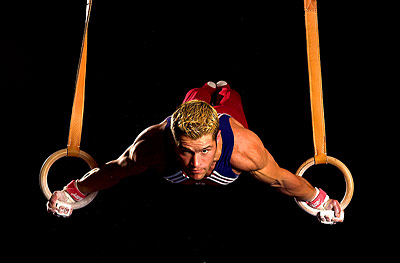 Image#1A and1B      Gymnast… Blaine Wilson was a 3 time Olympian. This image was captured in 2000 before he left for the Sydney Olympics The Still Rings are his strongest event…literally! This image is a good example of my thinking that arena lighting is similar to studio portrait lighting …only BIGGER. This arrangement is commonly called CROSS LIGHTING. The venue is a small gymnastics gym, a "small arena" so to speak, with no catwalks. I wanted to showcase Blaine's physic as his strength is legendary in the sport of gymnastics. I used the gymnastic gym's overhead spotting rig from the high bar directly behind Blaine to hoist up a black cloth backdrop. I used Bogen Lightstands for my Elinchrom 500 strobes (NOTE: this image was taken in 2000, today I use the Elinchrom 600RX.) I used a SOFTBOX on the strobe that was in front of Blaine and a 20degree Grid on the back strobe. Each strobe was about 15feet from Blaine. The front strobe was raised up to about 10feet and the back strobe raised to 13feet (Maximum height of my lightstand.) I recommend using sand bags for additional anchoring on the base of the lightstands. I positioned the lights about a 3/4 angle off the front of Blaine and a 3/4 angle off the back…a "CROSS LIGHT" arrangement. My SOFTBOXED strobe in front is 1/2power and gives me an exposure of f5.6, at 1/250 sync shutter speed at ISO200. My "BACK LIGHT" (sometimes called a hair light) has a grid and is set at Full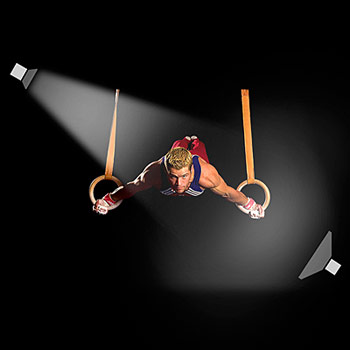 Power which gives me an exposure of f8, 1/250 sync at ISO200. This f8 exposure is 1 stop brighter than my f5.6 front light exposure and is a common light value in portraiture, and it is effective in accentuating Blaine's arm strength. I am positioned on a 16 foot step ladder. Blaine is capable of holding this skill, a Maltese Cross, for about 4 seconds. The Elinchrom strobes in general have a fast recycle time, (time required for the strobe to charge up to full power). The older Elinchrom 500 strobe unit can recycle in about 2.5 seconds while the newer 600RX units that I use today boast a 1.5 seconds recycle time. I usually count to 3 before taking another shot (with the count of 1 being the instant I press the shutter and the count of 3 being the 2nd shot). By this count I tend to wait 2 full seconds between shots. With this method of counting there will be no question that all strobes will be completely charged when I press the shutter for my next shot. All strobes are triggered wirelessly with Pocket Wizard Multi Max Transceivers.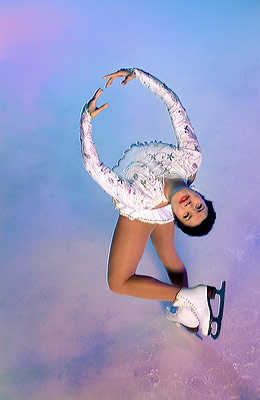 Image#2A and 2B      Figure Skater… This was an advertising shoot a few years ago. I rented the rink after hours and hired the athlete who was a former Olympian. The skater appears motionless but is actually performing a fast "layback spin." There were no catwalks over the ice rink so I used 4 Bogen Lightstands for each light and positioned myself atop a 16foot Ladder. Using sport strobes does not require a big event with a big arena. A small venue is a good place to use them. Here again I am trying to think of arena lighting as a BIG PORTRAIT. I used 2 SOFTBOXED strobes approximately 15feet in front of the skater and about 20 feet apart. I raised them up on the lightstands 13feet (sand bags are recommended for stability). I faced the softboxes almost directly at each other. I wanted a soft "SPILL" of light to illuminate my subject. I used my Elinchrom 1000R Sport Strobes at Full Power. The "spill" of light gave me a reading of f8, 1/250 at ISO200. By photographing down on the skater the ice became my background. Therefore, I decided to add some color to the ice…similar to a colorful background in a portrait. I used 2 additional Elinchrom 1000R units each with a small standard reflectors, each with 30degree Grids and Colored Gels approximately 15 feet behind the skater and about 15 feet apart. These strobes are also on Bogen Lightstands, but only 4 feet high because I want to scatter the colored light across the ice. I set the strobes at 3/4 power and achieve a reading of f5.6, f1/250 at ISO200 on the ice around where the skater will be spinning.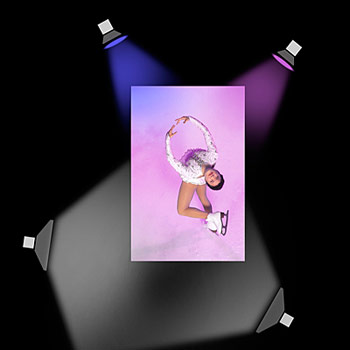 Remember that whenever you use a grid or gel with a strobe the light intensity is reduced. I used Pocket Wizards to trigger all 4 strobes wirelessly as neither the light from the softboxes or the grids would carry far enough to activate the built in slaves on the strobes, (this is not a flaw in the strobe but a result of my use of grids and "spill" of light.) With 2 "Softboxed" strobes 15 feet in front and 2 "Gridded" strobes behind I have created a SQUARE arrangement of lights that allows plenty of room for the skater to skate into the square with enough speed to perform her spin. I must allow a point of entry and exit amid all the strobes, power cords and ladder for her to skate comfortably onto the "MARK" (the area on the ice that I want her to perform her spin). All my light is now concentrated within the square and I have an exposure of ISO200, f8 at 1/250 sync speed exactly on the "mark." A nice blend of color creates a beautiful pastel ice surface for her to skate on.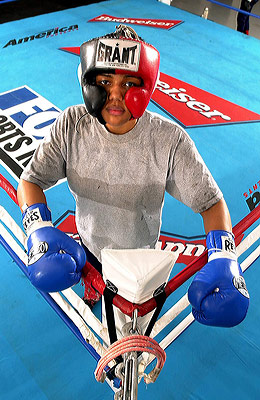 Image#3A and 3B      There are many applications for sport strobes away from the big arenas.
Here is George Forman's daughter, Freda Forman. The venue was a small boxing gym with a low WHITE ceiling. I positioned 4 Elinchrom 1000R sport strobes equally around the boxing ring at a distance of about 15 feet from the ring. Each strobe had a small standard reflector. I raised them to about 10feet high (about 10 feet from the ceiling itself) and pointed them straight up with the idea of bouncing the light off the white ceiling and showering it all over the gym. Each Strobe was set on full power and I achieved an exposure of f8, 1/250 sync at ISO200 on the boxing ring and general area surrounding the ring as well. Pocket Wizard MultiMax Transceivers were used to trigger one of the strobes and the built-in slave triggered the other 3 strobes. I used a step ladder to get above the ropes and clean up the background. This portrait was taking just seconds before she began her sparring session.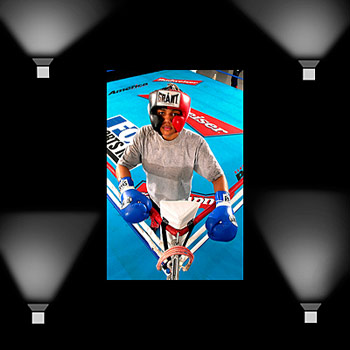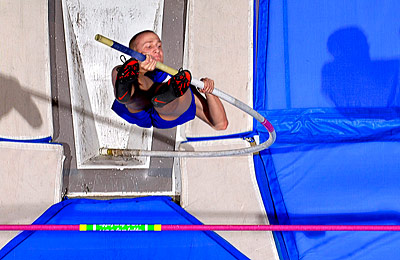 Image#4A and 4B      Pole Vaulter…. A big arena with catwalks is a common place for the sports photographer to install sport strobes. I secured my Elinchrom 600RX sport strobes to the catwalk with Bogen Super Clamps, safety straps etc… (this is an excellent time to review the 2005 April WATR "Arena Sport Strobe Lighting 101".) Each strobe has a sport reflector. Pocket Wizard Multi Max Transceivers were used to trigger the strobes and the Remote Nikon D2X wirelessly. At Full Power I had an exposure of f5.6, 1/250 sync at ISO250. I try and find a catwalk position for the strobe that gives me a 45degree angle of light on my subject. My 2 light set up works well for many situations and is an inexpensive way to capture great quality images. (NOTE: This is a short text of description because there is not much complexity with this set up….short, sweet and easy.)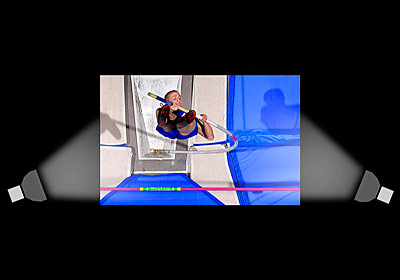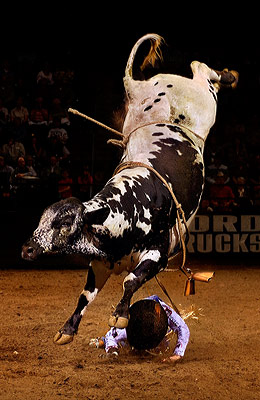 Images#5A and 5B      Bull Rider…
This is a good example of a 4 strobe set up. I have arranged my 4 Elinchrom 1000R sport strobes in the arena catwalks. This is a large arena where each strobe is about 150 feet from the subject. Usually photographers will use a sport reflector which would spread the light to illuminate the audience and subject evenly. I wanted to illuminate just my subject so I decided to use my POLISHED LONG THROW REFLECTORS instead of sport reflectors for this job (NOTE: I have 4 custom made polished long throw reflectors that I have used for many years…Bogen is now making two models…"Maxi Light" 43degree and "Maxi Spot" 29degree) The polished long throw reflectors will accomplish two things. 1. These reflectors narrow the light to a more concentrated area, thus only illuminating the bull rider and not the audience and background. 2. The concentration of light from the polished narrow reflector can increase the intensity of light by about 1and1/2 stops. This can be very useful as long as you do not need to light up the entire arena and audience. With all 4 Elinchrom 1000R sport strobes set on Full Power I achieved an exposure of f7.1, 1/250 sync speed at ISO200. Had I used my sport reflectors I would have had an exposure of about f4.0, 1/250 at ISO200 which I felt might not be enough depth of field to have both riders and bulls completely sharp.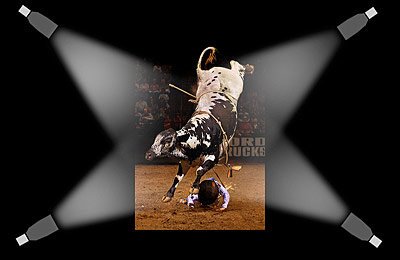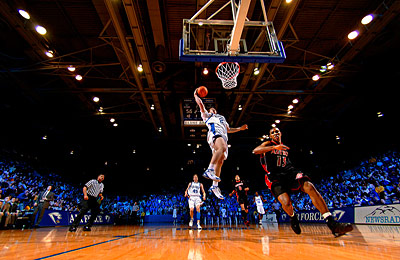 Image#6A and 6B      This final image has some interesting features but is still very similar to a portrait lighting arrangement, but on a larger scale. I used a simple 2 light set up to light the players on the basketball court. I positioned 2 Elinchrom 600RX strobes in the catwalks directly over the corners of the court at my end. Each strobe has a 30degree grid to narrow the light to illuminate only 1/3 of the court. I achieved an exposure of f5.6, 1/250 sync at ISO250. (NOTE: This 2 light setup is almost identical to the pole vaulter setup (image#4), except I have now added grids. I wanted to reveal the sold out arena of fans but also wanted to create a sense of drama to the scene. The audience is my background…just like a background is used for a studio portrait. Often times a photographer will light a background in their studio portrait…I am doing the same thing by lighting my background, the audience. I used 3 Elinchrom 1200RX strobes set on 3/4 Power each with a gel placed over the polished long throw reflector to illuminate the audience with the color of the home team…blue. I positioned the strobes for the audience in the catwalks out of the view of the camera. I achieved an exposure on the audience of f4, 1/250 sync at ISO250. This is 1 stop less light than the exposure on the players (f5.6). Just what I want. I like the depth that this image has and it is strikingly different from the standard basketball shot. I used a Nikon D2X camera with a Nikon 10.5mm Fisheye Lens. The low angle is achieved by placing the D2X on a Slik Ballhead attached to a floor plate. I positioned the camera in front of me and fired it manually. I corrected the fisheye distortion using Nikon Capture.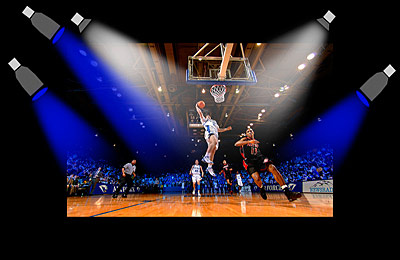 Well,……there you have it. More arena sport strobe lighting. Remember where we started with our lights…………small, like a portrait lighting set up and we worked our way up to a bigger venue and set up of lights. Remember to revisit past editions of Workshop at the Ranch and On the Road to see other examples of images using sport strobes and better understand how they are used. All monthly editions of Workshop at the Ranch and On the Road beginning in January 2003 are archived and accessible to you on my website. Until next time……..Adios, Dave