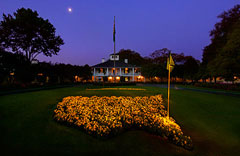 Welcome to the May issue of Workshop at the Ranch. I was asked by Matt Ginella at Golf World / Golf Digest Magazine to do documentary coverage of the Masters. So impressed with Matt and his ideas and the event itself that I have decided to continue the Masters coverage from On The Road with some new equipment and ideas that might be helpful to those of you who cover sports events. Let's take another look at Masters images…

Welcome to the May issue of Workshop at the Ranch. I was asked by Matt Ginella at Golf World / Golf Digest Magazine to do documentary coverage of the Masters. So impressed with Matt and his ideas and the event itself that I have decided to continue the Masters coverage from On The Road with some new equipment and ideas that might be helpful to those of you who cover sports events. Let's take another look at Masters images…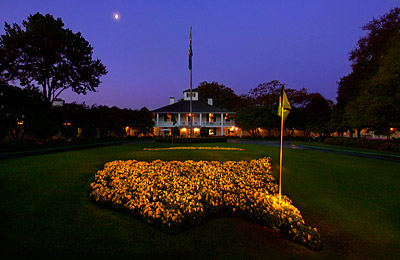 Lightpainting…. My documentary coverage of the Masters began each morning at 5:30am with a Lightpainting somewhere at Augusta National.What better place to start than the Club House at Augusta National. Several interested security guards joined me for the shoot and were as thrilled with the results as I. This image is a 20second exposure at f22 using a Nikon D2H, WB10,000K, Noise Reduction ON, ISO200,Nikon 12mm-24mm Lens. I used a Bogen Tripod, a 1G Lexar Flash Card, and a Vector Sport Spot ( 2 million candle ).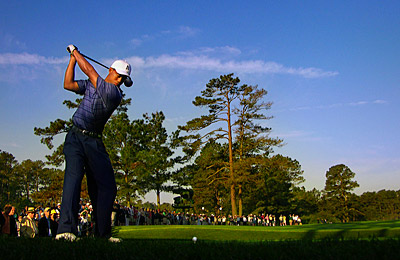 I have done little golf coverage during my 25 years of sports photography. Matt's hope was that the Masters would be NEW to a golf rookie like me, thus bringing a fresh look at the event to Golf World and Golf Digest's readers. Shooting during the back swing is the biggest NO NO in all of golf. The sound of a camera shutter can be distracting to the golfer during his swing. So…let me introduce all of you to the Nikon COOLPIX 8700. This is Nikons 8 megapixel RAW/NEF file digital camera. I nik-named it "Little Nell" after the small helicopter James Bond used in You Only Live Twice. As Bond put it….."she may be small but very convincing." Here is Tiger Woods on the 15th tee at the 8:00am rain delay restart day (Friday). The COOLPIX 8700 has a flip out LCD screen and a SILENT SHUTTER. The camera is resting on the grass and I view Tiger, via the LCD screen, start his swing. The silent shutter is undetectable and Tiger is captured at the top of his back swing Nikon COOLPIX 8700, w/ Wide Angle Converter, ISO100, Shutter Priority 1/500 sec. (note: Image #7 in On The Road of Phil Mickelsons tee shot back swing at 18 was shot with the Coolpix 8700 and its Silent Shutter, w/ Wide Angle Converter.)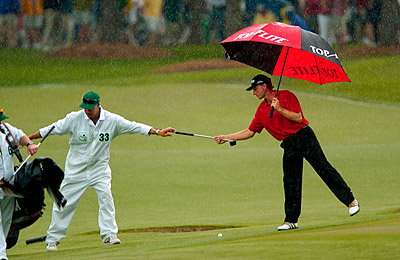 From the tower at the 18th tee I could also see the 17th green.
Thursday's rain provided great images all day but this one of Berhard Langer of Germany was a fun one. Nikon D2H, ISO250, Nikon400mm f2.8 Lens, Shutter 1/2000 at f2.8, Bogen Graphite Monopod, Lexar 1G Flash Card.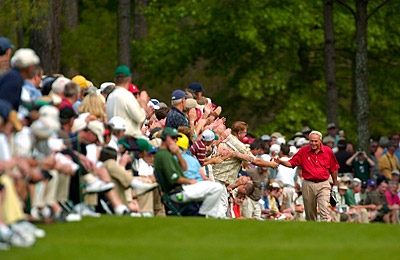 Perhaps the greatest pleasure I had was following Arnold Palmer from 13 through his final put at 18. My dad has played golf his entire life and Arnie was his favorite. Here is my first shot of Arnie as he walked up the 13th fairway on Friday. NikonD2H, ISO200, Nikon 600mm f4 Lens.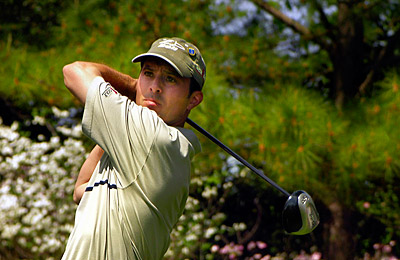 Little Nell again but this time with a 1.5 Converter.
I believe this makes the COOLPIX 8700 aprox: 350mm f2.8. Last years Masters Champion, Mike Weir of Canada, tees off at 9. Although a standard tee shot an usually captured with a 400mm or 600mm length lens I chose to use Little Nell as it is small and unassuming and poses no threat to the golfer the way a 400mm would from the same distance. The Silent Shutter and 8 Megapixel RAW/NEF file are a great combination. COOLPIX 8700, w/ 1.5 Teleconverter ISO100, Aperture Priority f2.8. Lexar 1G Flash Card.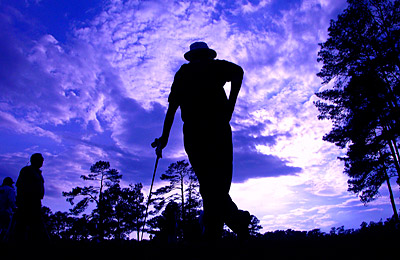 Looks like a job for Little Nell! And it is. Kirk Tripplet was waiting for the call to postpone play after Thursday's 3 hour rain delay pushed play to sunset. Little Nell (Coolpix 8700) was placed in my lap as I sat only 10 feet behind the tees at 15. Kirk never heard a thing as the Silent Shutter once again allowed me to capture a moment that would normally be unacceptable to the golfer. Nikon COOLPIX 8700, w/ Wide Angle Converter, ISO 50, Manual exposure 1/4000 f5.6 , WB Fluorescent to create the blue mood of the clearing storm.
Well, I hope you have both learned from and enjoyed my assignment at the Masters. Many thanks to Matt Ginella, J.D. Cuban, Dom Furore, and Steven Szurlej who were patient with all my questions about the game of golf and the Masters. I would also like to thank my assistant, Joey Redd. Joey was far more than a grip who carried camera gear. His knowledge of Augusta National, the game of golf, and his polite manor was perfect for me and the job at hand. Thanks Joey for a job well done….I could not have done it without you.