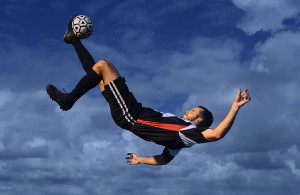 Hi and welcome to this edition of Workshop at the Ranch (WATR.)
Your Questions
keep on rolling in via my Contact Page.
Some very technical Qs
came in recently, so let's check em out and get to my answers.
---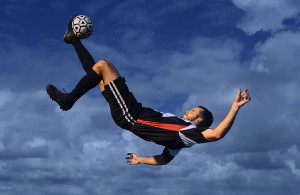 Image #1   Sky Kicker … Nikon D800, ISO200, 1/2000 at f8, Nikon 24-70mm lens, WB 3750K, Elinchrom Quadra with Standard "S" Flash Head, Sport Reflector and Full CTO Warming Gel, Pocket Wizard FLEX TT5 with HyperSync used as Transmitter and Receiver, Manfrotto Lightstand, SanDisk 32G Extreme Pro Flash Card.
Q… Hi Dave, I am a huge HUGE fan of yours and hope to meet you in PSW this Sept in Vegas. I've watched all of your Kelby One training videos. Since I have the Elinchrom BRX 500 strobes I'd prefer to use them vs. investing in bunch of additional SB 910s. Is there any way to use my BRX 500 strobes for on-location high-speed/hyper sync shooting? (Obviously, I know I'd need a Vagabond power pack.) I know I need the Flex TT5…for the camera…correct. For my strobes, I currently have the Elinchrom SkyPort – which does not support high speed sync. Thank you Dave!
A… Hi Katharine.
Thanks for your patience regarding my reply…catching up after a long road trip. Thanks also for the very kind words, and glad to hear you are enjoying my video classes on KelbyOne. Please come up and introduce yourself at PSW in Las Vegas.
Wow, multiple questions…OK, here we go. Answers to your questions can be found in my latest KelbyOne video class called: 3 Ways to Light Up Sports Action www.kelbyone.com  Several strobe (flash) systems are demonstrated including Speedlights with High Speed Sync, and Elinchrom flash systems with Pocket Wizard FLEX TT5 HyperSync system.
Let's begin with your SB-910 Speedlight question. Yes, Speedlights can be used for High Speed Sync sports action flash photography. High Speed Sync is activated in your Nikon D4s camera, but not on the flash unit itself. It's located in the Custom Settings Menu under Bracketing/Flash…set this to 1/250s (Auto FP). Now, any time you go above 1/250 of a second shutter speed with flash it will activate High Speed Sync.
I use the Nikon SU-800 Commander to fire my REMOTE Speedlights off camera and often use the RadioPopper PX system to fire them over great distance and in bright sunshine.
As for your other question regarding the NEW Elinchrom BRX 500 flash units and Skyport system… The Skyport system does not accommodate any HyperSync mode. The Pocket Wizard FLEX TT5 system does have HyperSync (flash sync speeds above 1/250). Success with the FLEX TT5 and HyperSync seems to hinge on the flash head "Flash Duration."
The slower the Flash Duration of the flash tube the better the performance with the HyperSync system. I believe that the BRX 500 flash head has a fast (or short) flash duration…about 1/1500 at full power.  This might make using HyperSync mode with the FLEX TT5 less successful than using a Quadra or Ranger with the Standard "S" flash head, which has a slower flash duration.
This next answer involves some experimentation on your part… You'll need to test your BRX 500 units with the Pocket Wizard FLEX TT5 while using HyperSync. All photographers must calibrate their own FLEX TT5 system to their own Flash Systems. Only by making your own test will your discover how fast of a shutter sync speed is possible.
Well, hope all this technical jargon helps shed some "light" on your questions. Watch my NEW KelbyOne video class 3 Ways to Light Up Sports Action www.kelbyone.com… it's a 2 hour plus instructional-demonstration video but answers to your questions, and many more, are in there.
Great questions Katharine…thanks for asking. Dave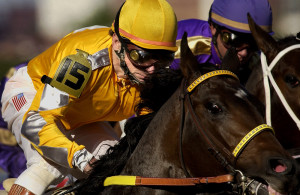 Image #2   At the Wire … Nikon D3s, ISO640, 1/1250 at f5, Nikon 600mm f4 lens, WB 7140K, Gitzo Carbon Fiber Monopod, SanDisk 16G Extreme Pro Flash Card.
Q… Dave, I'm a huge fan. I just watched your horse racing tutorial at Kelby One and loved it. I shoot a lot at Santa Anita and I have a legal question. Do you need a release from the jockey if you shoot him during a race. What limitations do we have for selling our horse racing shots? If you are not comfortable answering, I understand, but I'd love your thoughts on the subject. Best, James
A… Hi James. Glad you enjoyed the Horseracing class on KelbyOne www.kelbyone.com  It was a real favorite of mine to make and the feedback has been very good. Sports photographers can learn many sports shooting techniques and also a valuable lesson on how to set up a REMOTE camera for sports.
You Do Not need model releases of jockeys or horses (horse owner) or trainers etc if you are selling your images to magazines, newspapers, and any "editorial" publication.
You Do need to have model releases of jockeys, horses (horse owner) trainers, etc, etc for your images to be published for commercial usage…advertisements, product endorsement, PR, etc.
Print making/sales have always been a bit of a gray area regarding releases. I know many photographers, top name people, who make and sell prints of professional athletes…of which a jockey and the horse are certainly pros. To my knowledge they are not stopped by the athlete or agent, and vigorously claim they have the right to sell prints. As for me, I view a print as not being editorial news, it is a commercial sale in my opinion, and therefore I do not make prints.
I personally Do Not make or sell prints of athletes…Olympic, Professional or otherwise, including jockeys and their horse…not even to a fan. If a company is asking for images to be used commercially then I require that they contact the athlete, owner, agent, etc. and send me a signed written release. If their request and commercial dealing are legit, I am happy to release the image…for a fee of course, it's my business.
The ASMP (American Society of Media Photographers) is the nations top organization that has set many of the legal standards in the photography industry…including the current copyright laws.
I have been an ASMP member my entire career. You might want to contact your local chapter for a more definitive answer regarding print making/sales.
Hope this answer sheds a little light. Great question thanks for asking.
Enjoy the races. Dave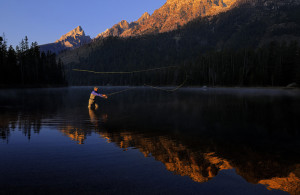 Image #3   Teton Casting … Nikon D4, ISO400, 1/1250 at f11, Nikon 24-70mm lens, WB 6250K, Elinchrom Ranger RX Speed AS and Standard "S" flash head with Sport Reflector and ½ CTO warming gel, Pocket Wizard FLEX TT5 as the Transmitter and Pocket Wizard ST4 as the receiver, Manfroto lightstand, SanDisk 16G Extreme pro Flash Card.
Q… Hey Dave, Congrats on becoming a Grandpa. Was reading your June WATR blog article, image #3 and #4, the pocket wizard needed for the Quadra is the Flex tt5 transmitter and receiver and #4 the Ranger RX would use the ST4 as the receiver. Would this be correct? I know that much more important things like your new grandson are on your mind. Keep up the great work and teaching. drew
A… Hey there Drew.  Thanks for the "Congrats"…really exciting for my wife Susan and I to become Grandparents. Little Malachi is certainly on my mind, but the photographic side of my brain is still working just fine.
The Quadra power pack does not accept the Pocket Wizard ST4 as a receiver. The Ranger RX Speed AS power pack does allow the Pocket Wizard ST4 to be used as the receiver.
Early morning sunrise light always looks so beautiful on the mountains, but for my Fly Fisherman to line up compositionally with Mt. Moran he would be casting in the deep shadow of the hillside and trees that are out of the frame to the left. The solution was to reveal him from the shadow with the Elinchrom Ranger RX Speed AS 1100 ws power pack and Standard "S" flash head.
The Pocket Wizard FLEX TT5 with its HyperSync capabilities was used to trigger the Ranger that was located on the embankment about 120 feet from my subject. And Yes, I use the Pocket Wizard ST4 as the receiver on the Ranger RX. And the ST4 is good money saving rather than buying a second FLEX TT5 to be used as the receiver for the Ranger.
Thanks for a really great question Drew.
And thanks to all of you who have submitted questions. Remember to keep those Q&A's coming in. I'll reply with an answer as soon as I can and perhaps post it in the WATR blog so others can learn.
See you all next month here on WATR.   Adios. Dave