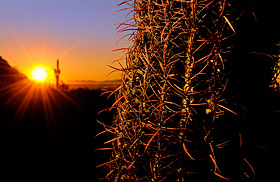 Hi and welcome to this edition of Workshop at the Ranch. First let me say thank you to all of you who took the time to write me an email with your book idea. Hundreds of emails arrived during the month of January and enlightened me on what you would like to see in a book. Nearly 95% of the emails suggested the same format and topics, that being large pictures, Workshop at the Ranch teaching, and a variety of subjects ranging from Sports to Arena Lighting, to Speedlights and Lightpainting. So be it! I'm pleased to say the book is already under way and I am thrilled that so many of you were willing to share your thoughts. I hope to have it available for purchase this Spring. Thank you all so much for your ideas.
Hi and welcome to this edition of Workshop at the Ranch. First let me say thank you to all of you who took the time to write me an email with your book idea. Hundreds of emails arrived during the month of January and enlightened me on what you would like to see in a book. Nearly 95% of the emails suggested the same format and topics, that being large pictures, Workshop at the Ranch teaching, and a variety of subjects ranging from Sports to Arena Lighting, to Speedlights and Lightpainting. So be it! I'm pleased to say the book is already under way and I am thrilled that so many of you were willing to share your thoughts. I hope to have it available for purchase this Spring. Thank you all so much for your ideas.
Okay, let's get started on a new year of Workshops at the Ranch and what better topic to discuss than the NEW Nikon D3X. Yes, I bought one and it is amazing! This may not be the camera for everyone, but it is definitely the camera for those who's work revolves around the studio portrait, but, I believe the D3X has much more to offer than just the ultimate in portrait quality. For those who shoot landscapes, or macro details, or anything that is lit with strobes or Speedlights, or if the commercial/advertising market is your goal, then the Nikon D3X may be the camera for you. During the past 10 years I have pushed myself to increase my photographic skill level and subject matter, thus broaden my client base. While my first 20 years of business was dominated by sports photojournalism imagery alone I now have clients where my photography outside of athletics is generating income. And while fine studio portraiture is not a direction I want to pursue, subjects that involve location lighting, landscapes, and Lightpainting, and the commercial/advertising market place is clearly something I see as both exciting and beneficial, and I believe the Nikon D3X is the megapixel camera to further my career and carry my work to a higher level of excellence.
Let's look at a few comparisons between the NEW Nikon D3X and the Nikon D3 and Nikon D700. Let's just say that the D3 and D700 are identical with regards to image quality, High ISO settings, Auto Focus modes etc. For the most part the price, the frames per seconds rate, and dual vs single card slot capabilities separates them. But the difference between the D3/D700 and the D3X is considerable. Perhaps the most obvious is the price, $7,499 for a D3X while a D3 is about $4,399 and a D700 is about $2,699 (I'm quoting prices where I buy all my photographic equipment at Roberts Imaging, phone: 800-726-5544.) Another difference is the sensor, D3/D700 have 12.1 megapixel FX format while the D3X boasts 24.5 megapixel FX format. And then there is the High ISO performance. The D3 and D700 are the undisputed champions of High ISO imaging, weighing in at the unbelievable High ISO sensitivity level of ISO6400 while the D3X achieves a much more modest ISO1600, and that 1600 is not quite as clean as a D3 or D700 at ISO1600. Personally, the frames per second rate is a non issue for me as the D3 clocks in at 9 fps while the D700 and D3X achieve 5 fps. This frame rate of 5 fps is the D3X maximum when set at 12 bit depth. At 14 bit depth the frame rate is much slower for the D3X at just under 2 fps. But here's food for thought, the D3X at 12 bit and in the crop mode will crank 7 fps … well now, with the D3X supplying twice as many pixels the crop mode file is 10.5 megapixels (3968 X 2640) … nearly the size of the D3 file without a crop mode (4256 X 2832.) Very interesting indeed. This suggests that by using the D3X in the crop mode I can achieve 7 fps and have nearly the same quality of image that a D3 or D700 produces, but keep in mind that the High ISO capabilities are far less in the D3X than a D3 or D700.
So why did I buy a D3X? Primarily for the unparalleled image quality in a 35mm camera, and that image quality leads to commercial /advertising jobs and sales which translates to commercial/advertising income, which far exceeds income from editorial day rates and in my opinion makes the additional cost of $3,100 (over a D3) a sensible business decision. The market place for your images is a major component in determining what camera you use. My work still includes editorial work of which the D3 or D700 reign supreme, but if I use a D3X to cover football, swimming, tennis etc, etc, my images will stand out as higher quality than those photographers I'm competing against for clients. My business now goes beyond editorial and includes commercial jobs and sales every month and the Nikon D3X will help me achieve the higher standard of excellence that is required for that end of the industry.
The quality of detail that each D3X file produces is remarkable. For jobs that I use arena lighting, Speedlights, or Lightpainting, and even for my landscapes or nature images to excel in the market place, whether published or in print enlargements, I have always looked forward to the reality of medium format quality in a 35mm camera and the Nikon D3X does that for me. Sports coverage with the D3X is clearly possible when there is good available light or strobe use, but the Nikon D3 will still be king and my choice when it comes to editorial sports coverage especially at the higher ISO settings. No other camera can do so much as the D3. But I foresee grafting in the D3X whenever possible. An example might be shooting the first half of a football game with the D3X while the light is sufficient and then using the D3 in the second half when the field falls into shadow or the stadium lights come on. Keep in mind that I do not think Nikon intended the D3X as a sports camera, but that doesn't mean I can't use it as one when possible. Why do it? …Do magazines need that kind of megapixel quality? Probably not as a rule, but I don't know any editor who doesn't want more quality, and sometimes even a 600mm lens can be too short for a key play and the D3X with its 24.5 megapixel file could easily be cropped by as much as 50% and make a fantastic two page spread or cover without hesitation.
I purchased my Nikon D3X soon after Christmas and have been incorporating it into my daily business and projects with frequency. I have more testing and more jobs for the D3X planned for the month of February of which I will write about in the March Workshop at the Ranch, but for now, let's take a look at some images made with the NEW Nikon D3X 24.5 megapixel camera.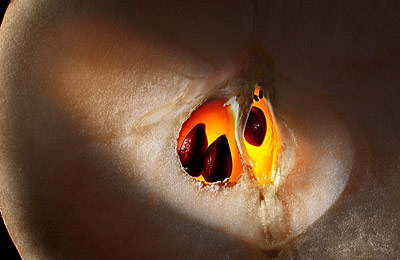 Image #1      Slice of Life … My first D3X image. This image is part of a greater body of work that is an on going project I have been working on for a few years, and seemed like the perfect place to start getting familiar with the new camera. The NEW Nikon D3X camera is built for details. It's 24.5 megapixels brings an image to the glory days of the medium format camera (all hail Hasselblad), but in a 35mm camera where I can use all my Nikon lenses and Speedlights ………. Nirvana! Lightpainting and my work that incorporates creative use of Speedlights and sport strobes is a major destination for my D3X, along with providing commercial/advertising clients with higher quality images. My Lightpaintings and lit images tend to draw the viewer into the illuminated areas of the picture much the way an artists use of light guides the viewer to where the artist wants them to go. This close examination requires the image to be perfect in quality and detail. Nikon D3X, 12 bit, ISO200, 13 seconds at f32, Nikon 105mm Macro Lens, WB 5000K, Stylus Streamlight single LED pen light, Lexar 8G Flash Card. The apple slice is about 3/4 inch thick and resting flat on a glass plate that is elevated 1 foot above the table. My D3X is located directly above and aimed straight down at the "slice of Life." This allows me to Lightpaint under the apple slice and illuminate the seed chamber from behind for about 10 seconds and then Lightpaint a 1/2 inch wide shaft of light (about 2 seconds) that leads the viewer to the core of the picture, (no pun intended). The D3X captured all the texture of not only the apple with it's juices but the texture of the seeds as well. A very satisfying results, however I believe even greater edge details would have been possible had I captured the image in the 14 bit depth setting. Unless I need 5 fps (available in 12 bit depth) I should recommend that you make use of the 14 bit depth capture in RAW/NEF. Remember that at 14 bit only 1.9 fps are possible, but for this image only a single frame at a time was need.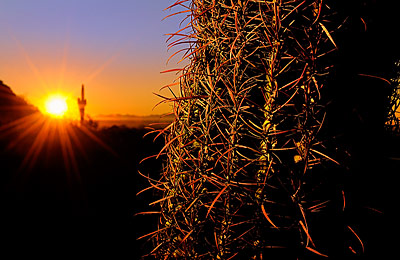 Image #2      Good Morning Cactus … The Arizona desert is a unique environment and the complex maize of needles on this cactus at daybreak clearly illustrates the incredible detail quality of the D3X. The edge detail of each needle is beautiful along with the color and shadow detail. I simply composed the image and then held the remote SB-900 in my left hand about 18 inches away from the cactus to create the impression of the first rays of morning sunshine on the cactus. The execution of this image was much easier to accomplish than it was to find the perfect cactus as a subject and also have the far cactus silhouetted on the horizon. Nikon D3X, 14 bit, ISO250, 1/100 at f22, Nikon 24-70mm lens, WB 10,000K, One Remote SB-900 Speedlight with a power output of -1.3, Nikon SU-800 Commander, Lexar 8G Flash Card.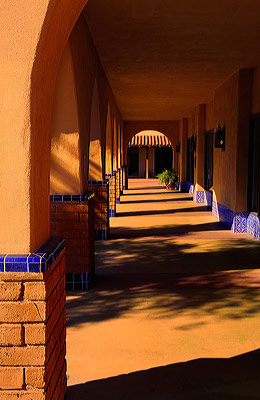 Image #3A      Arizona Archway …
Southwest architecture makes wonderful pictures. The warm light at sunrise helps make the columns glow while the blue Spanish tile trim makes for a perfect compliment. One of the advantages of the D3X having twice the pixels as a D3 or D700 is the ability to make a major crop in "post processing" or "editing" as some would call it. The file contains enough detail and clarity to easily make a 16X24 inch print with magnificent quality even though I'm only using 1/3 of the original image. Nikon D3X, 14 bit, ISO320, 1/100 at f22, Nikon 24-70mm lens, WB 6250K, Lexar 8G Flash Card. (I use the most current version of Nikon Capture NX2 for my post processing touch ups and conversion of each file to a TIFF format for eventual distribution to clients.)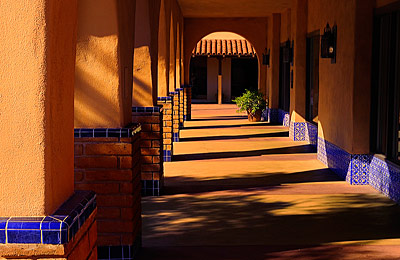 Image #3B      Arizona Archway (cropped) … Here is the 1/3 cropped enlargement of the original image. I thought I would put the D3X to a test and made a horizontal cropped image of the Arizona Archway image so as to study the quality. The D3X with it's 24.5 megapixels made cropping and retaining beautiful image quality with edge detail easy. This crop is the center 1/3 of the original picture and easily made a quality 16X24 inch print. Please don't misunderstand me, I would always recommend composing each image carefully and not to rely on cropping an image in the post processing phase to get the final image composition. But this does prove a point, that being, the amount of information in the D3X 24.5 megapixel file, especially when an image is captured at 14 bit depth, will enable a photographer to recompose with cropping in post processing and produce an image with much of the same detail quality of a D3 or D700. Does this mean I only need a 200mm lens and then crop the image in post processing instead of using a 400mm lens and I can still arrive at the same image quality …. Well, pretty darn close, but keep in mind that having the 24.5 megapixels is not a license to shoot loose and then compose/crop later. After all, you paid $7,499 for all those pixels and I would suggest you use all of them whenever possible.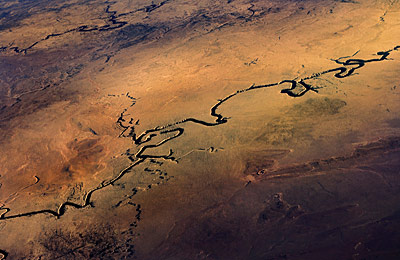 Image #4      Southwest River View … I love to make pictures of all kinds. I travel a lot and don't like to waste time sitting on an airplane watching an old episode of Chuck, so I usually book a flight that departs or arrives around sunset so that the light and shadows are pretty. Then I make sure I have a window seat that allows me to see the earth below. If the window is clean enough I will make some pictures during the flight. This image is now part of my Transit Mix archive. A collection of images I have made while traveling in planes, trains, buses, taxis, cars, boats, rickshaws, whatever. Do they sell? … Yes. I have sold many and enjoy my travels much more. The D3X file will take my "fly-by" images to a much more usable level. In this image I can distinguish the edges of the canyon walls and even the trees with their late day shadows are visible, and keep in mind I'm shooting through the distortion of a Plexiglas window from 26,000 feet … if only United had window cranks in economy. Shooting through the airliner window is hardly my idea of quality filtration, but the mega-quality of the D3X brings new possibilities to my sky travel past time. Easily publishable and printable this landscape paves the way to future earthly images. Nikon D3, 14 bit, ISO125, 1/250 at f6.3, Nikon 24-70mm lens, WB 6670K, Lexar 8G Flash Card. When I shoot through the airplane window I recommend shooting on the VIVID Picture Mode and perhaps increasing the saturation level. These in-camera enhancements found in most of the Nikon line of DSLR cameras help cut through the atmosphere and Plexiglas window.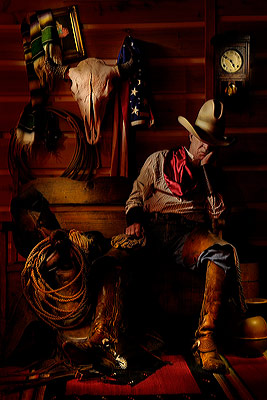 Image #5A – #5D      Quit'n Time … A big reason for purchasing a Nikon D3X was for my Lightpaintings. I want very much for my Lightpaintings to break into the Fine Art Photography category and I believe the D3X and it's 24.5 megapixels will give me a medium format quality in a 35mm camera and the freedom to make enlargements well beyond 24X36 inches. Image #5A is the original composition just as I shot it. It is the image I wanted to make. Images 5B-5D are cropped versions of the original image made for the purpose of examining the edge detail and over all quality of the image. I'm not suggesting that photographers shoot loose or careless and then compose/crop later in Capture NX2 or Photoshop. This is a 1 minute exposure at f14 and ISO500. As when Lightpainting the room is dark and without me illuminating the various parts of the scene, the cowboy, the buffalo skull, the clock, etc, there would be no image visible at all. Only what I illuminate during the 1 minute exposure with my Inova XO3 LED Flashlight is visible. I like this picture. I am a big fan of Norman Rockwell and though I would not ever liken my work to his I find this scene leans towards Rockwell's imagery of days gone by. Nikon D3X, 14 bit, ISO500, 1 minute at f14, 24-70mm lens, WB8330K, Gitzo Carbon Fiber Tripod with Gitzo Head and Kirk "L" Bracket, Nikon MC-36 Electronic Cable Release (to achieve a 1 minute exposure time), Lexar 8G Flash Card. Every detail is visible right down to the texture of the cowboy's hat band. I can see the engravings on his spur and even see the chiffon material on the tutu of the framed ballerina portrait hanging on the wall. A beautiful 24X36 inch print. Let's get closer …..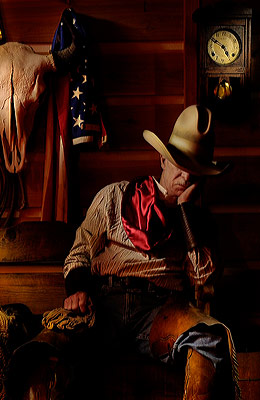 Image #5B      Quit'n Time (cropped) … Here is a 1/3 cropped enlargement of the original image from which the quality and edge detail is fantastic and easily printable as a 16X24 enlargement. The print enlargement reveals that the details are holding up better than I had imagined. My EPSON Stylus Pro 7600 printer only makes a 24X36 enlargement …. guess I'll need to invest in an EPSON Pro 9600.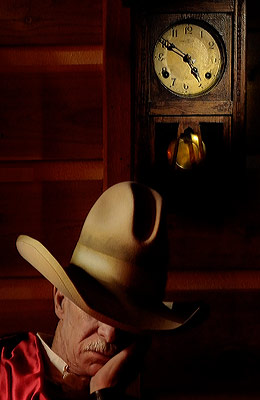 Image #5C      Quit'n Time (cropped again) … Here is a 1/3 cropped enlargement of the previous 1/3 cropped enlargement. I just wanted to see what it looked like. All the detail and texture of the hat, mustache, and clock is very good indeed. The manufacturer of the antique clock is legible even with this extreme cropping, but let's not stop just yet …..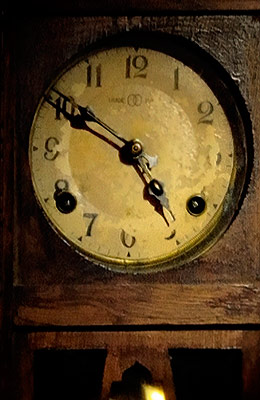 Image 5D      Quit'n Time (cropped again) … Call me crazy, here is a 1/3 cropped enlargement of the previous 1/3 cropped enlargement. The clock face is less than 1/100th of the original image and each tooled engraved edge of the brass clock face housing is visible with edge detail. The manufacturer's inscription is still legible reading the word "Trade" followed by two interlocking rings. What's most impressive is the curved numerals. They are not jagged or pixilated but rounded with smooth edge detail and the wood grain is equally distinguishable. Although my EPSON Pro 7600 printer produces prints only up to 24X36 inches I did make a life size file of 48X72 inches (that's a 1.74G file ) and printed 3 sections of 36 inches wide by 24 inches high and taped them together to see what a near life size image would look like. IMPRESSIVE! … Most Impressive! (NOTE: the extreme enlargements where sized up in Photoshop using a 3rd party program called Genuine Fractals made by Altimira Group, which I recommend to those making enlargements beyond 16X24 inches.) … (Also NOTE: I set the D3X at the 14 bit depth and use the most current version of Nikon Capture NX2 for any post processing (some call it editing) touching up while in the RAW/NEF 14 bit depth file, then I save it as a TIFF at 16 bit. I believe it does make a difference when making your enlargements of greater than 16X24 or publishing in slick book stock or advertisement.)
The NEW Nikon D3X brings the photographer to medium format quality in a familiar 35mm camera. For those who work with studio portraiture and lit situations on location this could be the camera for you. If print enlargements of 24X36 or 48X72 are your market place then this could be the camera for you. If small details are what your clients expect then this could be the camera for you. If you cover the news, don't be too hasty. The D3X is not a D3 or D700 and, in my opinion, was not built to be used as such, but that does not mean you can't use it for magazine work. Many of the sports I shoot are indoor arena events where I use Elinchrom strobe lighting or outdoor events using Nikon SB-900 Speedlights or Ranger packs and the D3X will work well for those situations when good lighting and reasonable ISO settings are used. Also, if you shoot landscapes or travel imagery for magazines, example: Arizona Highways, National Geographic or similar high quality slick magazine publications then the D3X should definitely be considered. The D3X will be a go to camera for many of these jobs and especially when commercial/advertising clients are involved. With the D3X ISO sensitivity topping out at ISO1600 (and I repeat, the D3X ISO1600 is not quite as clean as the D3 or D700 at ISO1600) the D3 and D700 are preferable for low light situations and will out perform the D3X with regards to noise.
I consider this February Workshop at the Ranch article as PART 1 of my D3X commentary. I have some sports work to do in February and more Lightpaintings, and so I will push the D3X to some additional limits like strobed action and High ISO sensitivity levels. My hope is that this first article answers a few questions for those of you who are flirting with the D3X or for those who said "no way." I have looked at some online website reviews written by accomplished photographers and see examples of charts, graphs and test images that I find useful but a little hard for me to relate to, so I give you my own examples and commentary as it applies to my business, clients, and market place. These are the kinds of pictures I make for clients, and sell as stock imaging … and I like what I see. I believe the Nikon D3X will move my work forward into some new areas, help broaden my client base and increase my income, and that is how I can justify the price that seems to set many D3X reviewers so grumpy. Commercial jobs and clients pay more money than editorial magazines. I still like to do editorial work, it's fun and exciting, but I also love to be the creative director while orchestrating a photo shoot, especially when it involves athletes and sports action so I now own all three Nikon cameras D700, D3 and D3X … It's my job and livelihood. Think before you purchase … who are your clients, what degree of quality do they require, or perhaps, and I truly believe this, can you set a new standard of quality and excellence for your editors and clients by using the Nikon D3X and thus widen the gap between you and your competitors. Now that's good business.
The success of my business has been based on a variety of principles, one being "raise the bar of quality in my images and force the competition to catch me." When I started and everyone used negative film, I used transparency slide film because it was better quality imagery required by Sports Illustrated, Newsweek, Time, SPORT, etc … When only Sports Illustrated photographers used arena strobe lighting, I made the investment in sport strobes and raised my work to the SI standard of excellence, and I paid for them in just 2 assignments … At the 2000 Summer Olympic Games in Sydney, Australia many of my colleagues ridiculed me for shooting digital, I was hurt and treated as if I where an ethical traitor, but I knew digital was the future and I had a giant head start over all of them in the digital age. In all these situations and many others I never looked back, I just kept pressing forward. The Nikon D3X is not for everyone, but make close examination of your business. If this 24.5 megapixel camera can set you apart from your competitors by raising the quality bar higher than others are willing to go, then perhaps the D3X IS the camera for you.
Great to be off and running in 2009. Great to have you all here at Workshop at the Ranch each month. See you next month when I continue my commentary on the NEW Nikon D3X camera.
Adios, Dave