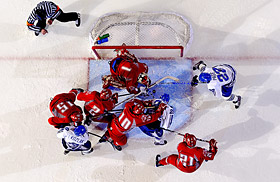 Hello and welcome to this edition of Workshop at the Ranch. This month caps my 7th year writing this monthly instructional column. Let's see,…that's 7 years, with 12 months in a year, which adds up to 84 tutorials that are available to everyone who is interested in improving their photographic skills. Whoa, that's a lot of photo information, pictures, and camera data! It is my hope that those of you who come read Workshop at the Ranch each month enjoy the lessons and continue to grow in your photography.
Hello and welcome to this edition of Workshop at the Ranch. This month caps my 7th year writing this monthly instructional column. Let's see,…that's 7 years, with 12 months in a year, which adds up to 84 tutorials that are available to everyone who is interested in improving their photographic skills. Whoa, that's a lot of photo information, pictures, and camera data! It is my hope that those of you who come read Workshop at the Ranch each month enjoy the lessons and continue to grow in your photography.
It is my custom at the end of each year to present a Year In Review article. I find it interesting to re-cap jobs, assignments, and projects that I did over the past 12 months, and to take a little time to reflect and learn, then push onto the new year. With the year of 2009 becoming coming to a close, here are some images and my thoughts from this past year of photography.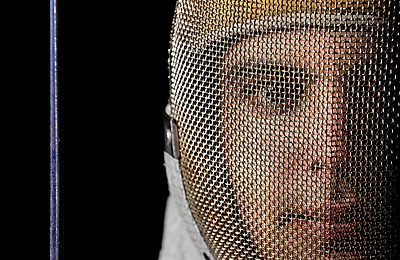 Image #1       Knight's Saber … I purchased a Nikon D3x camera at the end of Dec 2008 and began making images and evaluations in January 2009. I have used the D3x either in part or exclusively for nearly every photo shoot this past year. Although it is considered a commercial studio camera by many I expanded its use to include many of the sporting events, landscapes, and Lightpainting projects I did during 2009. While its clean ISO capability seems to top out around ISO640 I find it perfect for all my work that is daylight driven and, or incorporates Speedlights and other strobes. It offers images with twice the file size of the D3, and helped me move forward with more commercial clients and projects that required additional detail and image quality. Overall, a wise equipment investment for me. Nikon D3x, ISO500, 1/250 at f8.0, Nikon 70-200mm Zoom lens, WB 5600K, 3 Elinchrom 600RX Strobes (2 with Chimera Medium Soft Boxes and 1 with a 20 degree Honeycomb Grid), Bogen Lightstands, Elinchrom Skyport Transceivers, Lexar 16G Flash Card.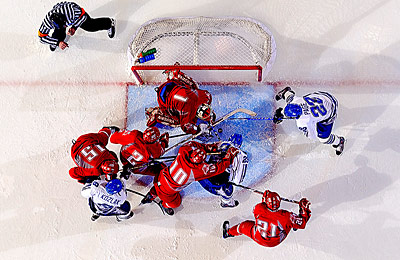 Image #2       Goal Getters …
While the Nikon D3 and D3x were the work horses of my photography in 2009 the Nikon D700 found its place as my choice when remote camera work was required. The D700 possesses the same file size and clean high ISO capabilities as the D3, but has a slightly smaller body. Without the optional battery grip its smaller body size made it easier to mount over basketball courts, horseracing start gates, swimming pools, and in this case, ice hockey rinks. It fits neatly into tight and sometimes awkward locations in the catwalks of any arena. Nikon D700, ISO1000, 1/250 at f11, Nikon 24-70mm lens (at 70mm), WB 5000K, 3 Elinchrom Rangers, each with a Long Throw Reflector, Elinchrom Skyport Wireless Transceiver system to remotely adjust strobe power and trigger the Rangers, Pocket Wizard Multi Max Transceivers to trigger the D700 camera, Bogen Super Clamp, Mini Magic Arm, and Safety Strap, Lexar 16G Flash Card.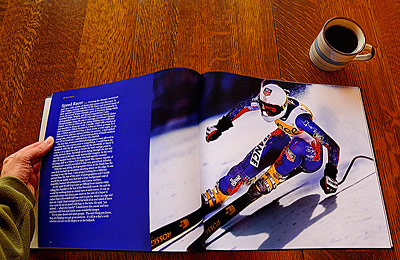 Image #3       Coffee Talk …
The Way I See It…50 One Page Workshops
was a great success this year. My first self published instructional book received much praise from the photography community. Its coffee table book size and quality imagery were only the beginning of the books notoriety. Many emails came in commenting on the detailed tutorial text that many said was 100% informative and inspirational. The process of self publishing was very enjoyable and one that I recommend highly to any photographer at any level as I stated in the June edition of Workshop at the Ranch. This book is only available through my website. Just "Click" the
2009 April Workshop at the Ranch
article to read a book review, see example pages, and access the purchase page of the printing group of Blurb.com.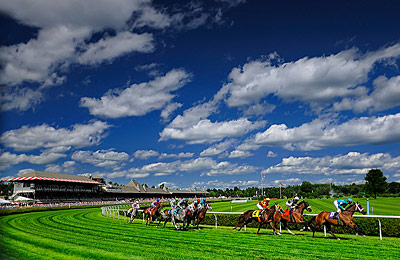 Image #4       Turf Racing at Saratoga … I made a change of venue this year and replaced 10 years of Kentucky Derby coverage with "greener pastures" and fresh imagery from Saratoga Race Course in upstate New York. What a pleasure it was to work in Saratoga with famed horseracing photographer and my good friend Skip Dickstein. Many of the images in the September Workshop at the Ranch entitled Saratoga Light made use of a glass Graduated Neutral Density Filter (GNDF) made by Format. My pursuit of controlling light has expanded from strobes, Speedlights, and Lightpainting to include using a GNDF to diminish the exposure over a portion of an image. In this case, the large expanse of sky and clouds were made darker by placing a 2x GNDF in front of the lens. The darkening of the sky tends to visually concentrate the natural sunlight light and the viewers eye on the horserace action. Nikon D3x, ISO500, 1/500 at f5.6, Nikon 24-70mm lens with Format 2X GNDF, WB 4760K, Lexar 16G Flash Card.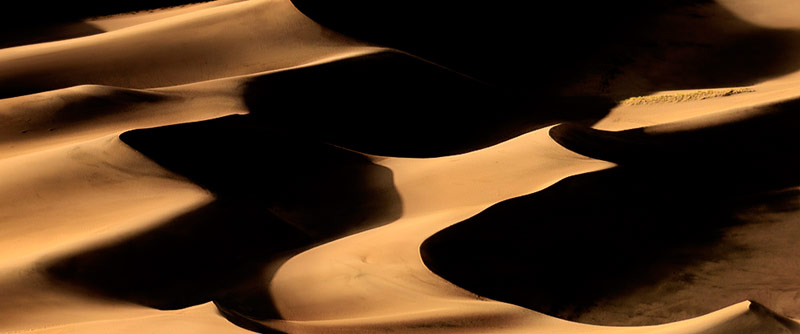 Image #5       Great Dunes … For nearly 27 years a big part of my business has been teaching workshops and giving instructional lectures and presentations. The year of 2009 was no different as I worked for many groups such as the American PHOTO Mentor Series, Rich Clarkson's Summit and Sports Photography workshops, and Robert Hanashiro's Sports Shooter Academy. But that was only part of my teaching efforts. I gave several one day lecture/presentations for a host of ASMP chapters, universities, and local photography groups thanks to combined support from those host organizations and from Nikon. I presented and taught about capturing sports action, location lighting with Speedlights, Portraiture, Lightpainting, photojournalism, techniques, equipment, and more. This image of the Great Sand Dunes was made while teaching an American PHOTO Mentor Series Trek in my own state of Colorado. If you are a member of ASMP, or a local photography group that has a thriving membership, or maybe you are a College or University with a strong photography program and you would like me to come teach, present, and lecture for a day, drop me an email and let's see what the possibilities are. Nikon D3x, ISO400, 1/500 at f7.1, Nikon 200-400mm G VR Zoom lens, WB 7140K, Lexar 16G Flash Card.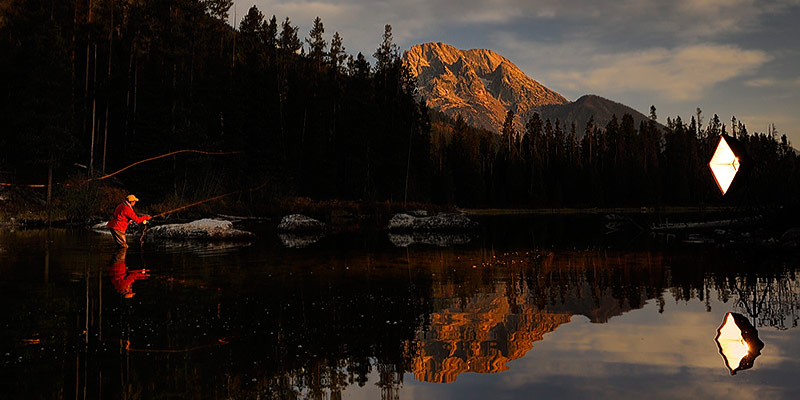 Image #6       Morning Flyer … Much of my work involves location lighting. This year I expanded my knowledge and use of the Nikon Speedlights by incorporating the Radio Popper wireless system. The kinds of pictures I wanted to make were requiring greater distance from the camera with SU-800 Commander to the Speedlights, and my subjects needed to be photographed outdoors during day light hours. While the Nikon SU-800 Commander works well on its own merits with its infra-red signal range reaching about 60 feet when used indoors, the range of its signal is less in outdoor day light conditions. For most photographers making portraits at close range this is not a concern, but I needed 100 feet or more of i-TTL wireless transmission from the SU-800 Commander to my Nikon SB-900 Speedlights. The Radio Poppers were the solution. With the Radio Popper PX Transmitter and PX Receivers I can still use my Nikon SU-800 Commander, but now I can send the i-TTL information from the SU-800 Commander to my Speedlights over greater distances during midday direct sunshine via radio signal instead of infra-red. Another equipment addition in 2009 was the Four Square by Lightware Direct. The FourSquare kit includes the Block which can hold up to 4 flash units like my Nikon Speedlights, and the Soft Box. Easy to use, portable, well constructed, and reasonably priced, the FourSquare made its debut in the July 2009 Workshop at the Ranch article. I take the FourSquare kit everywhere. This image of a fly fisherman combines 3 new pieces of equipment that I added to my bag this year, …the glass Format Graduated Neutral Density Filter, the FourSquare kit, and the Radio Popper PX system. I am about 110 feet from my subject and Speedlights which definitely required the Radio Poppers to trigger the SB-900 Speedlights mounted in the FourSquare, and I used a 3x GNDF to reduce the light on the mountain and sky. I also purchased new fishing waders which worked perfectly while I was standing in chest deep water on this frigid 13 degree morning in Wyoming. Nikon D3, ISO1000, 1/200 at f9.0, Nikon 24-70mm Lens with Format 3x GNDF mounted in a Cokin Filter Bracket, FourSquare kit with 4 Nikon SB-900 Speedlights each at power output of -1.7, each with a Radio Popper PX Receiver, Nikon SU-800 Commander with Radio Popper PX Transmitter, Lexar 16G Flash Card. (NOTE: I will be writing future Workshop and the Ranch articles in 2010 featuring the Radio Popper system…so stay tuned.)
Image #7       Sunstar Rocket … The FourSquare and Radio Poppers went everywhere with me. Getting Speedlights to fire in direct sunshine is sometimes difficult because of the infra-red transmission system, but the Radio Poppers instantly changed that scenario as they convert the infra-red signal to a radio signal. I can now shoot with Speedlights in direct sunshine using i-TTL which allows me to use the Auto FP setting in my Nikon cameras to achieve super fast shutter sync speeds. With this image of Daytona Record holder Ricky Orlando I used 8 SB-900 Speedlights and a 1/4000 of a second shutter speed to freeze the Super Bike screaming past my head at nearly 60 mph. Two FourSquare blocks without the Soft Box were used to hold 8 SB-900 Speedlights (four Speedlights per FourSquare block.) The optional Hand Grip accessory was connected to each FourSquare block which made it easy for my assistant to hand hold and follow/aim the Speedlights at the Super Bike as it raced by my head while I was laying on the track…(this is of course a controlled commercial shoot situation and not a competitive race.) This portable location lighting setup (Speedlights, Radio Poppers, FourSquare) is allowing me to make the unique, stylized sports action imagery that I have dreamed about for years ….and I am loving it! Nikon D3, ISO2500, 1/4000 at f18, Nikon 14-24mm lens (at 14mm), 2 FourSquares without Softboxes, 8 Nikon Speedlights each with power output of +1.3 and each with a Radio Popper PX Receiver, Nikon SU-800 Commander with Radio Popper PX Transmitter, WB 5260K, Lexar 16G Flash Card.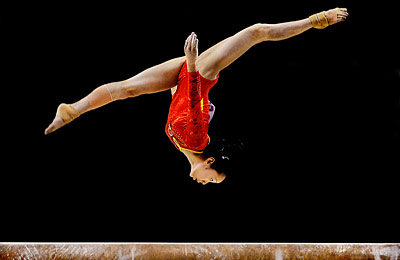 Image #8       Aerial Artist … There is a saying, "Never Say Never." And so I returned to a competitive sports event I thought I would never return to…Gymnastics. Don't misunderstand me, I have loved the sport all my life, but felt that after the 2004 Summer Olympic Games in Athens, Greece that I would be moving on to other photographic adventures, and that covering the sport of Gymnastics at the international competitions would be left behind. Well, I was wrong and after a 5 year absence from this sport I wrote about my "Return to Neverland" and covered the 2009 World Gymnastics Championships in London, England in the 2009 November Workshop at the Ranch article ….never say never! I used my "old" …that's what I said, old Nikon D3 with 200-400mm G VR Zoom lens to photograph the World Championship competition, but, as of the writing of this article I have received my NEW Nikon D3s with even cleaner and higher ISO capabilities. Out with the old, and in with the new. I'm really looking forward to putting the D3s through its paces and of course writing about my findings and experiences in the January 2010 Workshop at the Ranch. Nikon D3, ISO3200, 1/640 at f4.0, Nikon 200-400mm G VR Zoom lens, WB Florescent, Gitzo Carbon Fiber Monopod, Lexar 16G Flash Card.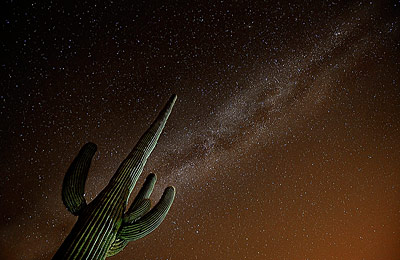 Image #9       Cosmic Cactus … This final image was taken on my night off following the conclusion of my teaching a Mentor Series Trek in Arizona for American PHOTO magazine. The Trek centered around Tucson, Arizona and we all had a great time making pictures during the 3 day workshop. From a rodeo competition to Lightpainting cactus, and from Southwest Raptures to a beautiful Spanish Mission we photographed it all and learned a lot. When the workshop was done and the Trekkers had begun their journey's back home my fellow mentor John Reddy and I headed out to the desert for a little Lightpainting of our own. There we found 1 lone trekker, Jim, practicing Lightpainting as I had taught the technique to the class during the workshop. With perfectly clear Arizona skies above us the Milky Way was distinctly visible so we each went our own way, found a worthy cactus and went to work, I mean play, I mean Lightpainting. Because of the high ISO setting of 3200 and long exposure time of 30 seconds only a few seconds of light were required to illuminate this 18 foot cactus against the starry Southwest sky. I used only an Inova XO3 LED flashlight and a WB of 4000K to retain some of the natural green color of the cactus. I Lightpainted for only 2 seconds from the front and then moved to the side and Lightpainted a little edge light along its side for about 2 second. The remaining 26 seconds of exposure time reveled the Milky Way. The warm glow in the lower right side of the image is from the city lights of Phoenix about 60 miles to the North. Lightpainting in the desert was nice way for me to decompress after a long year of image making, book writing, projects, and teaching. Nikon D3, ISO2400, 30 seconds at f3.2, Nikon 14-24mm lens, WB 4000K, Gitzo Carbon Fiber Tripod with Gitzo Ball Head and Kirk "L" Bracket, Inova XO3 LED Flash Light to Lightpaint , Lexar 16G Flash Card.
Well, that wraps up another year. I learned a lot in 2009… That my D3x instantly paid for itself. That using a Graduated Neutral Density Filter is very handy for controlling the natural light, and that the Radio Popper PX system is perfect for triggering my Nikon Speedlights with i-TTL control from great distances even when shooting outdoors in direct sunshine. And the FourSquare became my Go-To location lighting setup. I learned that while a ground level image of Super Bike racing using a Nikon 14mm lens can produce a dynamic picture, it can also be terrifying to have the riders knee brush past the hair on my head. I also discovered via strong sales and very much appreciated email feedback that people really enjoyed my first book, learned a great deal from it ,and encouraged me to write another book soon. OK, I will.
I hope all of you, the more than 85,000 monthly Unique Visitors have enjoyed this years Workshop at the Ranch tutorials. I'm confident that the new year will be a good one full of new pictures and learning. I already have ideas about articles where I will be addressing new equipment, techniques, and information, throughout 2010.
Thanks for joining me and I look forward to seeing you next year, right here on Workshop at the Ranch. Adios. Dave