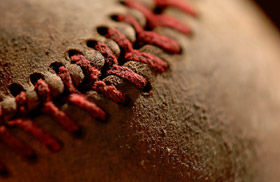 Hi and welcome to this edition of Workshop at the Ranch. Recapping the year of 2005 brings to mind several pieces of equipment that I found significant with regard to enabling me to capture the images I like.
Hi and welcome to this edition of Workshop at the Ranch. Recapping the year of 2005 brings to mind several pieces of equipment that I found significant with regard to enabling me to capture the images I like.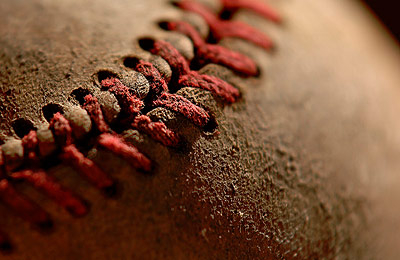 Image #1      Nikon D2X camera… Certainly the most ground breaking piece of equipment for 2005 for my business. I have enjoyed this camera more than any previous generation of cameras Nikon has produced in 25 years. The resolution alone is enough reason to own this camera but the list of features that it offers is enough to satisfy any photographer amateur or professional and any subject from landscapes and wildlife to sports and weddings to portraits and product. This was one of my first images captured with the Nikon D2X. I was putting the new camera through some tests and was looking for extremely fine details and high resolution capabilities. I was excited to be able to see all the intricate texture of the baseball from its worn-out leather cover to the fibers of material on the frayed laces. Nikon D2X, ISO100, 1/500 at f2.8, WB Daylight, Nikon 70-200mm VR Zoom Lens, Lexar 4 G Flash Card. Soft overcast light was coming in through my office window the day I received my Nikon D2X. I captured this picture as soon as the battery had charged up.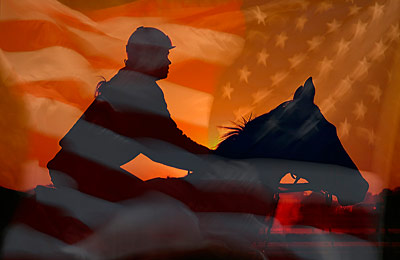 Image #2      Nikon D2X camera… The capability of the camera to capture multiple exposures was a definite feature that I have made good use of this year. Similar to making multiple exposures with a film camera but with two significant improvements. 1. I can see my first image immediately on the LED screen and 2. the D2X has auto gain that helps balance the density of the multiple exposures. This double exposure image was taken at this years Kentucky Derby. I shot the American flag with a Nikon 600mm f4 Lens and TC 14E 1.4 Teleconverter from the grandstands. I then kept the image activated on the LED screen while I made the 2 minute walk down to track-side were I changed lenses to a Nikon 70-200mm VR Zoom and captured the second image to complete the double exposure. I believe the multiple exposure feature will become more common in my work as I investigate complex lighting situations that might be accomplished by incorporating multiple exposures.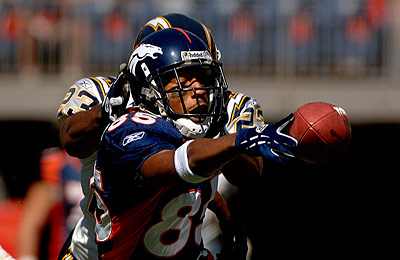 Image #3      Nikon D2X camera and Nikon 200-400mm G VR Zoom Lens…
The CROP MODE. This feature of the Nikon D2X enables me to do two things. 1. Shoot at 8 frames/second and 2. provide a tightly composed image for my editor and still have enough quality and resolution for a two page spread or 24X36 print enlargement. The Nikon 200-400 G VR Zoom Lens has been my most used lens this year. It is perfect for so many situations. It is light, easily hand held, has excellent auto focus speed and accuracy, VR capability and is EXTREMELY SHARP. Nikon D2X, ISO160, 1/1600 at f4.5, WB Cloudy, Nikon 200-400mm G VR Zoom Lens, High Speed Crop Mode, Lexar 4 G Flash Card, Hand Held.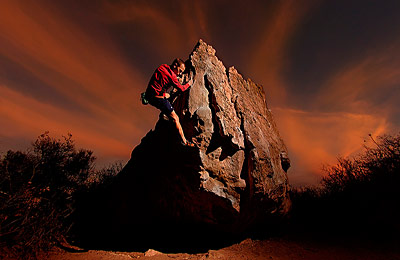 Image #4      Nikon SB 800 Speedlights… The Nikon SB 800 Speedlights with i-TTL capability are revolutionary to say the least. Thanks to these little giants of light I can go into any location with confidence and light my subjects creatively. The ease and speed that I can now assemble a location portrait or feature shoot is remarkable. This example of Colorado's newest sport, Night Climbing, illustrates that the Nikon SB 800 Speedlight is not just for a small portraits but can tackle the bigger locations as well. Nikon D2X, ISO100, 1/100 at f6.3, WB 10,000K, Nikon 10.5 Fisheye corrected in Nikon Capture, Two SB 800 Speedlights in i-TTL Mode at a power output of +1, Clamped to a Bogen Monopod with Bogen 175F Clamps, I am standing on a 6 foot step ladder while holding the monopod with SB 800s high above my head, Bogen Tripod, Lexar 4G Flash Card. The Nikon D2X is set on Self Timer at 20 seconds. This allows me enough time to start the timer and get into position on the ladder. I exposed for the sky and leave my subject a silhouette. It is the SB 800 Speedlights that reveal him from being silhouetted that completes this dramatic image.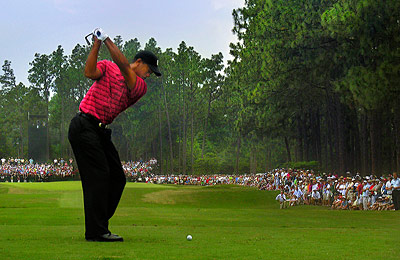 Image #5      Nikon Coolpix 8800… The silent shutter and 8 megapixel RAW file capability of the Nikon Coolpix 8800 provides my editor at Golf Digest with a unique moment of Tiger Woods at this years US Open at Pinehurst. The perfect mate to my D2X at one of golf's most prestigious majors, the Coolpix 8800 is STEALTH. Nikon Coolpix 8800, ISO 200, Shutter Priority at 1/1000 at f4.7, WB Cloudy, Lexar 4G Flash Card.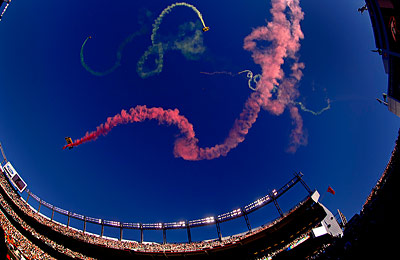 Image #6      Nikon 10.5mm Fisheye Lens…
I have found the Nikon 10.5mm Fisheye Lens to be very useful this past year. It is a dual purpose lens because the photographer has the choice to use the fisheye effect or to correct the distortion in Nikon Capture. This image, taken at Invesco Field at Mile High Stadium in Denver, makes good use of the 10.5mm Fisheye distortion as the US Navy Seals sky dive into the game between the Broncos and the NY Jets. Nikon D2X, ISO 100, Nikon 10.5mm Fisheye Lens, 1/1000 at f5.6, WB 5600K, Lexar 4G Flash Card.
Well,…That wraps up another year of image making and some of the equipment I found to be outstanding during 2005. I would like to say thanks to all those who have come to this website workshop and E-mailed me with encouragement of its educational value. There are over 15,000 people who visit the Workshop at the Ranch and On The Road each month. It is gratifying for me to know so many of you have learned so much and are capturing the pictures you enjoy.
Until next time at Workshop at the Ranch……………………………….Adios, Dave