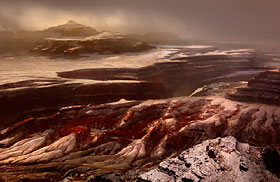 Hi, and welcome this edition of Workshop at the Ranch. During the course of each year I will teach at a number of excellent photography workshops. This edition of WATR will feature a new workshop that I have added to my list…the MENTOR SERIES that Popular Photography & Imaging / American PHOTO Magazine conduct throughout the USA and the world. My first Mentor Series, a.k.a. "TREK" was held in Moab, Utah, home to Arches National Park and Canyonlands. First, let me say thanks to Mirjam Evers, the Director of the Mentor Series and Michelle Cast the Special Events Coordinator for inviting me to join the TREK along with fellow colleague and co-teacher for the Arches TREK, Tom Bol. ***( For those interested on future Mentor Series contact Michelle Cast at [email protected] or the website at www.mentorseries.com )***
Hi, and welcome this edition of Workshop at the Ranch. During the course of each year I will teach at a number of excellent photography workshops. This edition of WATR will feature a new workshop that I have added to my list…the MENTOR SERIES that Popular Photography & Imaging / American PHOTO Magazine conduct throughout the USA and the world. My first Mentor Series, a.k.a. "TREK" was held in Moab, Utah, home to Arches National Park and Canyonlands. First, let me say thanks to Mirjam Evers, the Director of the Mentor Series and Michelle Cast the Special Events Coordinator for inviting me to join the TREK along with fellow colleague and co-teacher for the Arches TREK, Tom Bol. ***( For those interested on future Mentor Series contact Michelle Cast at [email protected]" or the website at www.mentorseries.com )***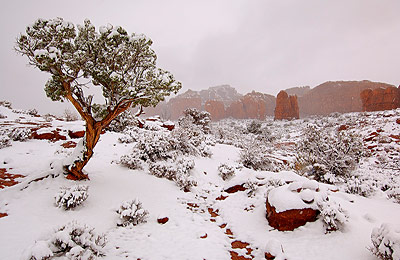 Image #1      Springtime Out West…..Fresh snow… a great way to start the first day of shooting. Tom and I encouraged our class of 35 photographers of all levels to bundle up and break out the hand warmers. Many fair weather photographers run for the TV remote when inclement conditions move in, but not these TREKKERS. Arches was covered with a blanket of new snow and it was still coming down. The unique rock formations, gnarly Juniper trees and new fallen snow was a photographer's paradise that produced many beautiful images. I spent my time assisting the class but found this scene on my way to Turret Arch. Nikon D2X, ISO200, 1/200 at f14, Nikon 12-24mm f4 Lens, WB6700K, Lexar 4G Flash Card. It was quite windy so I kept a shutter speed of 1/200. I would normally make use of a Gitzo Carbon Fiber Tripod and Kirk L Bracket to steady the camera then use ISO100, slow the shutter speed to 1/50 at f18, but I hand held this image because I was on the move to help some of the participants.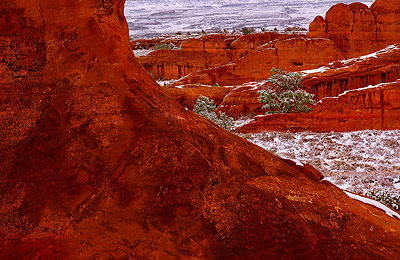 Image #2      Springtime Out West…Again! ….. More overcast weather and snow accompanied our trek to Landscape Arch. The hike was easy and offered our class numerous opportunities to study composition and form including this area midway to Landscape Arch. Nikon D2X, ISO200, 1/50 at f14, Nikon 17-55mm f2.8 Lens, WB6700K, Lexar 4G Flash Card, Hand Held (shot on the fly while teaching the class.)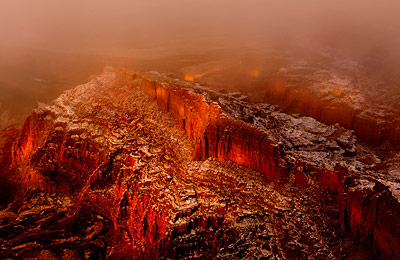 Image #3      Springtime Out West…Enough Already! …..
Canyonlands at dawn was a game of patience but well worth the wait. Snow storms followed us to each sunrise attempt but broke for a minute around 8:30am to reveal some stunning sunlit scenery enshrouded by snow and fog. This moment was fleeting but proved that you cannot judge the possibility of a great image by the weather channel or the fact that no stars were visible when we left the hotel at 5:00am. Nikon D2X, ISO100, 1/3 at f22, Nikon 17-55mm f2.8 Lens, WB9000K, Gitzo Carbon Fiber Tripod, Lexar 4G Flash Card.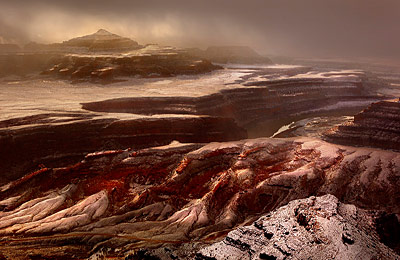 Image #4      Springtime Out West…This Time Beautiful! ….. If what you are photographing looks good, it is always wise to turn around and see what is going on behind you. This is my favorite image of the week long TREK. It was captured only a 20 seconds after image #3. I recognized the pocket that allowed the sun to streak down into the canyon was about to open up over the landscape behind me. I captured image #3…turned around and ran 10 steps up the ledge while changing my shutter speed to 1/200 and Aperture to f9 (26 years of experience told me this would be about the correct exposure)…I took a random shot from the hip during step 8 and took a look for flashing highlights…none…so, upon reaching my 10th step I braced the tripod against my leg as there was some wind and captured this image. Just enough light…just enough color…just enough mystery…and then it disappeared before my eyes into a gray overcast scene. Great morning! Nikon D2X, ISO100, 1/200 at f9, Nikon 17-55mm f2.8 Lens, WB8700K, Lexar 4G Flash Card.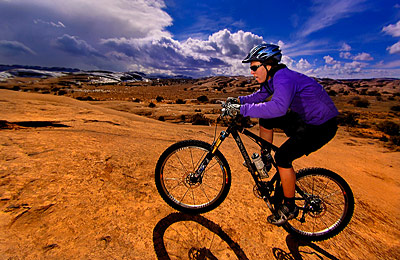 Image #5      Slick Rock Cyclists ….. Both Tom Bol and I conveyed the usefulness and importance that fill flash would be to creating some stunning images. Tom and I both rely on the Nikon SB800 Speedlight system to add additional light to our subject during high sunshine situations. Mirjam Evers, the Mentor Series Director, arranged for several Mountain Bikers to be our class's subject on the trails over Moab Slik Rock. This is a classic example of what the use of flash can do for your images. The shadow of the bike tires is cast towards me which means I am shooting against the sun… I want to preserve the beautiful blue sky and clouds on the horizon and reveal my subject from sillouette/shadow… I accomplish this with fill flash…. Preferably a flash that is off camera… a Nikon SB800. In this case I used two SB800s strapped together in Tandem they way I have been teaching in many of my WATR articles over the past year. I tandem the two SB800s with rubber bands… this allows me to pivot them slightly so that one Speedlight is pointed at the riders upper body and the other speedlight is pointed at the bike and slick rock. I used a third SB800 on the hotshoe of my D2X to act as the MASTER that triggers the Tandem Remote SB800s with the i-TTL information. I am running up hill along side the cyclist using a Nikon 10.5mm Fisheye Lens. This allows me to be about 4 feet away from my subject which positions the tandem remote SB800s held in my outstretched left arm and hand to be well off camera and lighting my subject from a slightly frontal direction. Nikon D2X, ISO100, 1/5000 at f4.5, Nikon 10.5mm Fisheye Lens with Fisheye Correction in Nikon Capture, WB6700K, 3 SB800 Speedlights as described (no light from the Master, both remotes had a power output of +2 and were zoomed to 50mm), Lexar 4G Flash Card. No warming gels were used. This all sounds complicated but it is not. If you want more information about this technique I recommend that you take some time and read the back articles I have posted on WATR that deal with SB800 Speedlight usage.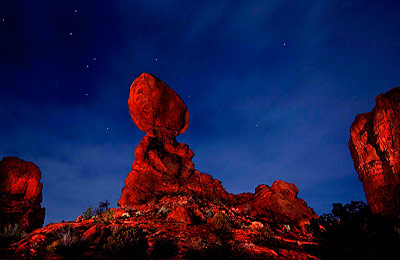 Image #6      Lightpainting ….. I couldn't resist the tremendous opportunity that Arches holds for lightpainting. This was my test shot of the famed Balanced Rock in Arches National Park. I took fellow instructor Tom Bol and Josh Weisberg of Microsoft out late one evening after class was over and I demonstrated the finer points of lightpainting. Arches was a perfect "outdoor classroom" situation for teaching lightpainting to our class. The next night was freezing … about 15 degrees and clear but everyone was eager to learn and so, after a terrific Mexican dinner in Moab the entire class reconvened at the Balanced Rock at 9:30pm where I set up a D2X, 12-24mm f4 Lens and gave each TREKKER both of my 2 million candle Vector Sport Spotlights and let them lightpaint! Each student provided me with their own formatted card that I placed in my Nikon D2X …. ounce they were in position I would press the shutter and they were off and painting. As each person completed their 30 second paint job the entire class would let out a cheer with each new success. We had a blast as Mirjam lead the cheers for all of our participants who braved the cold evening. This image was my test from the previous night where I used a Nikon D2X, ISO160, 30 seconds exposure time at f4, Nikon 12-24mm f4 Lens, WB 6700K, Gitzo Carbon Fiber Tripod, Slik Super Ball Head, Kirk L Bracket and Lexar 4G Flash Card. I also used the Long Exposure Noise Reduction Mode in the D2X custom settings to eliminate any noise that would occur from a 30 second exposure. My test image used a WB of 7000K but I set the students WB at 2800K that added blue to the night sky and stars while giving the lightpainted Balanced Rock an almost moonlit appearance.
What a great week …. I had a terrific time with the entire class as well as working closely with Mirjam, Tom, Laurie and Josh during our Mentor Series TREK in Moab, Utah. This is a location I will definitely return to in the future. I see unlimited potential for great images both day and night! I also hope to be involved with many more Mentor Series TREKS in the future as I see this workshop series a fantastic avenue for learning no matter what level of photography you might be at.
Well, … I hope you all enjoyed this edition and that you come back next month for another Workshop at the Ranch …………………………………….. Adios, Dave