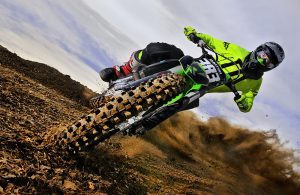 Hi and welcome to this edition of my instructional blog Workshop at the Ranch (WATR.) It's that time of year to feature my favorite WATR article … the Year in Review 2018 … here are some highlights from the past 12 months. 

The Year in Review 2018 … Jobs, Workshops, Projects.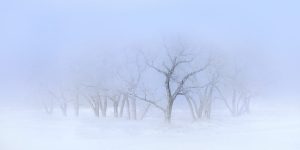 Image #1   January "Winter Mist" … Nikon D850, ISO1000, 1/1000 at f8, NIKKOR 80-400mm f45.5.6 lens, WB400K.
January 2018 started out sub-zero but then warmed up and created some unique weather / atmosphere conditions.
A very warm day melted a portion of the ice on the lake, then the following morning ushered in a temperature drop down to -4 degrees … which produced swirling fog banks and freezing mist during my early morning photo walk.
For these unique weather-atmosphere conditions I purposely chose to reduce the Contrast, Saturation, Sharpen, and Clarity by -2  via the in-camera "Standard" adjustments found in Set Picture Control (Photo Shooting Menu)
These in-camera Picture Control settings captured the fog-mist naturally fading – softening the grove of trees which appeared so dream like.
I also used a very cool-blue WB of 4000K to emphasis the frigid temperatures … then, while the unique atmosphere slowly danced all around the grove of trees I made pictures.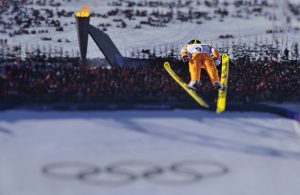 Image #2   February … "Olympic Memoirs" Ski Jumping … 1994 Winter Olympic Games Lillehammer, Norway … Nikon F4 film camera, Kodak Slide Transparency Film ASA200 1/1000 at f8, Nikon 400mm f2.8 lens.
February 2018 was all about the Winter Olympics on TV and although I was no longer covering the Olympic Games I decided to post my personal  "Olympic Memoirs" from my coverage of 6 Winter Olympic Games day by day during the Games on my Instagram:  @daveblackphoto.
The 18 consecutive Olympic Memoirs posted each day on my IG was enjoyed world-wide as each Olympic image contained a personal Backstory of how the image was made and my experience while covering the Games for Newsweek Magazine.
So popular were these Olympic Memoirs that I was encouraged by my Instagram FOLLOWERS to write a book.  The book is about 2/3 done and I hope to have both Hard Cover edition and the iPad & Tablet edition released in the Spring 2019.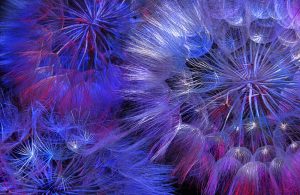 Image #3   March … "Dandelion Color" … Nikon D850, ISO400, 3 minute exposure at f22, NIKKOR 24-70mm f2.8 lens with 36mm lens extension tube, WB 5,000K … Lightpainting using colored LED penlights: Blue, Red and White.
March 2018 offered many opportunities to make Lightpaintings in the darkened studio.
These Dandelions required a lengthy 3 minute exposure to precisely Lightpaint from several different angles using 3 different colors of LED penlights. Here is the Step-by-Step instructions as to how this image was made as posted on my Instagram @daveblackphoto:
BASE EXPOSURE: My base starting exposure for Lightpainting is: ISO500, 30 seconds at f8 for most of my small and human size Lightpaintings. That being said, previous experience told me that Macro work is so detailed that 3 minutes would give me time to "think" and be "precise" when applying the light.
STEP 1. The Prep: This image of Dandelions is made in my home, my D850 is on a tripod and my 24-70mm lens has a 38mm extension tube which allows me to make Macro imagery. I pre-focused the lens before turning OFF the room lights … it is VERY dark.
STEP 2. My Lightpainting Gear: I use a Stylus LED penlight because for many of my Lightpaintings because it has its own Snoot (link to Dave's Gear page in IG profile) … I will use 3 penlights: white, red and blue LEDs to Lightpaint the Dandelion.
STEP 3. OFF-Camera Lightpainting: As with all my Lightpaintings I will position myself with my "Light Source" (the penlight) about 90 degrees OFF-Camera. I carefully aim the penlight at the area of the subject that I want to illuminate, it is 2-3 inches away from the fluffy white ball called the capitulum/cypsela/calyx tissue.
STEP 4. Apply Lightpainting: I tend to keep the penlight moving in a circular or brushing motion to "feather" the transition edge between light & shadow or between color to color. This "feathering" is what gives Lightpainting its "painterly" appearance rather than a hard edge flashed look.
NOTE: Adjusting exposure is determined by: how close or far … and length of time the penlight is in relation to the subject … BEST SOLUTION is Trial & Error.
STEP 5. Get Creative: I will add light from a variety of Off-Camera angles, alternating the 3 penlights to blend and create. I examine the LCD after each picture so as to determine if more light or less light is needed.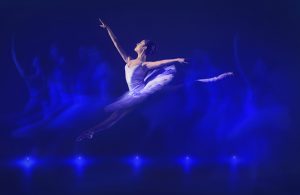 Image #4   April … "Blue Sissonne" … Nikon D850, ISO100, 8 seconds at f4.5, Lightpainting and Flash combined.
This Image combines Lightpainting using a Blue LED in the Ballerina's movements before and after the Sissonne and 2 Nikon SB5000 Speedlights to "freeze" the actual jump (a Sissonne) in mid-air.
This creative lighting technique has become a major photographic pursuit for me throughout 2018 and will continue to be a primary focus of my work for the future.
I have always been in love with LIGHT and all that can be accomplished within my imagery by using Speedlights, Strobes and Lightpainting, … but now that I am combining all these tools to create something new and exciting has really inspired me this year.
I think 2019 will be a year of Experimenting with Light and Action, and producing some very unique imagery.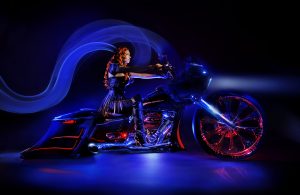 Image #5   May … "Sweet Ride" … Nikon D850, ISO500, 30 seconds at f5.6. WB 5000K … Lightpainting with ProTac AA LED Flashlight, Blue and Red LazerBrite LED Lights and Ice Light II.

My Photoshop World 2018 experience was the BEST EVER and began by teaching my Pre Conference Workshop: LIGHTPAINTING Custom Cars … including one motorcycle with the lovely and AMAZING Crystal @crystalmaude

I had never used an Ice Light until our studio host owner/photographer Jon Maple of Digital Tiger Studio in Orlando handed me one and said "Give it a try" … so I did.

I placed 3 Blue and 1 Red LED stationary lights made by LazerBright: www.lazerbrite.com on the floor behind/hidden by the motorcycle, which created a blue glow on the studio Cyc Wall and red highlights on the front wheel.

Out model talent, Crystal, remained perfectly still during the 30 seconds while I Lightpainted her using a ProTac AA LED for her face and arms, a ProTac AA LED with Blue gel for her black leather outfit and a ProTac AA LED with red gel for her Hair.

These same LEDs were used to Lightpaint the motorcycle. I also Lightpainted a horizontal shaft of light on the Cyc Wall to mimic the headlight beam.

The Final 3 seconds of the 30 seconds exposure time was spent Lightpainting the motion swirls with the Ice Light.
Voila' … "Sweet Ride" is complete.

BIG THX to Crystal Maude @crystalmaude… Jon Maple @digitaltigerstudios … and BIG John Jackson @notstockphoto for getting Rob West's incredible motorcycle for our PSW 2918 Pre Conference Workshop.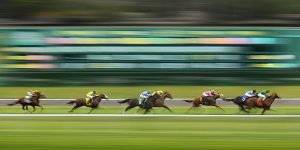 Image #6   June … "Belmont Line Dance" … Nikon D850, ISO100, 1/10 at f18, NIKKOR 80-400mm f4.5-5.6 lens (at 185mm) WB 7140K.
I returned to my favorite SPORT of Horseracing in June 2018 to teach a workshop for Nikon / Adorama at Belmont Race Track in NYC.
Horseracing offers so much subject matter for a photographer to make great pictures of. This image makes use of a slow shutter speed of 1/10 of a second and a steady horizontal Pan with the Action.
For a Pan Action image to really be successful, some part or parts of the subject must be tack sharp. The helmets, railings, silks, etc. need to have a sharp edge … this is the key to a successful Pan.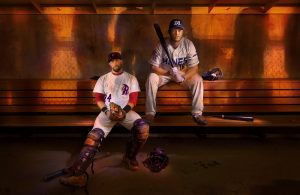 Image #7   July … "Minor Leaguers" … Nikon D850, ISO500, 20 seconds at f11, NIKKOR 16-35mm f4 lens, WB 10,000K … Lightpainting.
July 2018 was a busy month and included the Summit SPORTS Workshop in Denver each July.
Quite simply the finest SPORTS photography workshop in the US, I have been teaching at this workshop for over 30 years and have loved every minute. Great instructors, meaningful critique sessions, one on one portfolio reviews, HSS Lighting, Lightpainting, and ACTION, ACTION, ACTION for  6 days straight.
There's always time for some experimentation when it comes to Lightpainting, Strobes and Speedlight classes that I teach at the Summit SPORTS Workshop in Denver, so come join me and all the instructors this July 2019 … Registration is NOW Open for: https://www.photographyatthesummit.com/sports/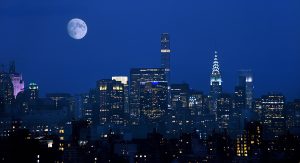 Image #8  August … "Twilight City" … NEW Nikon Z7 mirrorless camera, in-camera Multiple Exposure.

With August 2018 came the EPIC launch of the NEW #NikonZ7 mirrorless camera and I had an opportunity to use the new mirrorless marvel and also get creative with the in-camera Multiple Exposure feature using a pre-production model Z7.

For this Z7 Double Exposure test shoot I wanted something beyond just the city and a moon above. I wanted to create Depth with Atmosphere and Mood.

FIRST EXPOSURE: At 8:15PM the Moon was rising above a wide horizontal line of old/classic New York brick Tenant Houses. The Moon exposure was ISO1250, 1/400 at f5.6 creating a detailed exposure of the Moon placed in the left 1/3 of the frame against a deep Blue sky (WB 3330K) above the dark silhouetted Tenant Houses.

I used my own NIKKOR 28-300mm f3.5-5.6 lens (at 260mm) with the NEW Nikon FTZ adaptor mounted to the Z7 body. Nikon boasts that there is No Loss of image quality "edge to edge" and I agree … No Degradation at all … (the secret is the 16mm "Flange' distance design)

I purposely left plenty of open sky between the top of the brick Tennent Houses and the Moon in the First Exposure … this "open sky" is where the Manhattan skyline will be composed.

SECOND EXPOSURE: I waited until 9:00PM to capture the Second Exposure (the Manhattan skyline) slightly past twilight so the city lights would easily be visible. I composed the Second Exposure (Manhattan skyline) in the "open sky" between the tops of the Tenant Houses and the Moon. Second exposure: ISO2000, 1/4 at f10, same lens but at 150mm.

The Finished DOUBLE EXPOSURE: The Manhattan skyline with glowing lights now seems to rise above the First Exposure dark silhouette of Tenant Houses with a thin layer of atmospheric Blue over the NYC skyline thanks to the First Exposure Moon/Tenant Houses made in twilight Blue sky.

My opinion is: #mirrorlessreinvented … ABSOLUTELY !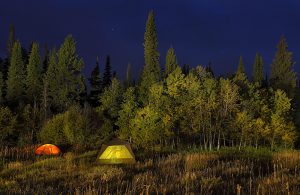 Image #9   September … "Summit Silhouette" … Nikon D850, ISO1000, 20 seconds at f5, NIKKOR 24-70mm lens, WB 4000K … Lightpainting. 

September 2018 and the final evening of @summitworkshops   www.photographyatthesummit.com   had everyone ride the chairlift up to the top of Snow King Mountain high above Jackson Hole, WY.

Students worked with instructors making a variety of outdoor camping / life style images including mountain trail runners using High Speed Sync flash systems during a class I teamed up with Ryan Taylor @ryantaylorvisual (RedBull).

With the sunset came the BBQ dinner, after which everyone assumed it would soon be time to pitch their tent and sleep under the stars … but not me … it was twilight and I was just getting started.

Two students just happened to setup camp in a perfect location to make this Lightpainting. As I assembled my tripod and camera a couple of BBQ satisfied students asked me what I was doing. I said, "Grab your tripod and camera and let's make a Lightpainting"

We then decided to illuminate the tents by placing our head lamps inside, and before long we had 6 more students' setting up tripods and cameras.
I was teaching the exposure specifics to capture some stars and also emphasizing the importance of applying the light using my rechargeable spotlight from an Off-Camera location … 10 more students' setup their tripods. 

I explained how to "feather" the light across the trees and skim a few shafts of light across the tall alpine grass. We now had 19 students.

Then Tanner, a student said … "I can Lightpaint from the other side and fill in some dark gaps in the trees" … "Perfect" I said … 26 students were now setup.

Then I suggested adding the "Human Element" by having someone inside the tent so as to create a silhouette … Bridget piped up, "I'll do it !" … and the scene became complete for 29 students eager to Lightpaint.

This was my final demonstration Lightpainting for the class, after which everyone took the reins and continued to Lightpaint – learn – and have an amazing time together creating NEW imagery.

I LOVE teaching photography as much as I love making pictures.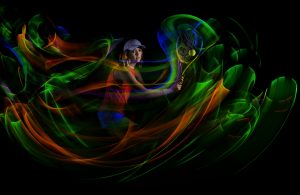 Image #10   October … "Backhander Light" … #NikonZ7, ISO1000, 10 seconds exposure, at f4.5, NIKKOR Z 24-70mm f4 S lens, … Lit with 2 Nikon SB5000 Speedlights and Party Glow Stix secured to the Tennis Racquet. 
By early October 2018 I had received my NEW Nikon Z7 mirrorless camera and NIKKOR Z 24-70mm f4 S lens. I immediately set to work making images and learning about the new mirrorless capabilities.
As mentioned earlier in this WATR article, 2018 began a new era of imagery for me. That of "Experimenting with Light and Action" by combing Flash and Lightpainting to capture unique imagery of Motion and Movement.
Using 2 Nikon SB5000 Speedlights to "freeze" the action of a Tennis player making a backhand play her swing motions of Net Play is recorded by securing colorful Party Glow Stix to the Tennis Racquet.
The long exposure time of 10 seconds allows the swing movement of the racquet with Party Glow Stix to be seen. This technique of capturing movement in brilliant colors and patterns along with capturing peak action using flash (Speedlights or Strobes) is a new and exciting direction for my imagery and for my mind.
I can't stop thinking about what SPORTS will look best with this newest form of Creative Lighting … and how to accomplish it.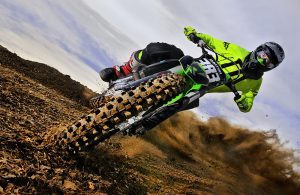 Image #11   November … "Brake Dance" … #NikonZ7, ISO400, 1/2000 at f8, NIKKOR 16-35 mm f4 lens (at 17mm) with NIKON FTZ Adapter, WB 5500K, 2 Profoto B1 strobes each with clear Glass plate and Tele-Zoom Reflectors.

First let me say that this is a commercial shoot and not an actual race. Let me also say that this was a "close-call" for me regarding the 4 foot proximity of my 20 mph subject advancing towards me while I was photographing from a position in the dirt race course with my Z7 and Nikon 16-35mm f4 lens.

… AND I'll add that despite being concerned for a split second before the possible "sudden impact" that I intuitively pressed the AF back button and Shutter Release button on the Z7 at nearly the same time before rolling out of the way… and Voila'… one of the coolest Motocross images I believe I've ever made … AND perhaps my choice for a personal BEST picture of 2018.

Proof that the Nikon Z7 mirrorless camera has what it takes to capture fast action sports, and apparently I can still get out of the way despite being in my mid 60s.

The AF tracked so well that during the two hour shoot involving 3 pro MOTO riders I produced 73 action images, ALL of which were tack sharp and in-focus. That's 73 for 73 images all tack sharp and in-focus … I used Dynamic-Area AF and AF-C (Continuous AF means continuous tracking) and Single Frame rate as I shot with Flash.
I shouldn't be surprised, but I was, only because I couldn't find any cyber mention regarding the Z7 AF capabilities, pro or con, written up anywhere. It was my good friend and colleague Mark Terrill with the Associated Press @mjterrill who shot the recent World Series using the Nikon Z7 and said he found the camera's AF system to be very fast and recommended I use the Dynamic-Area AF for my first Action job with MOTO.

I'll finish up by adding that for this FAST Action commercial shoot I used the Nikon FTZ Adapter to connect my NIKKOR: 16-35mm f4, 24-70mm f2.8 and 80-400mm f4.5-5.6 lenses to the Z7. Beautiful edge to sharpness and detail … no degradation of image quality edge to edge.
SO, I'm a believer … and believe I will be using the #NikonZ7 for my SPORTS commercial High Speed Sync FLASH Action shoots.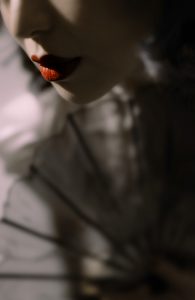 Image #12   December … The Fan Girl" … #NikonZ7, ISO1000, 1/125 at f1.8 S lens, WB Sepia using in-camera Picture Control with M1.0 Magenta … Lit using modeling lamps.

December 2018 began with an international trip when I received an email inviting me to come to Nikon in Tokyo, Japan and give a presentation of my Z7 images along with commentary to 100 Nikon Engineers and Technicians who design and create the Nikon Cameras, Lenses and Speedlights.

What an honor and a joy to meet this extraordinary group of Engineers and Technicians who continually give photographers the very best in photographic gear. 

I had only a short time to pull a variety of images for the Presentation that would showcase not only what the Z7 camera will do to move my imagery forward, but I would also (at Nikon's request) bring to light possible improvements and additions photographers would like to see in the next "Z" camera.

Images of SPORTS, Macro, High Speed Sync Speedlights, Landscapes and Lightpaintings that had been made over the past 8 weeks were all included.

Then I noticed that I had not made any portraiture using the New NIKKOR Z 50mm f1.8 S lens.

So I called my favorite Wedding, Family, and Portrait photographer … A local talent whose work is wonderfully fresh. She is also my daughter and the joy of my heart:@haleyhendricksonphotography

I would be leaving for Tokyo in just 3 days…surely Haley will know someone who would pose for a Z 50mm f1.8 portrait… and she did.

Meet Kalia, a friend of Haley's who is of Japanese descent and models with vintage 1940's wardrobe.

I absolutely love this picture! … And so did Nikon!
Simply done using two Modeling Lamps in Cross-Light configuration: Key lamp with a 10 degree Grid, and a second lamp with Strip Box and Grid to faintly fill the other side of her face.

I hand held the Z7 using the in-camera Vibration Reduction (awesome!) and used Pinpoint AF which allowed me to precisely focus on the far edge of her lower lip. I set the in-camera Picture Control on Sepia (stunning) with added M1.0 Magenta.

The Z lens Bokeh is Fantastic! I was blown away by how beautifully the aesthetic quality of the blur produced in the out-of-focus areas rendered, looking almost like a f1.4 lens.

Ah yes, #mirrorlessreinvented … and a very satisfying way to close-out my 2018 travel and projects.

It's been a great year of image making and teaching.  Many thanks for coming to visit the Workshop at the Ranch each month. I have enjoyed this year of photography and especially enjoyed teaching all of you here and at Workshops around the country and also online with KelbyONE.
Merry Christmas and Happy New Year to you all.
Please check out my 2019 Workshops Calendar page on January 1 to see if there is a workshop that interests you. https://daveblackphotography.com/upcoming-workshops/    
See you next year, here on Workshop at the Ranch.  Adios. Dave