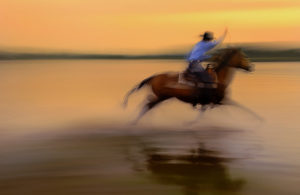 Hi and welcome to the September 2017 edition of my Instructional BLOG – Workshop at the Ranch. I post a short photo lesson every Monday, Wednesday and Friday on my Instagram. Here are some IG posts that hit the mark with photographers wanting to learn about lighting. Thanks for FOLLOWING me on IG:  @daveblackphoto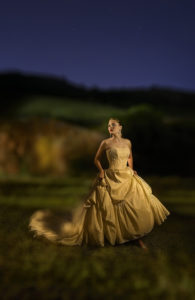 Image 1   Brigadoon Walk … Nikon D800, ISO250, 20 seconds at f5.6, NIKKOR 24-70mm f2.8 lens.
IG 771 posted Saturday August 12 … For this fashion shoot the model needed to appear as though she were walking … to have her "pose" motionless in a walking stride is very difficult for her (or anyone) to do … a single Nikon Speedlight was the answer.
First I illuminated the model using 1 Nikon Speedlight (in Front Curtain Sync) placed in a FourSquare softbox.
After the "FLASH" I then manually unfocused the NIKKOR 24-70mm lens to infinity and began Lightpainting the remaining landscape with my 2 million candle spotlight. The "Soft Focus" technique helped create a dreamlike mood.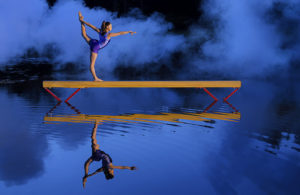 Image 2   "Dream Beam" … Nikon D5, ISO1600, 1/320 at f4, NIKKOR 24-70mm f2.8 lens, WB 3030K, 4 Nikon SB-5000 Speedlights with Radio Control each with Nikon Orange Warming gel and mounted in a FourSquare Soft box, Rosco Fog Machine.
IG 773 posted Monday August 28 … While working on a new brochure for International Gymnastics Camp in PA last week one of our script scenarios included placing the Balance Beam in the lake and drifting fog across the background.
Using my 4 Nikon SB-5000 Speedlights with orange warming gels and a cool – blue WB of 3030K set the mood for "Dream Beam." Many thanks to Caitlin for her patience and perfect performance.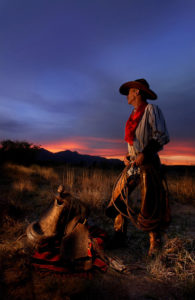 Image 3   Old Wrangler … Nikon D1, ISO200, 30 seconds at f5.6, NIKKOR 17-55mm lens Lightpainted using an LED flashlight for the cowboy and saddle, and I used a 2 million candle hand-held spot light for the tall grassy background.
IG 747 posted Friday June 16 … I began making my Lightpaintings (long exposure with subject illuminated using flashlights) way back in 1999 … It was the closest creative photography technique to my Artistic roots that combined my college majors of Graphic Design and Studio Drawing … (I had thoughts of being an illustrator.)
This image was one of my earlier attempts to include a LIVE subject in the outdoor setting … I made 12 attempts before my subject held "perfectly" still for the long 30 seconds exposure time.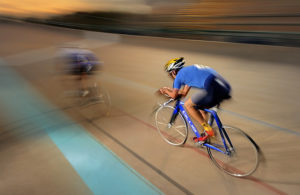 Image 4   "Velo Pursuit" … Pan-Action / Snap-Zoom with Rear-Curtain Sync Flash, Shutter Speed 1/20 of a second with Nikon Speedlights.
IG 743 posted Wed June 7 … A Pan-Action image using a slow shutter speed of 1/20 of a second would be difficult to freeze any action when using a wide lens of 24mm at close range, but the "FLASH" from 1 Nikon Speedlight freezes the action while the available ambient sunset light on the Velodrome captures the Individual Pursuit cyclists 30mph motion of speed.
I also did a "Snap-Zoom" … a very quick racking of the zoom ring from 50mm to 24mm while Panning with the athlete. Combining these 3 techniques: Panning with slow shutter speed, Snap-Zoom, and Rear-Curtain Sync Flash creates a unique action cycling image.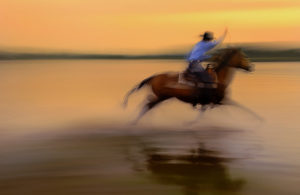 Image 5   Pan Gallup … Nikon D2x, ISO250, 1/5 at f13 with 1 Nikon Speedlight (Rear Curtain Sync)
IG 742 posted Monday June 5 …  While photographing at the JJ Ranch  I made this Pan-Action image with Rear-Curtain Sync Flash, and a Shutter Speed 1/5 of a second.
Slowing the shutter speed down to 1/5 of a second for the horse galloping at 20mph creates a beautiful sense of motion with lovely available ambient sunset light.
The "FLASH" from 1 Nikon Speedlight freezes the action which helps the viewer to focus on the sharp elements … the horses eye, bridal, saddle horn, saddle blanket and the cowboys blue shirt and belt.
Having a few sharp elements within the Pan-Action whirl of motion is key to making a successful Pan-Action image, and Rear-Curtain Sync FLASH helps accomplish this.
Well, these vignette lighting lessons have helped many photographers understand some of my favorite lighting techniques with Speedlights and with Lightpainting.

Come by my Instagram @daveblackphoto each week to learn something new about photography.  Until next time here on Workshop at the Ranch.
Adios. Dave