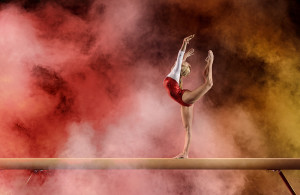 Welcome to the February edition of my Instructional BLOG (WATR). THINK Before You Press the Shutter will be just one of my classes at Photoshop World ORLANDO April 19-22, 2017 www.photoshopworld.com  My PSW class and this article will address the importance of "Previsualization" as being key to the success of making a picture. 
"Previsualization" is perhaps the most powerful skill that a photographer can possess, and is something that I truly believe has been a hallmark of my success as a professional photographer.
It is the ability to "previsualize" the scene in advance to pressing the shutter that can empower the photographer to make the pictures that they want.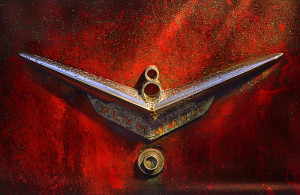 Join Me and Learn! … 2017 Workshops Calendar website page:
NEW: April 3, 2017 … Nikon School: Lightpainting at Old Car City in Atlanta, GA. This will be a Step-by-Step Instructional session and also a "Hands-On" Lightpainting Session on location at Old Car City in Atlanta, GA.
http://www.nikonusa.com/en/nikon-products/product/photography-classes/18149/nikon-ambassador-workshop-with-dave-black.html  
Please check out all my Workshop listings for 2017:  https://daveblackphotography.com/upcoming-workshops/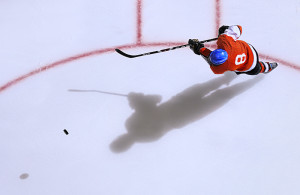 Image 1    Slap Shot Shadow … Nikon D3x, ISO640, 1/250 at f9, Nikon 70-200mm f2.8 lens (at 120mm) 1 Elinchrom Ranger strobe
I believe the process of "Previsualization" is essential prior to making a picture. If you have an image already pictured in your mind, then you are likely to anticipate "the Moment" and react faster to pressing the shutter.
Shot during the Canadian League Hockey Championships using a single Elinchrom Ranger RX sport strobe to illuminate the scene and cast the diagonal shadow … the REMOTE Nikon D3x camera is secured to the arena catwalk above the ice rink and is triggered remotely using PocketWizard Multi MAX Transceivers from my rink side photo position.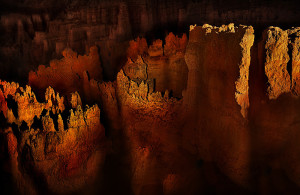 Image 2    Bryce Canyon Shadows … Nikon D3s, ISO400, 1 minute 30 seconds exposure at f6.3, WB 4000K, Lightpainting with 2 million candle power spot light.
"Previsualizing" the scene in my mind: where the light should strike the canyon and where the shadows would fall is something I think of days, weeks, and sometimes months before I arrive on location.
I saw this area of Bryce Canyon in the summer as I was driving back to Colorado from a job in Las Vegas. As I stared at the beautiful scene at mid-day my mind saw it as a Lightpainting. I returned in the fall with my "Previsualization" in my mind and made this Lightpainting.
I believe this process of "Previsualization" is the most important phase of the creative process … "Dream BIG and then make it so"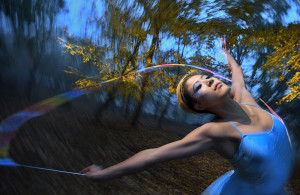 Image 3   Autumn Rythmic …Nikon D5, ISO200, 1/25 at f7.1, Nikon 16-35mm lens, WB 3030K, 5 Nikon SB-5000 Radio Control Speedlights.
The "client" will always have their own ideas for pictures, and that is the first priority for any photographer to accomplish, … but my mind continues to create, to think of what might be possible … and to "Previsualize" what would be an extraordinary picture.
This slow shutter speed image was not requested by the client, but I had "Previsualized" the concept in my mind 3 years earlier.
After arriving on location in Japan I "recognized" that "this" athlete and "this" location could make the picture I had "Previsualized" in my mind.
I made 22 very similar images of Olympian Kei Asanuma before I exactly matched the "Previsualized" image and presented it to the client on the camera's LCD screen … the client loved it.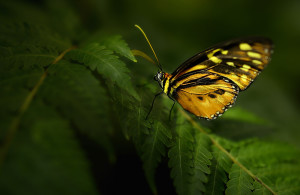 Image 4   "Butterfly Light" … Nikon D3100, ISO200, 1/1000 at f1.4, Nikon 24mm f1.4 lens, Lightpainting using a ProTac 2AA LED flashlight (155 Lumens).
I "Previsualized" this little scene in my mind while still talking on the phone to the client. In my mind I "Previsualized" the underexposed scene with a Butterfly in a bright spotlight in its environment.
The composition was already "Previsualized" in my mind and the "Mechanical" process of setting a shallow depth of field at f1.4 and -1.7 stops under-exposed scene was accomplished as soon as I arrived on location … now, all that remained was to AutoFocus and use a small LED flashlight to "spot light" my subject.
I made several similar images of butterflies that fit the basic concept, but I kept looking for the "Previsualized" scene,  … then, when the scene presented itself I instantly recognized it and slowly, carefully, and precisely made "the" picture.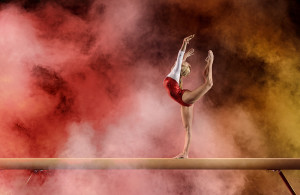 Image 5   "Cloud Kick" … Nikon D4s, ISO1000, 1/1000 at f5.0, 24-70mm lens, WB 6250K, 4 Elinchrom Ranger strobes, Rosco Fog machine and colored gels.
This is just one of several images made during my 2014 Photoshop World lighting class with World Champion Gymnast, Hollie Vise. I had this scene in my mind 2 months before arriving on location … the Balance Beam, the athlete performing, the lighting, the fog, the color … all of it was "Previsualized" in my mind.
Not everything can be under the photographer's control. Fog seems to have a mind of its own, but it is the "Previsualization" process that helps me recognize when the athlete's skill, the light and the ever changing fog aliens to form the scene I saw in my mind.
The "Previsualization" process excites me, motivates me, allows me to be creative, and gives me confidence.

Come learn at Photoshop World ORLANDO: April 19-22, 2017  www.photoshopworld.com
I hope you have enjoyed this WATR … Come FOLLOW me on Instagram @daveblackphoto and learn about photography.
I'll see you here next month on WATR.
"There's always more to learn at Dave Black Photography" …Adios.  Dave