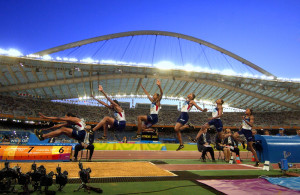 Hi and welcome to the May 2015 edition of Workshop at the Ranch (WATR) Your Questions and My Answers. We are continuing Your Questions and My Answers yet again this month.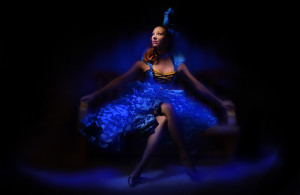 Image #1   Can Can Blue … Nikon D800, ISO400, 30 seconds exposure time, Nikon 24-70mm lens, WB 10,000K, Lightpainted with 2 Stylus LED penlights by: Streamlight …1 with a white LED and 1 with a Blue LED, Manfrotto Tripod and 410 Gear Head, SanDisk 32G Extreme Pro Flash Card.
Q…First, Love your work.
I love to learn to crafts to better my skills, and I see on your website that you are doing your own Lightpainting Workshop this month (May 28-30). I do really good in hands on workshops and find lectures seminars really boring. I really want to excel in my craft and always looking for a new edge please tell me if you think your workshop is hands on?
Thank you,
Ken
A…Hi Ken.  Thanks for your email.  My Lightpainting Workshop in Loveland, CO will be very small regarding students…only 15. I believe we currently have 11 registered as of May 1st so there is still room for you and a few more.
I want a small class size so that people will get a lot of hands-on instruction from me. I very much want all the attendees to be capable of making their own Lightpaintings when they return home.
We will do 3 phases of Lightpainting:  Table-Top Still Life, LIVE models, and the Outdoor Landscape.  All attendees will be making their own Lightpaintings under my instruction.
If this is the kind of workshop experience that you are looking for, then I truly hope that you will join me this May 28-30.
Loveland, Colorado is about 1 hour drive from Denver International Airport (DIA) and only 40 minutes from Rocky Mountain National Park. For those who are coming from outside the state of Colorado you might want to visit RMNP after the workshop ends.
All workshop information and the registration page is available on my website:
https://daveblackphotography.com/lightpainting-workshop-with-dave-black/
Should you have any further questions please contact the workshop director Haley Hendrickson directly:   
I hope to see you at my Lightpainting Workshop. Dave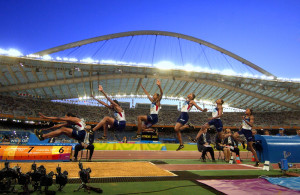 Image #2   Marion Jones Olympic Long Jump …Nikon D2h, ISO1600, 1/800 at f4, Nikon 14-24mm G VR Zoom lens, WB Daylight, , SanDisk 8G Flash Card.
Q…Hi, Dave !   I always look for you presentations and blogs on Workshop at the Ranch or KelbyOne when I am seeking to optimize technique and approach. Wondering if you have suggestions for shooting Track and Field. My long jump shots. The photos I have of Men and Women competitions are great from the view looking down the path from the sandpit, but I'd like to get something different. Any suggestions?
A…Hi Corey.  Glad to hear that you are enjoying and learning from my WATR articles and my KelbyOne classes  www.kelbyone.com
I have always loved Track & Field …or "Athletics" as it is known Internationally.
Stay with your very fast shutter speed when shooting the long jump. In midair the shot is a Vertical format, but when they land in the sand it is often a Horizontal picture. Learn to switch formats instantly to capture both images.
This image of Marion Jones competing in the Summer Olympics held in Athens, Greece 2004 is a very unusual picture for me, and was the idea of the photo editors at Newsweek…and was is certainly "something different" in 2004.
In 2004 digital imagery was gaining steam in the editorial magazines. I was working at the Olympics for Newsweek and the New York office suggested I shoot sequences of all the top contenders in the Women's Long Jump Finals. The idea was to "blend" the images together into one image showing the sequential shots.
As an editorial photographer I had never done this kind of "post manipulation" but at the request of the magazine I would do my best. I think it took me 2 hours of tedious Photoshop effort…and I can't say that I enjoyed the "process" very much. …(I'd rather just take pictures)
While the photo staff liked this "manipulated" image it never graced the pages of Newsweek magazine as it is certainly not 100% editorial. Today this sort of creative imaging is more common and often carries a disclaimer in the photo credit stating manipulation, but in 2004 editorial content was just that…editorial photojournalism and no manipulation.
Enjoy your Track and Field events this season Corey.   Adios. Dave

Image #3     Ring Masters … Nikon F5, ISO500, 1/250 at f8, Nikon 80-200mm lens, 4 Elinchrom 1000R Sport Strobes, 2 Manfroto Super Clamps and 2 Magic Arms, Safety Cable to connect the Remote F5 camera to the arena catwalk, Kodak 100ASA Ektachrome Film push processed to ASA500, PocketWizard Wireless Remote Transmitter and Receiver. 
Q…Hey Dave, I recently watched the baseball and volleyball class on Kelby One. I thoroughly enjoyed it and learned a bunch. My question is about the foot switch you used in the baseball video. What type of switch is it or what should I search for?
Thank you!
A…As I mentioned in the video there are a few companies making foot switches today.  I suggest you GOOGLE "remote camera foot switch" and you will see some examples.
Here is a link to one of them:  http://blog.carlosgonzalezphoto.com/2010/08/02/footswitch-for-a-remote-dslr-camera/   …I think Scott Kelby uses this same foot switch.
I buy all my gear from Roberts in Indianapolis, but many large camera stores will carry a selection of remote wireless triggering devices.
Keep in mind, as I demonstrated on the KelbyOne video class, the foot switch actually triggers the PocketWizard wireless Transmitter:  The foot switch is connected to Pre-Release Trigger cord – that connects to a PocketWizard Wireless Transmitter and thus triggers a remote camera "wirelessly" via the PocketWizard wireless Receiver connected to the camera's hotshoe.
The actual foot switches that I use were purchased at Radio Shack about 18 years ago and were very inexpensive… and they are still working perfectly, thus no need for me to purchase a new one.  I think they were commonly used for running a sewing machine, but were used by many photographers to trigger remote cameras in the 80's and 90's.
I do not think Radio Shack carries them any longer but you might be able to find them online or eBay…or a sewing supply store.
This image from the 1996 Boxing Olympic Trials made use of my foot switch remote setup to trigger a Remote Camera located over the boxing ring. I am shooting the action at ringside with my hand held camera, while also triggering the overhead remote camera via the foot switch on the floor by my feet. 
Hope this helps in your search for a foot switch.
Adios. Dave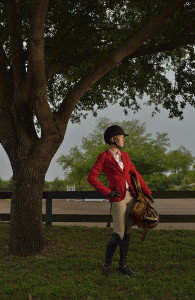 Image #4     Equestrian Portrait    Nikon D800, ISO400, 1/250 at f5, Nikon 24-70mm lens, WB 6250K, Nikon SB-910 Speedlight, Nikon SU-800 Commander, SanDisk 32G Extreme Pro Flash Card.
Q…I attended your speed light presentation at Photoshop World in Atlanta last year and really enjoyed it. Unfortunately, I've managed to lose my notes.   I seem to remember that you gave a couple of really simple tips that were very effective. One was to (I probably have this wrong, and it's the main reason I'm writing you) underexpose in the camera by -1.3 stops (?) and boost the flash power by +1.3 stops to compensate. Thanks. Richard
A…Hi Richard.  Sorry you lost your notes, but your memory is correct!  I think it is a good baseline starting point that if you purposely underexpose the scene by -1.3 stops (EV-1.3) then the next step is to increase your Flash Power Output by +1.3 stops.
This image of a young equestrian athlete makes use of that formula:  I purposely underexposed the scene by -1.3 stops and increased the Flash power output of my Speedlight by +1.3 stops.
I don't usually have my teaching information in the PSW Workbook, but prefer to have it on my website where it is accessible to anyone at all times. Best thing I can recommend for you to do is check out some of my Workshop at the Ranch articles on Speedlights.
Go to my Instructional BLOG Workshop at the Ranch page and type Speedlights into the SEARCH BOX.
The list of articles will come up that relate to that topic…many articles are Question and Answer articles.  You will find everything I teach on Speedlights, Lightpainting, Sports and more within those WATR articles.   (Check out the date of the article as some articles were written several years ago and some technology has changed in more recent articles.)
Hope this helps you. Take care. Dave

Many thanks to all of you who come read my WATR articles. Please keep sending your questions in via the Contact Dave page on the website.  Until next month my friends here on Workshop at the Ranch.
Adios.  Dave