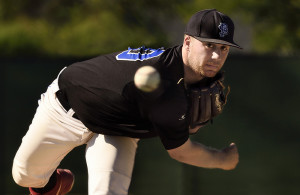 Hi and welcome to this edition of Workshop at the Ranch (WATR.) Your Questions and My Answers via the Contact Dave page. With Baseball Season upon us KelbyOne has just posted my latest video class featuring Baseball and Volleyball, plus demo of how I use a REMOTE camera. So let's get after it…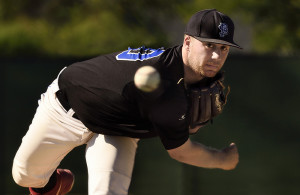 Image #1   Fast Ball …Nikon D4s, ISO500, 1/1600 at f8, Nikon 80-400 with NEW Nikon TC14E III 1.4x teleconverter (550mm total), SanDisk 32G Extreme Pro Flash Card.
Q… Hi Dave. I just watched your NEW volleyball / baseball video on KelbyOne – great stuff, as usual. I didn't know you could use a foot switch to trigger a remote camera and I liked your focus point tip for shooting volleyball action at the net. I enjoy watching all your tutorials and hope to make it out to the Summit Sports Workshop, in July, to meet you in person.
Julius from Florida.
A… Hi Julius.  Glad you enjoyed my NEW KelbyOne video Double Play instructional class featuring Volleyball and Baseball www.kelbyone.com  Volleyball can be a difficult sport to shoot for many photographers especially when using Auto Focus to get sharp images of the players when the net is between you and them.  I hope my suggestions help you and others make some new images.
The second sport on my NEW KelbyOne video is Baseball. I concentrated on several techniques I use for shooting; like shooting the pitcher directly through the fence, how to time a shot so you get the ball on the bat, and using the REMOTE camera to cover the steal and play at the plate.
The foot switch for firing a Remote Camera at Baseball or other sports is very useful…I actually bought mine at Radio Shack years ago.  There are high tech models on the market today…simply GOOGLE: foot switch for remote camera … and they work great, but mine is just a simple-inexpensive Sewing Machine foot switch that has lasted about 17 years.
Hope to meet you at the Summit Sports Photography Workshop in Colorado Springs July22-27, 2015.  I believe it's the BEST sports workshop in the nation. Here is the link to their website. www.photographyatthesummit.com   
Adios.  Dave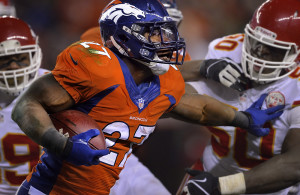 Image #2   Stiff Arm Moreno …Nikon D800, ISO4000, 1/1250 at f5.6, Nikon 600mm f4.0 lens, Gitzo Carbon Fiber Monopod, SanDisk 32G Extreme Pro Flash Card.
Q… hellow mr.dave
I'm glade to right for you , as you are one of the greatest photographers in the world,i saw your video DEDICATED in youtube using the new nikon D4s camera ,it's an amazing camera ,that made me to buy one.
I'm new in full frame camera and I dont know how to set the camera for best sharpness for action shooting i read that f2.8 is best for sports, but some images are not sharp. i will be glade if you help me with this issue.
my regards
saleh
A… Hi Saleh.  Thanks for your email and great question.  Glad you enjoyed the DEDICATED video about the Nikon D4s camera. 
https://www.youtube.com/watch?v=LDv-VV-iP40 
First, make sure your camera is set to Continuous Focus "C" …check your manual as to how to activate Continues Focus. For sports action you always want the camera to be activating the Auto Focus system and continuously tracking the action.
Second, make sure you are using a fast shutter speed of at least 1/1000 of a second or faster. Photographers sometimes think that 1/500 shutter speed will freeze sports action but this shutter speed is too slow and the result can be images that "look out of focus" but are actually in focus but blurry because the action is not stopped.
Third, try to use an aperture setting of f4.0 rather than f2.8. Professional sports photographers often recommend a wide open aperture of f2.8 to help isolate the subject from the background. It does do that, but f2.8 can be too short regarding Depth of Field for the photographer who is just learning to use their camera.
By using an aperture of f4.0 or perhaps f5.6 if you are just beginning shooting sports, the "depth" of focus is broader allowing the entire body to be in focus.
For this image I used an aperture of f5.6 for a broader "Depth of Field."  Knowshon Moreno often used the "stiff arm" technique to gain extra yardage. At f2.8 or f4.0 his face would be sharp, but not the ball or his extended "stiff arm" technique.
I used an aperture of f5.6 which gave a slightly broader Depth of Field and kept not only his face and the ball sharp, but also his extended "stiff arm" technique.
I hope these 3 suggestions help your percentages of making great pictures.
Take care.    Dave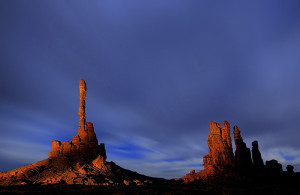 Image #3   Midnight Monuments …Nikon D3s, ISO400, 2 minutes at f8, Nikon 24-70mm lens, Manfrotto Heavy Tripod with 410 Gear Head, Max Million III rechargeable Spot Light by Brinkmann, SanDisk 16G Extreme Pro Flash Card.
Q… Dave,
I purchased the Max Million III spot light last week and realized after purchase that it has to remain plugged into the cigarette lighter on the vehicle at all times to work. That doesn't particularly suit my location photographic style so I've come back and purchase the Brinkmann Q beam LED flashlight and noticed that the lighting system for it is LED and the Max Million you use is apparently a much warmer color light than the LED lights.
Can you shed any light on the direction I need to be headed?
Regards. Bill
A… Hi Bill.  Sorry to reply so late…out of the country on a job. Gee, sounds like you bought the AC powered Max Million III instead of the rechargeable battery operated model that I have used for my large-scale landscape Lightpaintings for15 years.
I currently use the rechargeable MAX Million III portable spotlight by Brinkmann which is the newest model as of this writing.  I used to use the older model MAX Million II, but it is hard to find anymore and has been replaced by the newer MAX Million III which is the same unit, just a new name. The Max Million II and III are both rechargeable units that are battery operated, thus being cordless to take into the field for Lightpainting locations.
I've never used any Brinkmann LED lights so I can't speak to anything regarding a Brinkmann LED flashlight.
This Lightpainting of the Totem Pole in Monument Valley was made around Midnight about 1 hour before the moonrise. The camera WB of 4000K keeps the overcast sky a beautiful cool blue while the warm light from my Brinkmann Max Million III baths the red stone monument with warm sunset looking light.
Hope this answer is helpful Bill. ….Adios. Dave

Well, a great bunch of questions…keep them coming in via my Contact Dave page and I'll answer a few more next month.
Adios. Dave