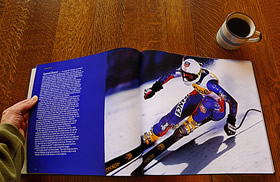 Hi and welcome to this edition of Workshop at the Ranch. By now many of you have either looked at the images and review of my recently released book, or perhaps bought a copy of The Way I See It … 50 One Page Workshops. For those who bought a copy and took the time to send me an email with comments, thank you so much. It is helpful to read your encouraging words and comments. Many of the emails asked if I could explain the Self Publishing process in a Workshop at the Ranch article. Great idea, glad you thought of it. With self publishing as our topic, let's take a look at the possibilities with what is better known in the business as Print On Demand publishing.
Hi and welcome to this edition of Workshop at the Ranch. By now many of you have either looked at the images and review of my recently released book, or perhaps bought a copy of The Way I See It … 50 One Page Workshops. For those who bought a copy and took the time to send me an email with comments, thank you so much. It is helpful to read your encouraging words and comments. Many of the emails asked if I could explain the Self Publishing process in a Workshop at the Ranch article. Great idea, glad you thought of it. With self publishing as our topic, let's take a look at the possibilities with what is better known in the business as Print On Demand publishing.

This is going to be a long article, but I encourage you to read it all. There is a lot to gain and this Workshop at the Ranch article will help you make the book you've always wanted your friends, clients, and colleagues to see sitting on your coffee table.
Why would someone want to self publish a book using a print on demand company? For me there were several reasons, some of which might surprise you. But start thinking about it …. really, why not publish your own book?
Reason #1.      PERSONAL QUEST … Publishing my own book began in my mind as a personal gift for my daughter. That's right, for my daughter. I have been involved with over 50 book projects during my career where my images have been part of a greater collection of pictures accompanied by a host of other photographers. I have not had a book of my own work until I self published The Way I See It … 50 One Page Workshops. So this endeavor began as a personal project in which I could tell my career story to my daughter, how I got started, why I make the kinds of pictures I do, and how she could make pictures to. Because my daughter is a photography major in college I wanted the book to be very instructional so she could learn how to do the craft I love. With this book she now has a collection of some of my favorite images from the past 30 years and knows both how and why I made them.
Reason #2.      TEACHING TOOL … I wanted to compose the book to be useful for not only my daughter, but anyone wanting to learn about photography. So I asked all who read the Workshop at the Ranch articles to send me their ideas of what the book should include. I received hundreds of emails listing many of the the same requests … Large Pictures were the #1 request, the Why and How the picture was made, and subjects ranging from Sports, to Speedlights, to Arena Strobe Lighting, to Lightpainting, along with all the Camera Data, Equipment, and Techniques of each picture. A sort of Workshop at the Ranch on steroids. This was a tall order to be sure. I had never seen a publication that combined a large format coffee table book design with photographic instruction. Perhaps because coffee table books struggle to make a profit. This is where print on demand publishing looked attractive.
Reason #3.      PROMOTIONAL PIECE … A benefit of producing the book is its usefulness as a promotional tool for my business. As the book is self published and printed on demand I must purchase each book I give away for business promotion. When a book is made through a publishing house it is customary for the photographer/author to receive 50-75 books as promotional giveaways. Such is not the case with self publishing. In effect, the book acts as a glorious promotional brochure for clients that I hope will create new business.
Reason #4.      PROFIT? … To produce your own book via a print on demand publishing group costs almost nothing, accept your time. So is there a pot of gold at the end of the print on demand rainbow? Well, that depends. It was my goal to self publish this large format 11 inch x 13 inch hard cover coffee table book using the best premium quality paper and a generous volume of 120 pages. The Way I See It … costs $88.95 to print just one copy. That's correct, $88.95 is how much Blurb charges me each time I order my own book. Therefore, I priced the book for the consumer at $98.95. A $10 profit for my 30 years of knowledge and photography expertise made available to the consumer in book form. In general, if 10 books sell, Blurb sends me check for $100. If I were to have gone through a publisher like Simon and Schuster the book would have cost me $30,000 up front to produce a quantity of books for stores and a typical Amazon price tag of about $50.95 to the consumer after which I might receive $3.50 dollars per book. That would mean I would need to sell 8571 books just to break even financially. WHOA! … Not happening. So, is there a profit? Well, because the book is only available through my website, I must rely on my website readership as my source for sales and not a company like Amazon. But for those few who emailed me suggesting most coffee table books available on Amazon.com are only $40 bucks, and that I am making $60 dollars profit on each book I sell through my website, well, as you can see, that is clearly not the case.
Reason #5.      CHALLENGING and FUN! … I am no computer master, but felt my familiarity of the book industry would enable me to design a book worthy of anyone's collection. And, according to the emails I have received, I accomplished just that … and more. The opportunity to make my own book from scratch really intrigued me, and I must say was far easier to accomplish than I expected. At the conclusion of it all, making this first book has been one of the most rewarding projects I have ever done. I believe anyone who is involved with photography and has a collection of images whether they are pictures taken as a hobby or your life's work, you must consider print on demand publishing
Why Blurb.com? There are several companies out there who offer the opportunity of self publishing with print on demand service. I spoke with several colleagues and looked at several groups, and finally settled on Blurb.com for these reasons: product quality (premium paper choice and overall craftsmanship), Blurb's price (best price overall that I could find in the book size/quality I needed), their wider range of page layouts, and their variety of book sizes ( I needed a Large Landscape Format measuring 11 inches x 13 inches and 120 pages with hard cover and glossy jacket wrap … Note: Blurb actually offers the most book volume of up to 400 pages.) Other companies offered lesser quality paper stock, slightly higher prices, fewer page layout selections and only 90 pages or less in hard cover. There are several book choices with Blurb ranging from a small pamphlet size to the book size I chose, an 11X13 Large Landscape Format. Blurb seemed to have more choices overall … Soft Cover, Hard Cover, medium stock paper and terrific Premium Quality Paper … the choices are all yours. With all these reasons why I self published and suggest you should too, let's see how print on demand publishing is done via Blurb.com.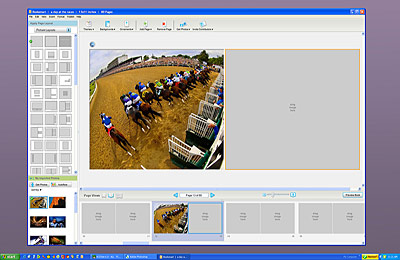 Image #1      The Blurb Program … Is free! Just go to www.blurb.com and download their program at no charge. The Booksmart workstation when opened on my computer, looks like this (I use a PC computer with Windows XP.) The upper left side is a box called Apply Page Layout. This area displays the Picture Layout page choices. There are Cover Layouts, Contents Page Layouts, Picture Layouts, Text Layouts, and many more styles of pages to choose from for a variety of book designs. Simply choose (click) the Picture Layout page you want and it appears in both the large area to the right and along the bottom Page View line as well. You can change the Picture Layout page at any time … just click a different Layout page. Blurb seemed to have many more choices than other programs I looked at. Located below the Picture Layouts is a box called My Imported Photos. Simply click Get Photos and select the folder on your computer that contains your book images. I use ACDSee to store folders of images on my computer. I made a folder that contained all the images I wanted to be in the book. I had previously sized all my book images to 11X18 inch 300dpi jpgs in Photoshop and saved them at the Maximum Image Quality level of 12. An 11X18 inch image is the size of each of the 50 images that would be used in the book. Simply put, I suggest your book images are at least the dimensions of a full page of your book for best published results. Example: If you have chosen the 8X10 book size, make your book images at least 8X10 300dpi jpgs. Now that all my book images are in My Imported Photos box in Booksmart I can easily drag-and-drop each picture into the page area (the large section to the right of the Picture Layout box.) There! I dragged-and-dropped an image of the Kentucky Derby … one page complete. NOTE: These companies request you images to be jpgs, but don't freak out thinking the use of jpg images will not hold up when published. They look terrific! When I placed pages of my book side-by-side with other books I've been involved with from large publishing houses that used TIFF images, I can see NO Difference at all in the published picture quality.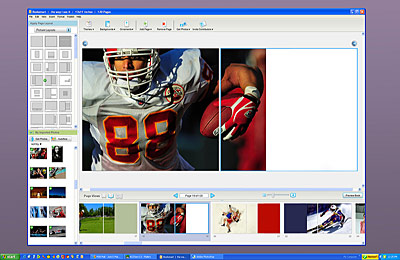 Image #2      Drag-and-Drop …
With all my book images in My Imported Photos box I can simply drag-and-drop images into each page. The Page View line across the bottom shows me the order of pages. I wanted each of my 50 One Page Workshop picture spreads to span across the gutter (seam of the book) into the next page. To accomplish this I selected a Full Page Layout for the left page and a half picture/half text box page on the next page. With this example of NFL wide receiver Tony Gonzalez I dragging-and-dropping the 11 x 18 inch image into the left page, but my book image size is larger than a single page of 11 x 13 inches. I could only see his body but not his arm and hand holding the football. By dragging-and-dropping the same image into the right page I can reposition the image to show the rest of the picture with his arm and hand holding the football. Now the image is a huge picture spreading from one page to the next. Presto! an 11 x 18 inch picture spread that is larger than any Sports Illustrated Leading Off. Once the picture is dropped into the page it is easy to enlarge, reduce, or position it exactly the way you want. The text box on the far right of the page (white area) will contain the in-depth workshop lesson and my thought process on how this image of Tony Gonzalez was made. While my average Workshop at the Ranch text is only one paragraph per image, these book workshop lessons are much more involved reading 4 or 6 paragraphs. This picture spread across the gutter into the next page with large text box is the basic page format for each of the book's 50 images with workshops.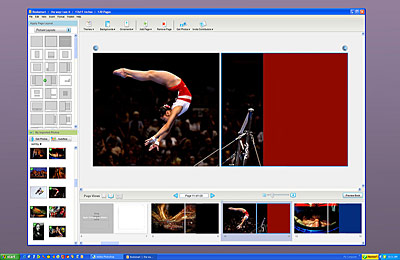 Image #3      Proof Book …
Keep dragging-and-dropping images into the pages until all images are in place. It is my strong suggestion to design the book with page layouts/book images and NO TEXT first. Once all your images are in place, and any colored pages have been chosen, then submit this picture only book without any text for publishing. I call this a PROOF BOOK. This Proof Book is only for me to examine and no one else. When I receive this Proof Book I can examine the pictures in their page layouts and determine if I like what I see regarding image quality and design before moving forward and writing the text. Blurb offers a choice for you to keep the book private or release it to the public. Keep it private until you are 100% complete. This way you can order Proof Books without anyone else seeing it before it is ready for release/purchase. It takes about 6 days for Blurb to print a book, and then whatever shipping process you choose can range from cheap bulk mail that can take a week to a quick 2 day delivery. It will cost you the price of the book+shipping, but is well worth it. In the case of my book The Way I See It … 50 One Page Workshops after receiving the Proof Book I decided to replace 5 older images with 5 New Nikon D3x images. This helped make the book current and up to date over any other book on the market. A definite advantage of print on demand publishing. I then ordered another Proof Book so as to examine these 5 new D3x picture spreads before moving forward with writing the workshop text, chapter opening text, camera data, etc. Here is an example of the Smartbook workstation with page layouts, pictures, and No Text. Note that I have colored the text portion of the page that contains the text box where the workshop lesson will be added only after I am satisfied with the Proof Book. The gray and white pages at the left side of the Page View line are the chapter opening page layouts I chose.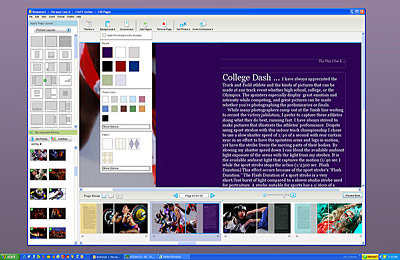 Image #4      Be Creative … Most self published picture books are merely a collection of images on white pages. Blurb offers a creative range of applications for the author/designer/you, to choose from. I chose to add color to many of the pages and then "reverse" the text from traditional black to white text. These options are easy to do and are listed across the top of the Smartbook workstation. Try and choose a color that compliments a color in the picture. Example: In the previous image #3 I chose to color the text portion of the page red to match the gymnasts red leotard. The text will be white on top of the red. And in this picture I chose purple to match one of the sprinters purple track suits. Adding color to your pages is a nice design element that can enhance the visual appeal of your book. Just Drop the Backgrounds box, click More Options, and click a color … the page becomes that color.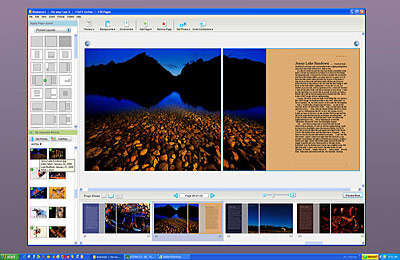 Image #5      Text Trials … Keep in mind that I am first and foremost a photographer. I have improved my writing style thanks to producing over 6 years of monthly Workshop at the Ranch / On The Road articles, but it is still a long and involved task for me to write instructional articles. These 50 one page workshops are far more in-depth than the normal Workshop at the Ranch. Blurbs Booksmart does have spell-check, but words still slip through the cracks. After numerous rewrites to the text to make certain I explained everything just the way I wanted I began the task of editing. Even after I had 7 reads/correction sessions of the book I still found spelling errors. My advise is to have several people other than yourself read and red ink your text. Blurb's Booksmart program allows you to print out each page of your book on your home printer for such a purpose.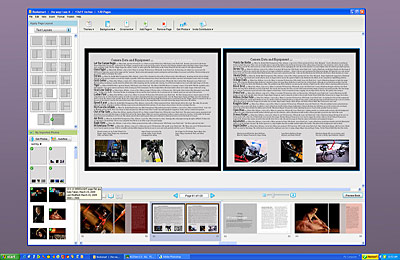 Image #6      Custom Make Your Own Page Layout … Although Blurb offers numerous choices in Picture Layout pages I decided to make my own page layout for the Camera Data and Equipment pages. Each chapter has its own Camera Data and Equipment page. Each image in the book has its own camera data and equipment list, but I also wanted to include 3 images of the Speedlight equipment set-ups, Remote Camera set-ups, and Arena Sport Strobe set-ups across the bottom of the page. There was no Blurb Picture Layout page with 3 small image boxes across the bottom. So I made my own in Photoshop.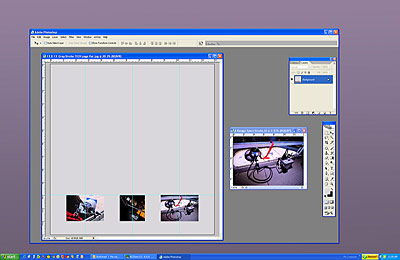 Image #7      Create Your Own Page Layout in Photoshop … I simply created a blank or New image field in Photoshop CS3 by clicking File, then click New to create a blank image field. I colored it gray to make it easy to find while you flipped through the pages of the book. Make it the same dimensions as a full page of the book, in my case 11×13 inches is a full page. Then I dragged-and-dropped my images of Remote Camera set-ups into the full page New image. I repeated this process for my 3 Arena Sport Strobe set-ups and also for the Speedlight set-ups. I aligned them across the bottom of the New blank field which left plenty of space for the Camera Data and Equipment text specifications. I flattened the layers and then saved it as an 11X13 inch 300dpi jpg and placed it in my computer's ACDSee folder of book images and selected them into My Imported Photos box on Booksmart, just like all my other book images. By choosing a Full Page Picture Layout that also had a full page text box I can now drag-and-drop my full page custom made blank Camera Data and Equipment page with my 3 equipment images into the book. Now I just type the text into the full page text box and I have exactly what I want for my book as you can see in the previous image #6.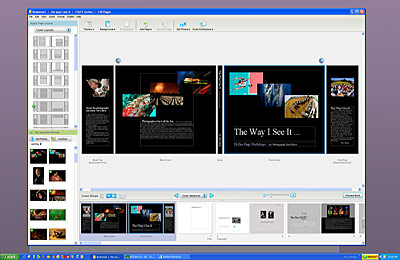 Image #8      At Last, the Cover … I made the cover, back cover, author flap, and book description flap last. It is a beautiful glossy wrap around jacket that fits over the hard cover book. I felt I needed to be completed with the book as a whole with all pictures, layout and design, text, and my thoughts of what I wanted the book to say. There are many Cover Layouts to choose from, but ultimately I created my own custom cover design the same as I just illustrated in the previous Camera Data and Equipment pages made in Photoshop. The book title, The Way I See It … 50 One Page Workshops was settled on and my book was complete.
I worked a few days each week over a 3 month period. Dragging-and-dropping, thinking and writing, and slowly building my thoughts with my pictures. Once all this is complete and you have examined the Proof Books you ordered along the 3 month process, then it is time to submit the book for publishing. The procedure is the same as when you ordered the Proof Book accept this time you will make it available for the public. Simply click the Preview button in Booksmart, and then click the Order Book button, and the book begins to automatically upload to Blurb.com. It took about 45 minutes for my book of 120 pages with 50 11×18 inch 300 dpi jpg images to upload. Once the book was up loaded into the Blurb bookstore website and my own Blurb bookstore page, I filled out the Author information box and the book description box, set my consumer price and made The Way I See It … 50 One Page Workshops available to the public. I then ordered 2 books, one for me and one for my daughter … it was a Monday at 5:00 pm and chose 2 day delivery. I received the 2 finished books only 8 days later at 2:30 pm Tuesday afternoon. It cost me $88.95, which is the Blurb cost, plus 2 day shipping. Each book looked perfect from hard cover to hard cover. I have since ordered 24 books in 3 separate shipments for promotional purposes and each book looks exactly the same … perfect! Consistency and excellence each time. Just for the record, Blurb doesn't pay me to say these things or write this article. I have no connection or relationship with Blurb. I write these articles for you, the photographers who come each month to read Workshop at the Ranch because I like to see people learn and improve their photography. When I'm excited about a product or technique I pass it along to you.
The book is beautiful. There, I said it. Not out of ego, but out of observation and the echo of many comments I have received via your emails. It is a lovely, elegantly designed, large format hard cover coffee table book that offers 50 of my favorite images of the last 30 years. Each of the 50 large picture spreads includes an in-depth workshop and lesson. All the camera data, equipment, Speedlights and Arena Strobe lighting gear, remote camera gear, and my thinking process to accomplishing each image is included in the text. I've also included the lighter side of my career with fun short stories/anecdotes within the text. The book also includes how I began my photography career, my business philosophy, and mind set for making pictures, and a list of all my equipment, computers, hard drives, accessories, and even companies I use and deal with.
I hope you have enjoyed this look and lesson in print on demand publishing. If you have images you like, clients you want to WOW! with examples of your work, or perhaps a son or daughter that you want to show what you have been doing these past 30 years, whatever the reason, just do it. Make a book. It is a rewarding experience. My daughter cried a tear and gave me a big hug when she opened her the book.
See you next time, here at Workshop at the Ranch. Adios, Dave